August 2020
Upcoming art shows
Not long ago, I've received the confirmation that Brussels' group show We Art XL was still up to date and that it was going to take place from 17th until 20th of September. I've never been to any of the previous editions but I imagine an itinerant thing with different locations in Ixelles' area. Though the selected artists don't know yet which places they'll get, the organizer told me that it will be mostly empty ground floor buildings like old commerces with vitrines—which sounded perfect to me! I'll probably exhibit the recent assemblages with Apple packagings, pastiches of Amazon shipping parcels and of food delivery paper bags. All of them would be wall-based (maybe some of them on pedestals) and showcased inside mini vitrines made of plexiglas. For the opening night, I will ask friends to wear twisted uniforms of food delivery coursiers, Apple Store vendors and of postmen.

There's another show to which I'll be participating and which is called ECHO. It will take place in Kortijk (Flanders, Belgium) in the beginning of September (opening on the 9th). Curator Gregory Decock contacted me via IG and proposed me to be part of the show by exhibiting Ars Moriendi (Vanitas) which is a funeral spray made of real flowers and a silk label with my name printed on it. At that time (2018), I used to show particular interest in funeral art and especially western 19th century memorials for bourgeoisie class, which I used to reproduce and appropriate the image, and switch the names of the person commemorated, by putting mine instead. It was the beginning of a series of usurpations that were dealing with the notions of identity and social success.



Ars Moriendi (Vanitas), 2018
Funeral spray



Last exhibition I'll participate to is also in Brussels and organized by students of E.R.G art school. It's called Right In the Feels and it's dealing with how one expresses him/herself through digital technology. From the different projects I proposed, they've chosen the Facebook post buffering minimalist animation. Lockdown had just begun when I applied for the show and at that exact moment, it used to be quite accurate and actual, given the over-business and saturation of internet connection worldwide. With the organizers of the show, we concluded that the buffering animations would be web art pieces included in the online exhibition (they are planning to make both online and offline shows). I'm thinking of different web pages, each one having 2 versions—desktop and mobile—, and each one appropriating graphic interfaces from websites and apps that enjoyed high online trafic during lockdown like social medias, streaming video (porn included), and take away platforms. The idea is to evacuate all information and visual content inside webpages' skeleton design and enjoy the potential aesthetic of buffering animations, like contemplative screensavers.





Screeshots of websites for Right In the Feels group show




So this is it for the upcoming art shows. I hope that I'll manage to get everything done on time and that things will go +/- how I want. Now let's move on to more recent art projects and how they've evolved since last month.

Basically, I've been working on the projects related to Apple, Deliveroo and Amazon, putting aside the one about FIFA . . . which is fine 'cause the next World Cup is in 2022 and they didn't start to make much advertising in EU countries yet (except in Paris and Berlin), so I still have time to elaborate and develop it.

Pious assemblages and forbidden fruit
I've continued to experiment and explore different ways of evoking high-tech cult, my own fetishization of Apple products and devotion for the brand. Therefore, I began to make a new series of assemblages with Apple packagings, combining them with religious-related artefacts (mostly Christian iconography) found in thrift-shops, flea markets and via Facebook announcements.


Ex-Voto

, 2020

Assemblage



I've made one special Facebook post/announcement to find a collection of beans/figurines from Galettes des Rois (from French "Kings Pie") representing figures from the Nativity scene. To be short, the Galette des Rois is a typically French patisserie and christian tradition—even though it's older than Catholicism since Romans were already doing this ritual to celebrate spring solstice and the coming back of sun(light). The tradition consists in sharing a frangipane pie inside of which there is one bean. The one that gets it becomes the king (or queen), referring to the three Magi Kings visiting baby Jesus.
So I've found a complete bean collection and glued it inside a MacBook Pro box, to make a modernized version of the Nativity Scene. In this assemblage, the Apple packagings becomes the traditional frangipane pie and the white thermoformed object inside becomes an abstract and sanitized architecture and stage set that hosts the Holy Nativity Scene, and the villagers at the bottom. What could also justify the combination of Galettes des Rois figurines with Apple packagings is the geographical place where these atrefacts have been manufactured, which is obviously China.


Adoration of the Magis
, 2020
Assemblage
Balthazar

, 2020

Assemblage


In other assemblages from the same series, I like the 'visual chock' and anachronism between the image of elegant techno-futuristic object/device printed on the packaging and the 'kitsch' artifact with greco-roman art references.



iAltar
, 2020
Assemblage
Zen Packaging

, 2020

Assemblage

Trash Apple
I also started to do a new kind of public interventions which consists in sticking Apple's logo on different objects and in different places (both indoor and outdoor).

When purchasing Apple devices, customers receive 2 stickers that are +/- hidden inside the packaging box, among the manuals. Sometimes (yet it's quite rare) we see some sticked on car glass windows, trunks, or on electronic products like microwaves, fridges etc. Yet Apple customers don't really know where to stick them, so a lot of them just remain unused and hidden inside the packaging box.

I was asking myself which places would Apple not like its customers to stick the white fruit logo. And taking in consideration Gary Farrelly's advice according to whom I should 'trash Apple' instead of queering and disguising its packagings, I literally followed his advice and started to stick the original Apple logo stickers on public trash bins, inside public urinals, vomits, birds excrements, dead birds—each time documenting the interventions with photos and videos that I now publish on a new IG account called

@apple_macintrash

— check it out !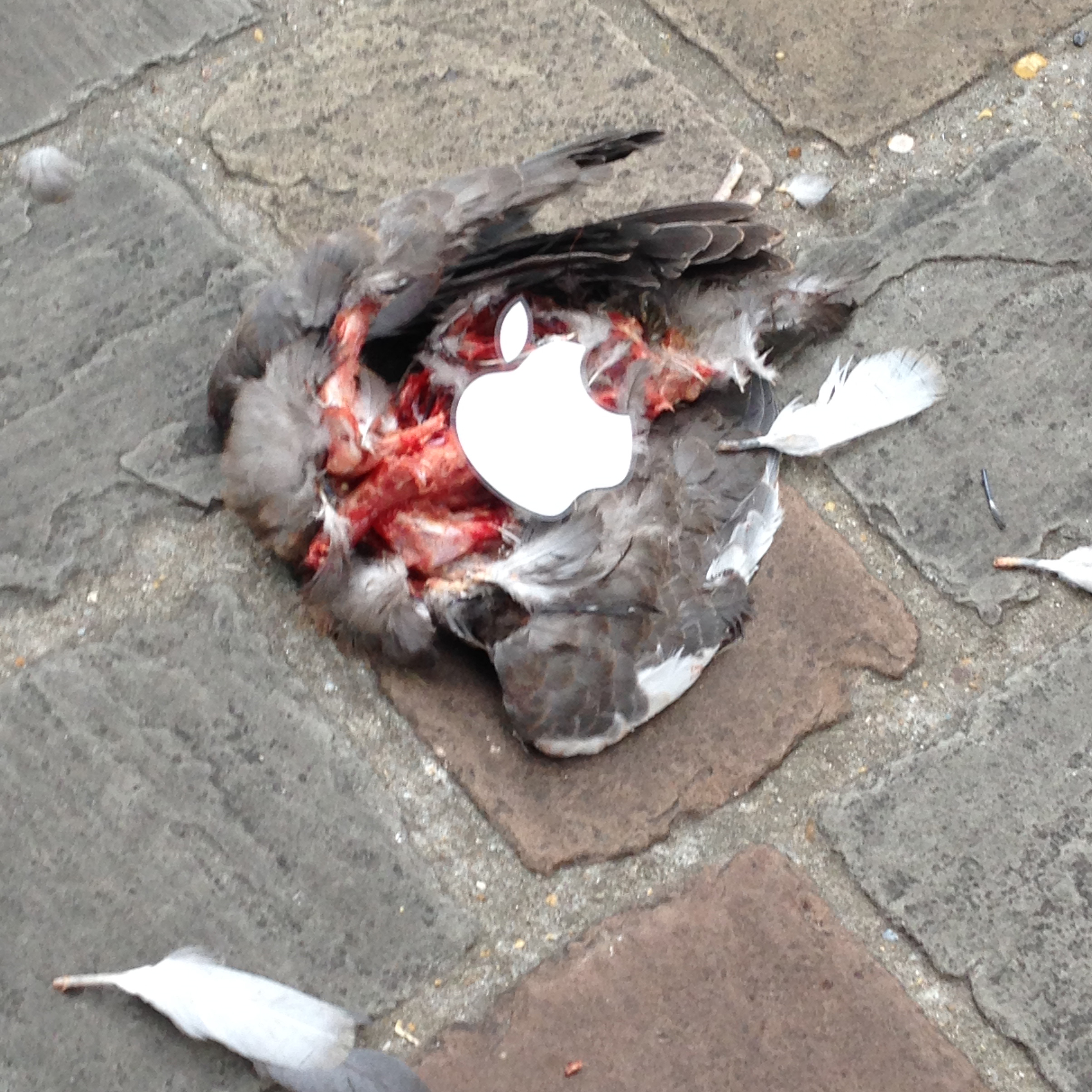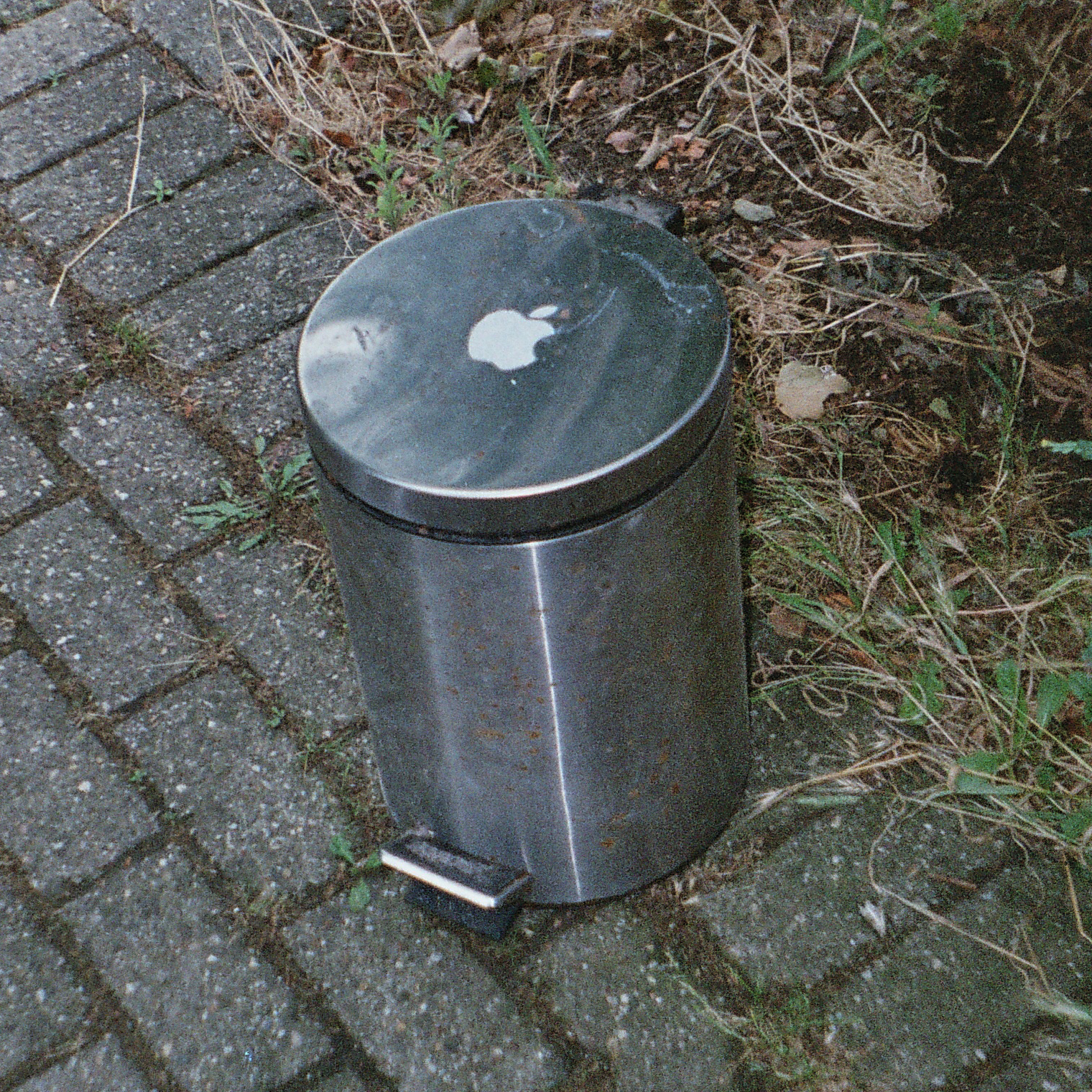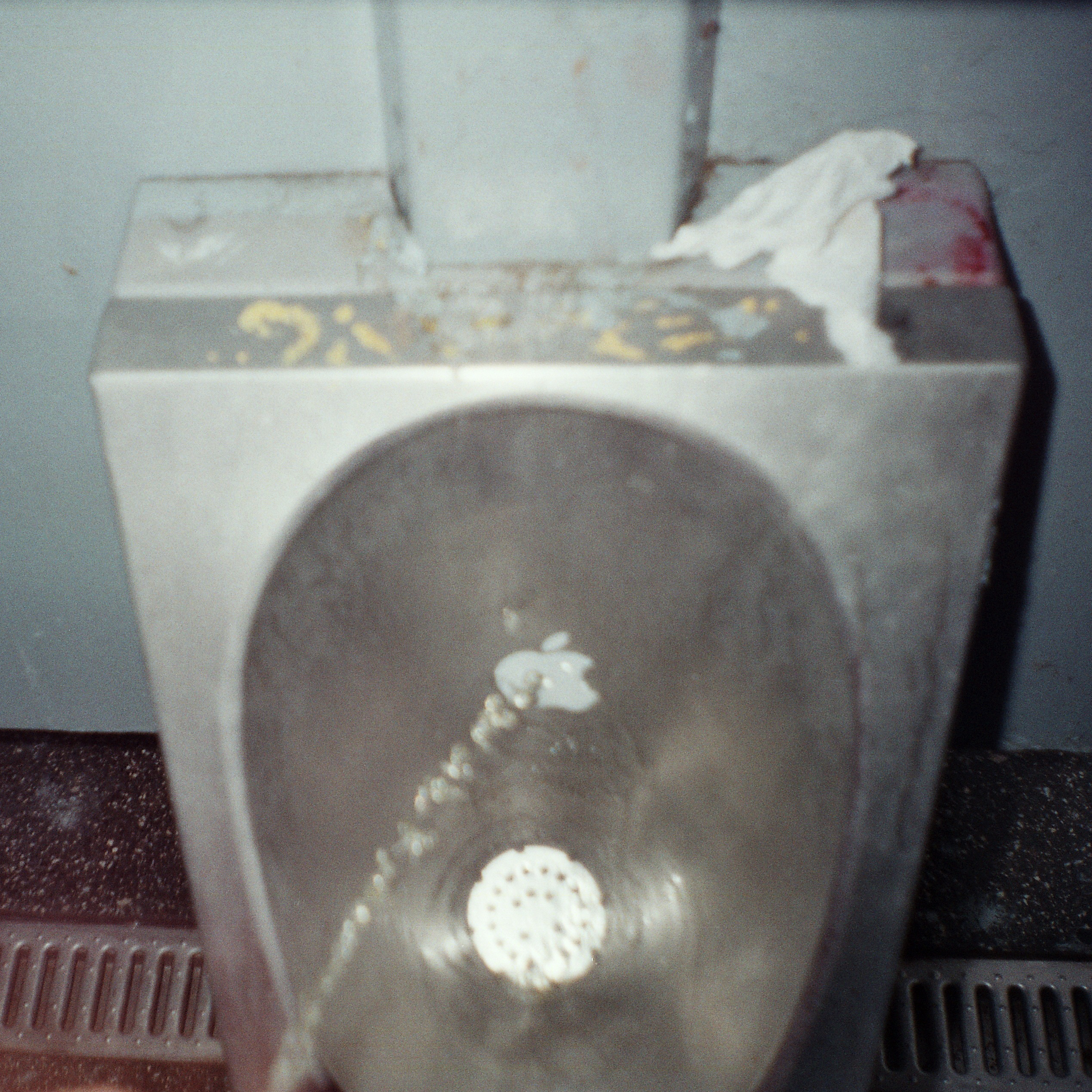 Public interventions of sticking original Apple Logo stickers (Brussels)


On the same account, I also posted stories of photomontages with Apple Ad campaigns (mostly those on large billboards). These pics are from 2017 or so, which don't make them very actual. . . but I'm waiting for October, when Apple will launch the new iPhone 12. I'm thinking of a video with pigeons eating bird seeds on the path-walk, writing and announcing 'iPhone 12'. Could be made in front of the Apple store!


Photomontages with Apple Billboards campaigns.



Parody of Apple campaign for iPhone 11 Pro
Posted on IG page @apple_macinstrash




I'm also thinking of ways of subverting the apple stickers that would 'distanciate' us from this marketing move. One way would be to frame the original film inside a double glass window and to hang it on the wall, like a ready-made, so one could see the 'drop shadows' drawn on the back by the white shapes. Another way would be to trap and lock up the logo stickers film inside transparent resin to make them inaccessible, like if they were condemned to never be used nor 'activated', thus making inefficient and canceling the promotional strategy. In 2017, Leo Luccioni did the same with a money scratch card, which was a pretty strong conceptual move!

Usurpation: "The cowl does not make the monk".
Since last month, I have been wearing the twisted Deliveroo uniform several times while riding my bike both in Brussels and Paris city streets. Most of the time, it was just for ballads, without delivering any food. But one night, I've actually infiltrated Deliveroo by using my friends' phone (mine is too obsolete to download the Deliveroo Rider App. . . ) We waited more or less 1 hour until we received a notification for a course. According to my friend, the reason why it took so much time is because Deliveroo's algorithms memorize how frequently you work for them and privileges the ones that do a lot, discrediting the others . . . which actually shows how gig economy and easy-money jobs are quite competitive and discriminating.
The course was 4km far from where we were and during the trajet, I asked the woman riding her bike behind me if she could to take a picture with my analog camera. The photo is quite shitty but it was amusing at the moment. See pic below.


First course for Deliveroo with the twisted uniform (Brussels)


Worn in public, the twisted uniform functions as a disguisement, a camouflage that fools society, even the police. When I wear it, I feel anonymous and invisible for other people. Disguising myself as a Deliveroo coursier—and, more recently, as a postman—is like playing with my own identity and public posture. It shortcuts subverts and transgresses established social order (likewise, in 2018, when I used to infiltrate art exhibitions by depositing clandestine ready-made objects and/or through falsified signaletic objects like the brochure and exhibition labels).

The evening when I've delivered food, I also met Ottman at Place du Chatelain. He was a guy from my age who left Casablanca when he was 18 to come here and do communication studies. It's been three years since he works for Deliveroo and he also used to work for Uber Eats. He was also curious about me, asking me typical questions. Yet I got pretty uncomfortable because of not being honest with him and fooling him with my disguisement… In the beginning, I thought that wearing the uniform was the best way to 'approach' food delivery coursiers and engage social contact with them, to get to know them. But later on, while being in Paris, I realized that I was more confortable when telling them the truth and being honest about my 'true' identity and intentions.

I don't want to fool food delivery coursiers 'cause they are not my target. My targets are essentially the ones who order food online and for whom the luxury of having food delivered to their doorstep is too often taken for granted. I'm not accusing anybody but the capitalist system which makes food abundance something normal.







While being disguised as a food delivery coursier in Paris, I've asked strangers in the streets to take pictures and videos of me with my telephone.




During my city trip in Paris, I've found myself in deep reflexions and doubts about this project, as I realized how dangerous and unethical my (im)posture could be/appear: as a European-white-privileged-guy, do I have the right to talk about ethic and societal issues like class struggle, determinism and job discriminations due to skin color, inside western cities ?
I began to ask myself wether I should reiterate my infiltrations by working for food delivery platforms while wearing twisted uniforms with 'political messages'. On the one hand, it would have given me a little more rights to talk in coursiers' voices and names since I would totally live and experience their job and do more than just one course in my life. Yet, after speaking with some coursiers, I had the impression that most of them actually don't complain about their job because it's easy money and 'better than nothing'. But on the other hand, if I do work as a coursier and deliver food, this would mean stealing their jobs and earn their money.

I've also been recording food delivery coursiers in Paris with my camera—but also other key workers wearing uniforms in public space—sometimes asking their permission, sometimes not. I've published some of the records on my official IG account, so IG users/followers could see and live (more or less) what it is like to be a food delivery coursier in metros.






Unknown food delivery coursiers I've followed by bike in Paris


The same day, I've met Ahmed, an Algerian guy in his 50s who started Uber Eats since two weeks. Before that, he used to drop french newspaper Le Monde inside subscribers' mailboxes. He was friendly and i spent half an hour following him by bike to record him while he was working. He told me that Uber Eats has recently set new working conditions and regulation such as facial recognition to check if delivery coursiers are using proper account—I guess in order to avoid another polemic concerning clandestine workers using fake accounts. Also, if app algorithms don't recognize coursiers' face, they cannot go online and work.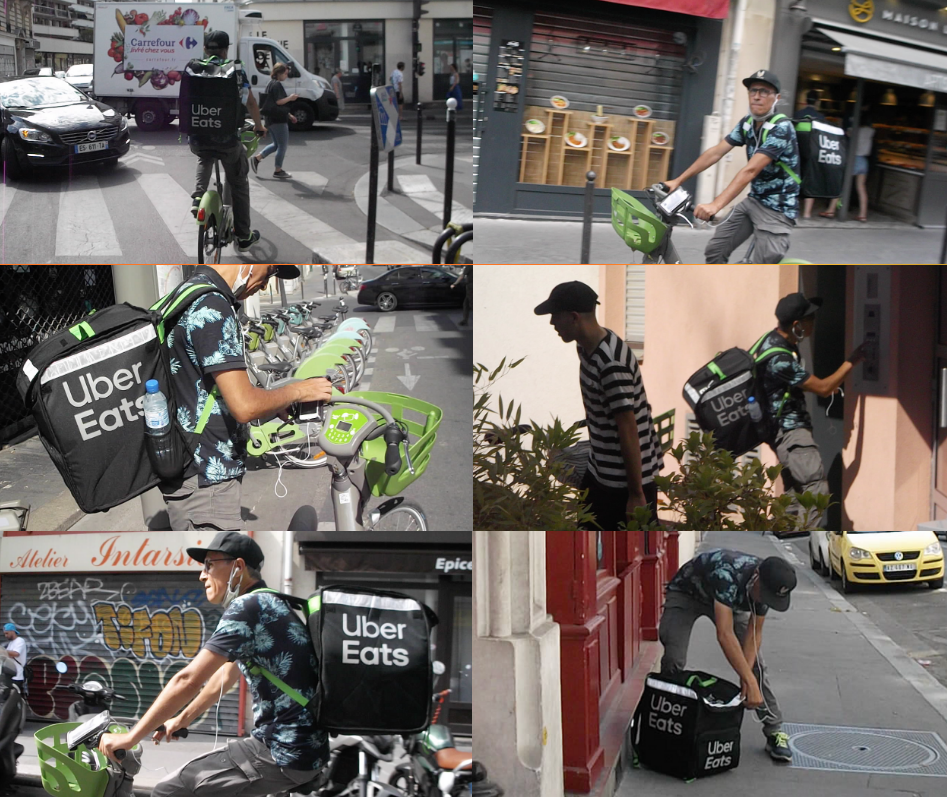 Ahmed



I also remarked that Paris, compared to Brussels, has other food delivery platforms like Just Eat (which used to be taken over Takeaway.com), Frichti, Picard and Stuart. Uber Eats and Deliveroo, though, are established in both metros. They are the two titans competing with one another on the food delivery market, tackling every emerging start-ups.

One evening, I went up to Montmarte, disguised as a food delivery coursier and asked a stranger if he could take a pic of me with the Basilique on the back. It has been quite some time since I wanted to have a picture with a religious monument in the composition/picture frame. I wanted to 'contextualize' and relate the twisted uniform with religion, to extend the wordplay from coursier's job conditions to Catholicism in order to highlight what impact both institutions may have on one's freedom.



Contextualization of the twisted Deliveroo uniform in Montmartre, Paris



On the next day, I've showcased the uniform in another institutional context, which was in the famous Musée Pompidou. It was funny to see the reactions of visitors and the museum team who must have been asking themselves wtf I was doing here. I remember the security guard at the entrance being particularly arrogant with me. Unfortunately, they didn't allow me to take the cubic back pack with me inside exhibition space so I had to leave it in the locker room. Once inside the exhibition space of museum's permanent collection, a visitor came to me and asked me about the wordplay and we started chatting friendly. Then I asked her if she could take a picture of me, with some of the art pieces showcased inside vitrines.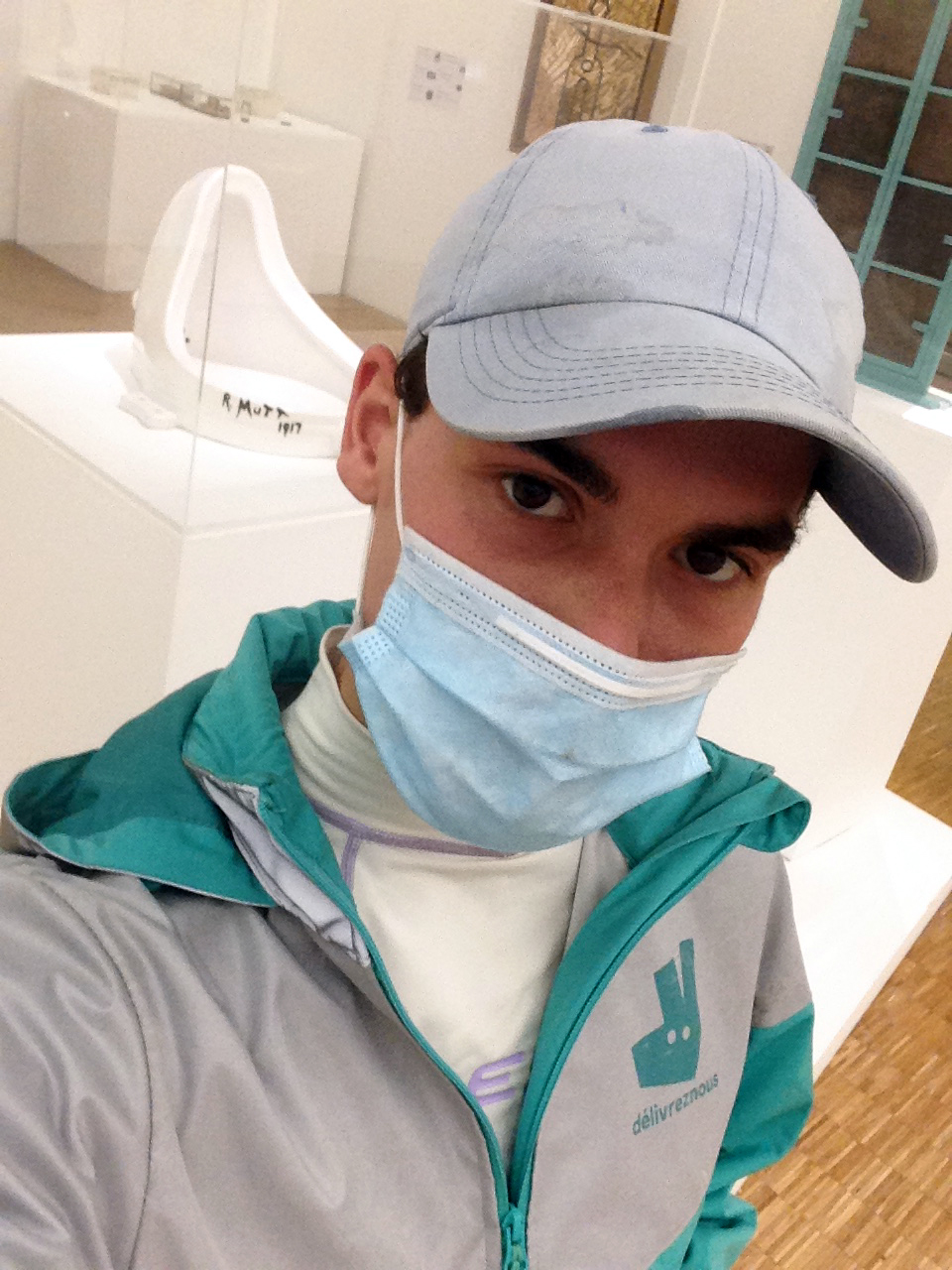 Contextualization of the twisted Deliveroo uniform inside Pompidou Museum (Paris)


I took advantage of this city trip in Paris to experiment and get familiar with TikTok (LOL) and posted two mise-en-scènes videos that document the actions of wearing Deliveroo uniform in Paris. Here's the link of my

TikTok account



Then, back in Brussels, I've showcased the twisted Amazon parcel while being disguised as a postman. In the end, I've sued my own unoform and made it printed in a digital print shop. I'm really not satisfied with my wordplay, which says 'bpost modern art', instead of 'bpost'. Maybe I should have left the original logo of national mailing company. Also the guy didn't print the image on the right side and the visual is just too big.



It was fun to sue my own postman uniform from three different shirts, but the print is definitely a fail.
Contextualization of the Amazon parcel pastiche in Brussels city streets.


Both Deliveroo and Amazon projects shed light on key workers' labor conditions, yet they also deal with notions of identity, social functions, postures and status. . . and how all of that are determined by one's outfit, perceived by society. I realized that what really interests me in these project is actually the function of professional uniforms and how they produce identity-switches.

I've found an interesting essay/paper about professional uniforms, that is part of Nicole D'Almeida's book The Judgement Society[1]. In the text, the author defines professional uniforms as both aesthetic and visual landmarks and signals that organise social relations by identifying roles and determining postures inside society. According to the author, uniforms puts a distance and bypasses all other 'personas' and personality dimensions of the ones wearing them, thus reducing the variety and multitude of potential relations with others. As D'Almeida puts it, the uniform determines and channels [social relations] around one only figure, which is the commercial relation. Later in the text, what the author says about commercial places resonated a lot with my reflexions on the public place and its visual colonization/pollution by corporate graphic designs and visual identities on promotional objects: in the author's words, commercial place is no longer 'fixed, but extensible, open and characterized by free entry and free circulation'.

________________________
[1] Almeida, Nicole d'., La Société du Jugement : Essai sur les nouveaux pouvoirs de l'opinion, 2007, Paris : Armand Colin. My Translation in the text.