This month of September started with the annual post-summer re-opening of art spaces and galleries in Brussels and it felt good to have a shoot/dose of contemporary art, to get back arty events and meet new people after this culturally dead spring and summer 2020.

Among the nice shows I saw, there was Much Without Many, at Messen de Clerq gallery: a group show of seven international artists wherein I discovered the work of Théo Massoulier. The artist presented a series of intriguing, elegant wall-based assemblages inside vitrines (Anthropic Combinations of Entropic Elements/5G, 2020 and Samples, also from 2020). Although most of these hybrid combinations were made of unknown minerals, plants and electronics, one could recognize, at some point, obsolete electronic devices like ethernet cables. Some tiny pieces of iridescent glass reminded me of Vapor Wave visual aesthetic.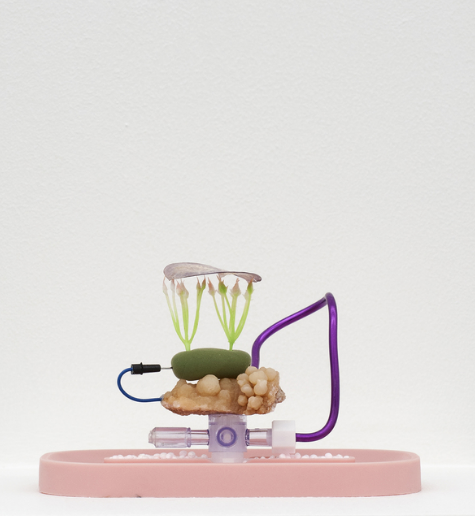 Théo Massoulier, Anthropic Combinations of Entropic Elements/5G ; Samples, 2020


Every compositions/constructions were contained inside the same thermoformed ovoid plastic recipient/receptacle —evoking bio-engeneerig laboratories—each time of a different soft and light pastel color. They appeared to me as 3D models for video games' stage sets ; or microscopic environments inside which I could project and immerse myself ; but also as relics and still life's of our communicational and hyperconnected societies.


Then there was VESSELS - On Body Fluids -, a group show of 9 artists, hosted at art space ISLAND. I enjoyed the realistic wall-based water color paintings from Emeline Depas, which one of them represented human testicules (Up Down, 2020), framed by a white rope/lace. The depiction of a stranger's genitals was un-sexy, crude, pathetic ; and the rope thightening them created a feeling of oppression and pain. Also, as the genitals had been appropriated by the artist and were under spectators' influence, they no longer appeared as a symbol of domination and pride but, on the contrary, as one of vulnerability and fragility.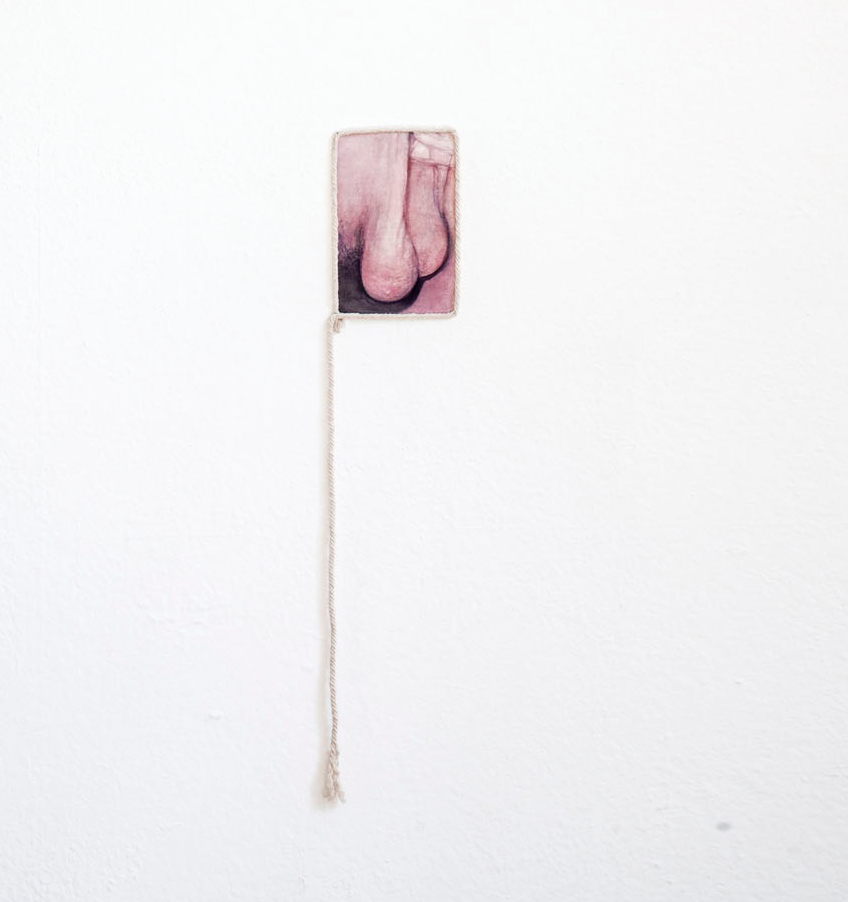 Emeline Depas, Up Down, 2020




I also liked Aline Bouvy's sculpture, Accumulation Primitive (2019), which represented a realistic female body cut between the belly and just after the pubis. The top of the sculpture was entirely covered by a layer of red EuroCent coins, now obsolete and valueless on the market. In here, the female body is being compared to an unworthy piggy bank, an object of desire both for sex and wealth. The combination of money and human body obviously evokes prostitution, but the hairless pubis also suggests pre-puberty stage of life and innocence.



Aline Bouvy,

Accumulation Primitive

(2019)



Another show was the strange and surrealistic Animal and Sculpture from duo artists Daniel Dewar and Gregory Gicquel at gallery c - l - e - a - r - i - n - g . The show consisted in mostly wooden (oak) sculptures imitating old fashioned artisanal and functional household objects (like cabinets, benches, dresser, etc.) but also wall based reliefs. Each artefact had incrusted sculpted elements like animals (snails, pigs, rabbits), vegetables and human (anonymous) organs like noses, feet, arms, hands and torsos. Some pieces were quite disturbing and abject (but still beautiful and poetic) like the relief of a torso swarmed by snails, or this chest with repeated human arms serving as drawer-pullers, and enthroned by a lying rabbit on top (see pic n°3 below).



1. Daniel Dewar & Grégory Gicquel, Oak chest of drawers with giant Flanders rabbit and arms, 2020
2. Oak relief with body fragments and snails, 2020


It was a little bit mind fuck, and super intriguing to understand the making process of merging and incrusting such organic shapes objects on wooden flat panels. I was also intrigued to know the symbolic of such animals, over-represented in western art history. Sometimes we see snails and bugs in Vanitas still life paintings that highlight the vanity and ephemerality of materialism and hedonism, so perhaps Dewar and Gicquel's art pieces have similar moralistic purposes and memento mori discourse.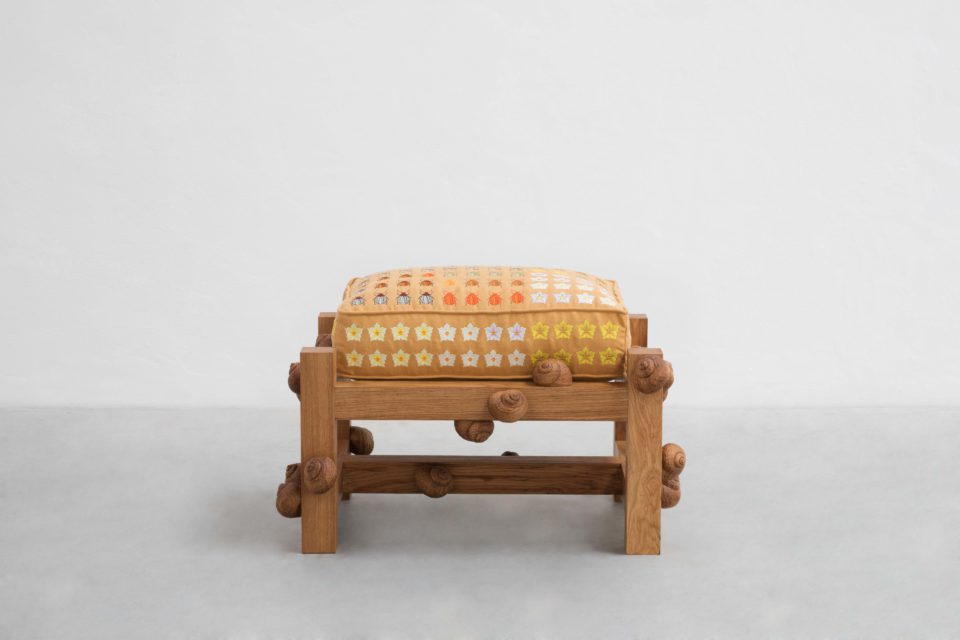 Daniel Dewar & Grégory Gicquel,

Oak bench with Colorado beetles, potato flowers and snails

, 2020


What I enjoyed most from the show was the series of cute benches with wooden snails swarming and climbing the feet. Each bench had a colorful fabric cushion with digital embroidery creating a grid and a pattern repeating two-dimension images of one same element like bees, flowers (sometimes alternating the colors). Maybe I was more interested in this series because it combined several materials and techniques, but also because of their lightness, colorfulness and playfulness kind of broke the monochromatic, heaviness and monumentality of the show. So it was a nice surprise.

Aaaand last but not least art show I really enjoyed was They Said They Felt, an eco-feminist, queer group show at Cinema Palace -1 gallery space (also in Brussels), which I had been asked to document the performances during the opening party.


Shots from They Said, They Felt group show at Cinema Palace (Brussels)



Basically the show was a total art work, with subtle and precious art pieces and life-art/performances, multicolor lights and experimental-ambiant soundtrack . . . all of that creating a welcoming, warm atmosphere. I've noticed the recurrence of the water element with Apolline Sanguinède's screening video of a sea horizon with zooms making the video going abstract and epileptic ; Set Chevalier vaporizating clay and latex assemblages/sculptures that were hanging on the wall or suspended in the air ; Nina Andre's clay incrusted on the concrete walls like mollusks and seashells, . . . Also, each artist proposed life art/performances that presented a ceremonial, ritual and therefore sacred dimension among them a nail art salon set up by Chloé Van Oost, who endorsed the role of asian migrant workers in western cities' nail salons ; Set Chevalier pouring water on the sculptures ; Luz de Amor reading texts she wrote, inspired by exhibited artworks in the show ; and lastly, my friend Nina Andre switching identity, going non-binary and genderless by having her face make up by Apolline on top of a table/desk covered of shiny fabrics, vestals, mirror etc.

So this is it for my highlights from Brussels' gallery weekend and other independent shows in the city.
Next up will focus on the We Art XL 'parcours d'artistes' which turned out to be completely the opposite of what I expected. Basically what happened is that there was no place left wherein I could exhibit works, so a friend of mine (Babette Cols, who was also participating to the event) invited me to their group show at L'Atelier du Doute ("doubt atelier") which is the place where they live and work with Eugene Pereira Tamayo. They already had Nestor Georget as resident artist but we managed to show works the four of us. I enjoyed team working with them, brainstorming for the title of the show (which was 'Expo Sans Doute', literally 'no doubt art show') and making a visual/poster for the event:




Poster for our group show Expo Sans Doute (Atelier du Doute, Brussels)




Here are some pics of artworks by Babette Cols, Eugene Peireira Tamayo and Nestor Georget:




For this show, I've made a new video which is a sort of a mash-up/compilation from Youtube videos of people unboxing Apple products (sometimes ASMR), and inside Apple Stores (e.g. for the launch of the last iPhone). The video was displayed on a smartphone, sticked on an artisanal wooden plate that used to be a pious object of devotion with Jesus' portrait in metal bas-relief. At the bottom of the object was an engraved piece of metal with these words 'Souvenir de Communion'. I've repeated white fading transitions and put an epic soundtrack to convey a spiritual and transcendantal dimension to the video.




Souvenir de Communion, 2020
Mixed media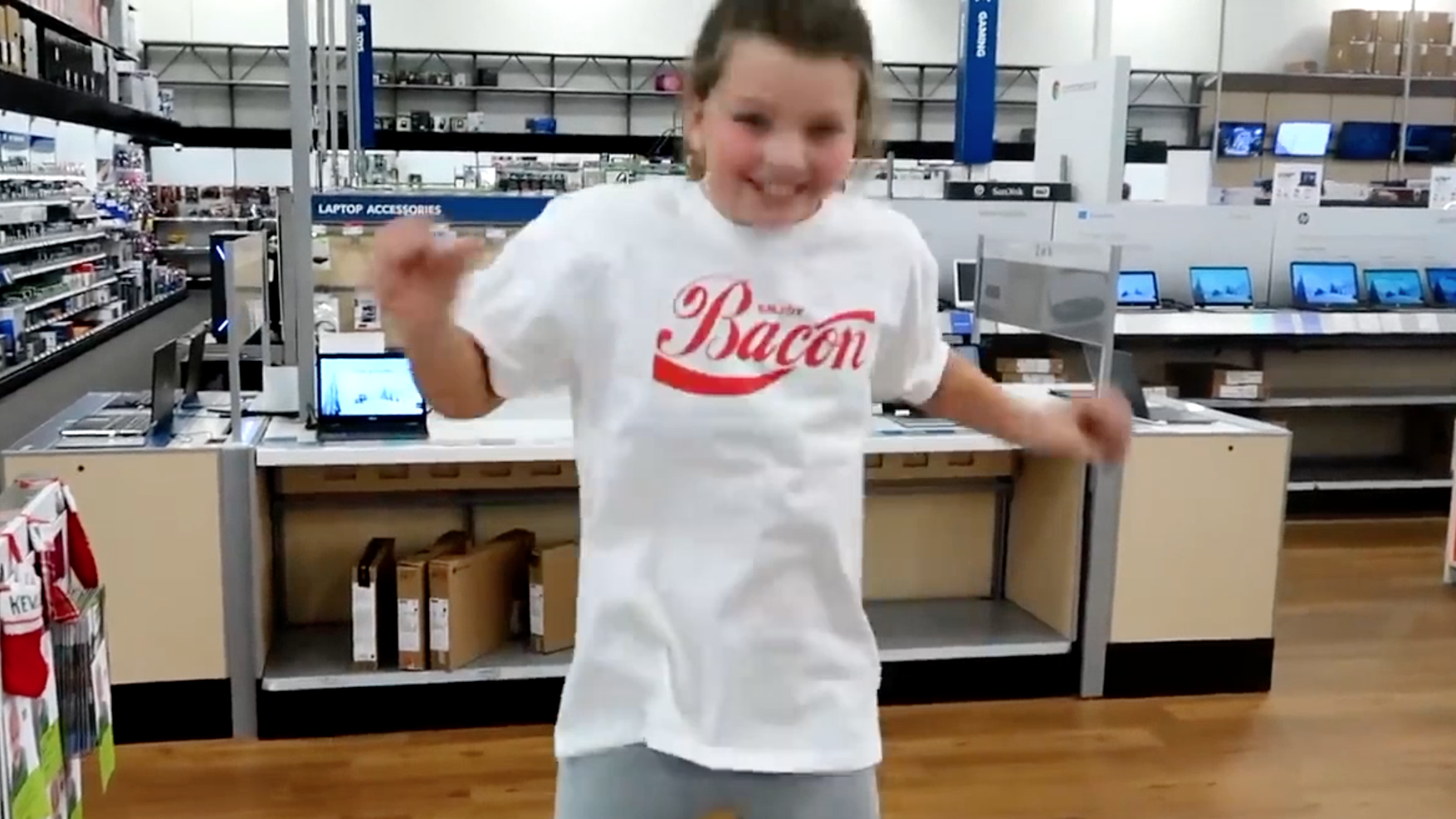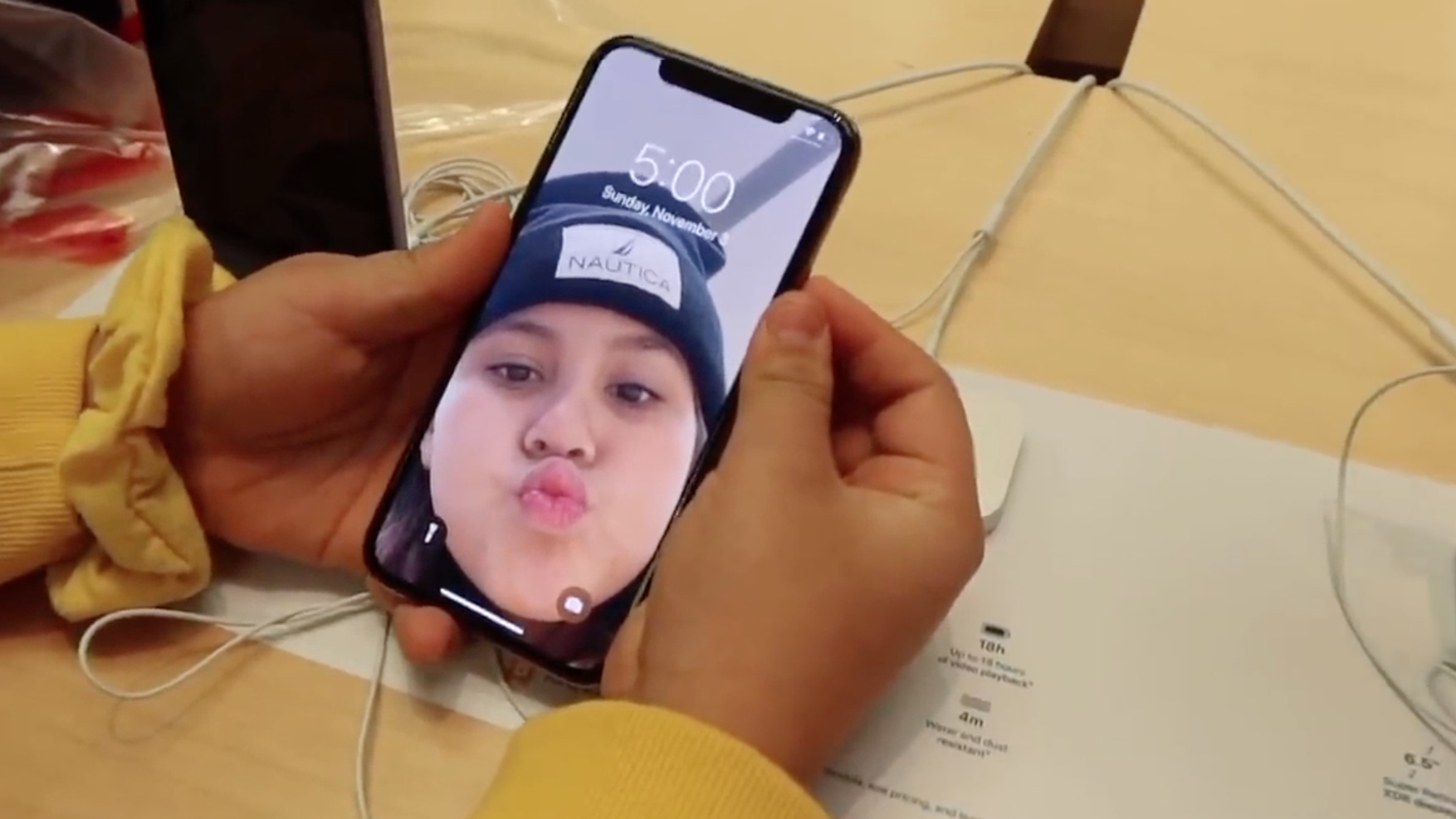 Stills from the video Souvenir de Communion



Second new artwork I've shown was The Last Order, which pretends to be Jesus' last dish order (with Deliveroo platform) before his crucifixion. The pastiche and twisted Deliveroo paper bag has a receipt stapled to it, listing the 13 dishes and red wine ordered form a Lebanese restaurent in Brussels. The bag was supposed to be inside a plexiglas vitrine (which used to museify and sacralise the fake trash), but I broke it during the opening night . . . this what it looks like without the plexi vitrine:



The Last Order

, 2020

Silkscreen print on craft paper, ink jet print on reciept


As the Deliveroo project also took this christic and sacrosaint dimension, I'm actually thinking of an installation set that would be a remake of Da Vinci's fresco, The Last Supper. I would still keep the original set and background with the architecture, and furniture from Da Vinci's painting, but the scene would be emptied/deserted, with only the rests and trash of the Last Supper. . . kind of like the 'Tableaux Pièges' from french Nouveau Realist artist Daniel Spoerri. Thus spectators would arrive afterwards the actual dinner, with guests already gone and Jesus being already crucified. Also, I liked the idea of presenting Deliveroo as the official sponsor brand of Jesus' crucifixion. Like UEFA 2020 (soccer tournaments in the EU) and Takeaway.com's partnership since +/- a year, Jesus' 2020 passion and death would appear as a spectacular and entertaining event, appropriated, merchandized and sponsored by Deliveroo.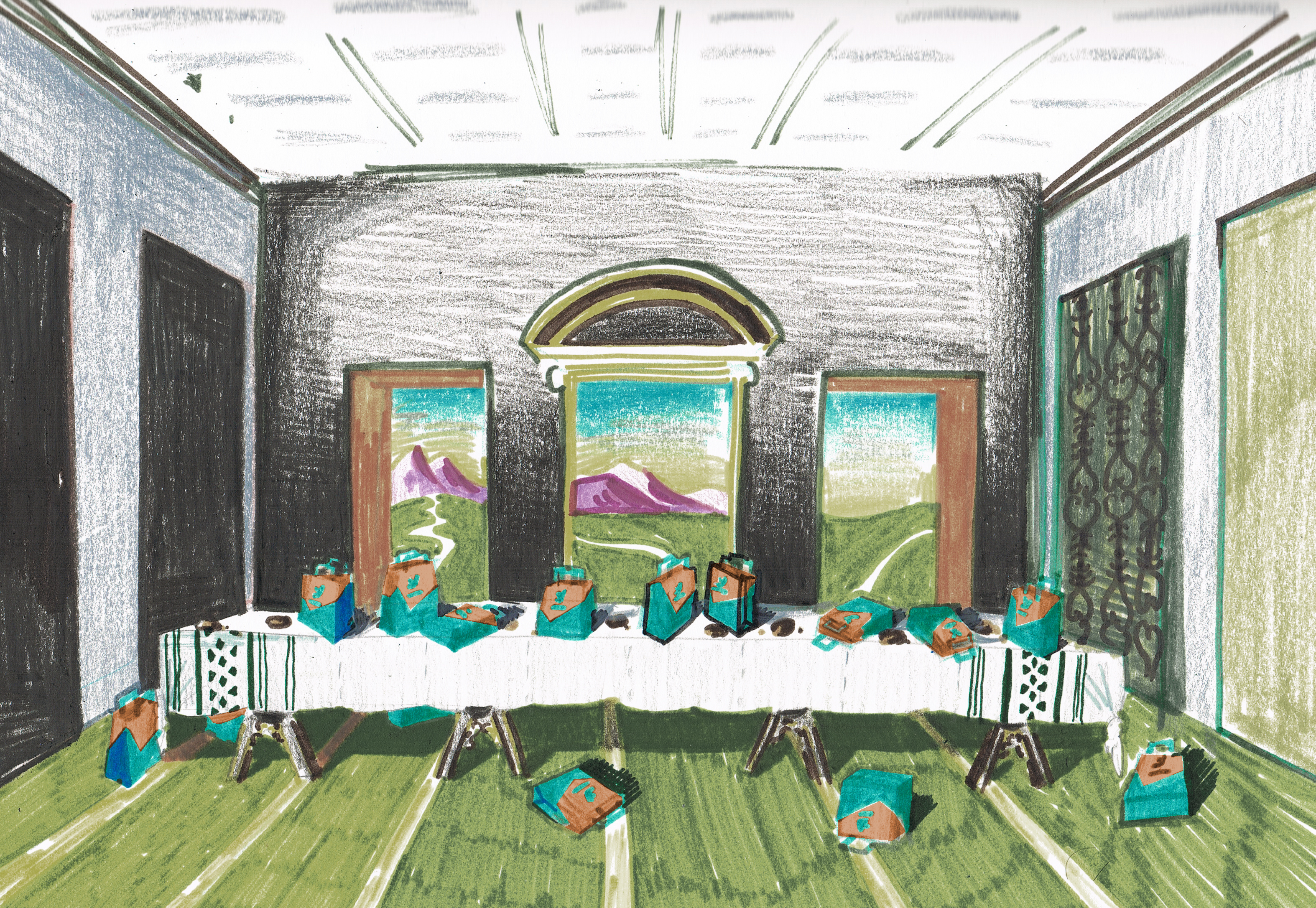 Preparatory sketch for Last Supper Installation Project



This thing said, when i showed this drawing to my art teacher Jean-Pierre Muller, he encouraged me to reproduce some of my sketches in large formats (he proposed lithography but i'm more confortable with silkscreen) so i could make a little money and finance these onerous installation projects . . . (like land-artist Cristo did).

What I've also shown at Expo Sans Doute was a twisted thermic UberEats bag, on which one could read 'ÜberMensch', from German "beyond-" or "super-human". The wordplay/pun refers to Nietzsche's philosophical concept which among its field of significations, also depicts a human archetype that is both a saint and a genius. This intervention on a food delivery coursier's working tool and uniform thus ironically define gig-workers as geniuses and heroes, while society discredits and underestimates gig-economy jobs.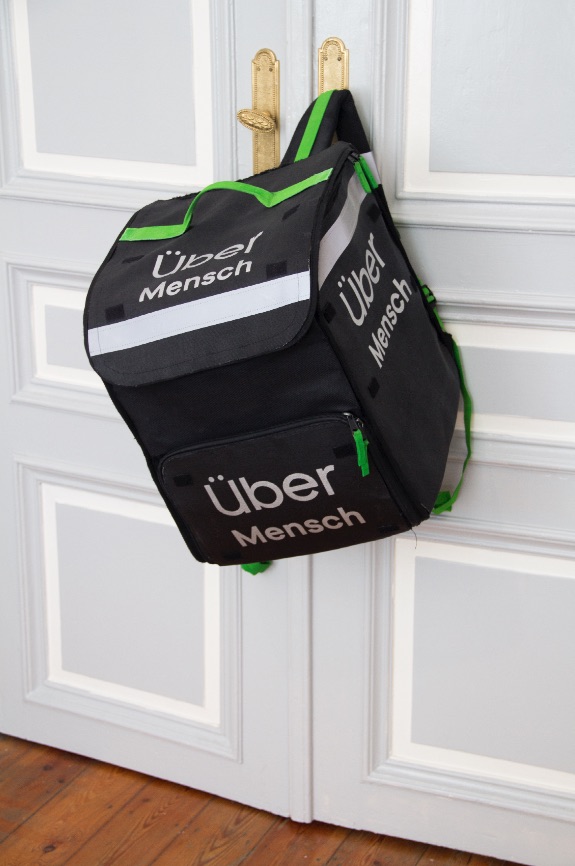 Übermensch

, 2020

Silskscreen print and spray paint on fabric, thermic food delivery bag

Also, transhumanist philosophers use the term Ubermensch to coin the augmentation and transformation of human body and condition through technology. In the cases of food delivery coursiers, informatics and communicational technologies with smartphones and geolocalisation are the digital prostheses extending their body. I don't know about you, but sometimes i feel like food delivery coursiers, with their flashy/poppy working uniforms and sculptural backbags look like space travelers from the future.




I am planning to disguise myself once more as a delivery guy, with the twisted bag and jacket, both in public spaces (to re-iterate these everyday/common situations in city streets) but also in institutiuonnal context like fancy art shows openings and see how people would react.






Food delivery coursiers in a white cube, 2020
Color pencil and felt pen on A4 paper



Since the Deliveroo twist and wordplay to "délivrez-nous" had religious and Catholic connotations, i thought i would stick to this registre for new wordplays and puns for UberEats and Takeaway (which are the three main delivery platforms competing with one another in EU metropolis). In the end, i would have a sort of trilogy and trinity.





Twisted logos from food delivery brands




Finally I've found 2nd hand Takeaway.com uniforms like impermeable jackets, hoodies and cap at good price. Yet I am still struggling to find a thermic back-bag since food delivery coursiers from Takeaway must pick it up and return it back after each shift, to a warehouse located in north of Brussels. Same with promotional orange Takeaway bicycles.

I also struggled to find an orange fabric in Brussels that was the exact same color as Takeaway. So what I did was that I painted a blank white fabric with acrylic paint, screen printed the twisted logo on top of it and sued it back with the rest of the jacket. But i think that for better discretion, I must find a uni/blank orange jacket and cap and make them printed at digital print shops with vinyl thermic prints.



I also pay close attention to how food delivery brands make advertising, depending on the city. For instances, in Brussels, only Takeaway.com makes advertising campaigns through outdoor panels but also on the internet, with targeted ads on YouTube and Instagram (stories and newsfeed). UberEats and Deliveroo also did video advertising campaigns on the internet and television, but apparently not in the BENELUX area, neither in France and rest of Europe. I should do some researches about that.


Takeaway.com outdoor Ads in Brussels' city streets



Since the lockdown, i'm seeing the same Takeaway.com ad on my Instagram newsfeed and between Stories. They start the ad by evoking the global unusual situation due to COVID-19 pandemic, but assure customers to deliver 'tastes' and 'savors of normality'. Through this advertising, they claim that food abundance and the luxury/caprice of having one's food delivered at home is something normal.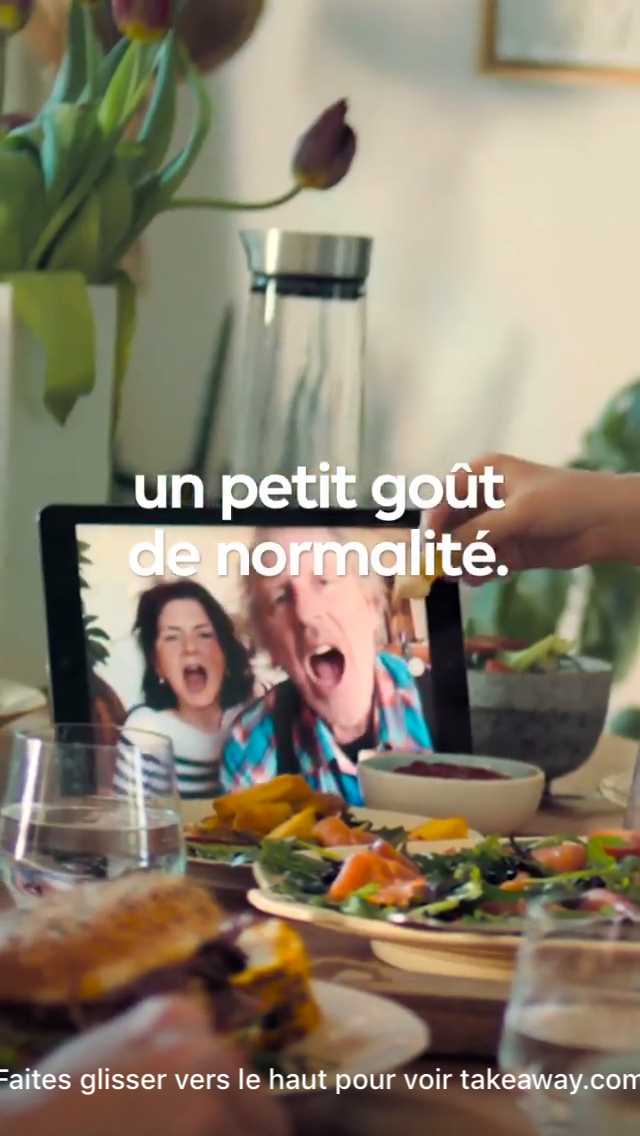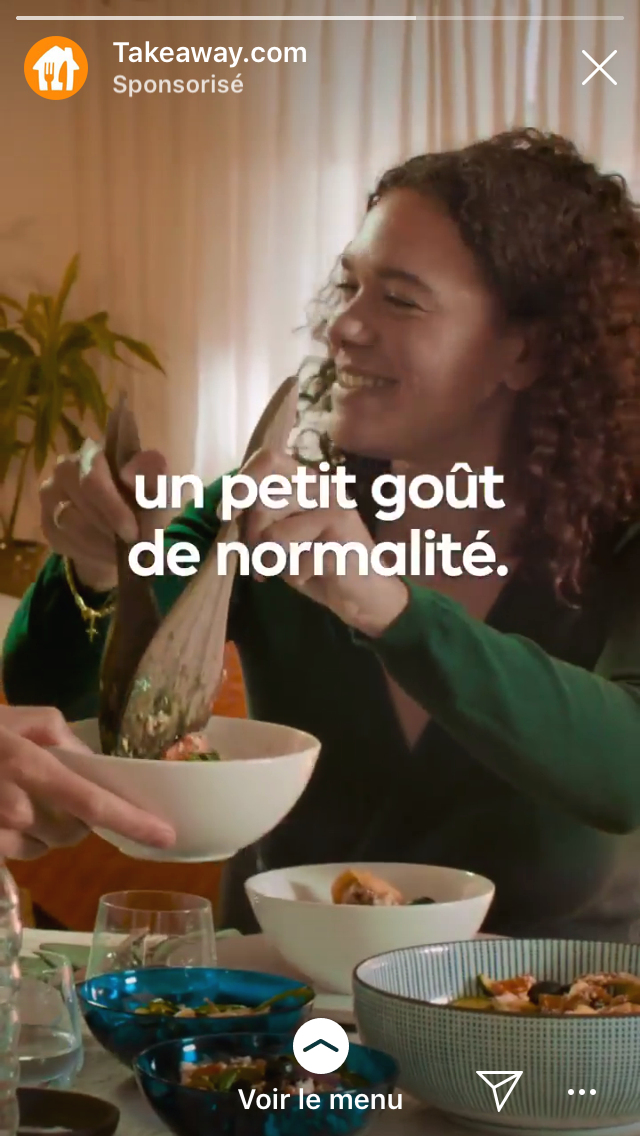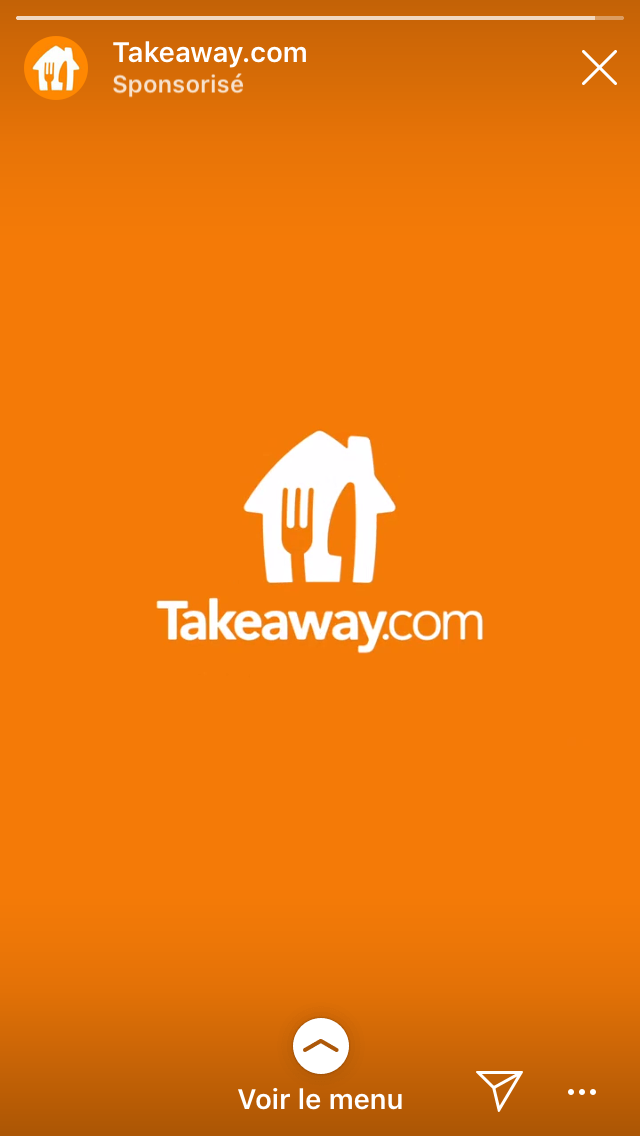 Takeaway.com targetted advertising since March 2020 between Instagram Stories.




August 2020
Upcoming art shows
Not long ago, I've received the confirmation that Brussels' group show We Art XL was still up to date and that it was going to take place from 17th until 20th of September. I've never been to any of the previous editions but I imagine an itinerant thing with different locations in Ixelles' area. Though the selected artists don't know yet which places they'll get, the organizer told me that it will be mostly empty ground floor buildings like old commerces with vitrines—which sounded perfect to me! I'll probably exhibit the recent assemblages with Apple packagings, pastiches of Amazon shipping parcels and of food delivery paper bags. All of them would be wall-based (maybe some of them on pedestals) and showcased inside mini vitrines made of plexiglas. For the opening night, I will ask friends to wear twisted uniforms of food delivery coursiers, Apple Store vendors and of postmen.

There's another show to which I'll be participating and which is called ECHO. It will take place in Kortijk (Flanders, Belgium) in the beginning of September (opening on the 9th). Curator Gregory Decock contacted me via IG and proposed me to be part of the show by exhibiting Ars Moriendi (Vanitas) which is a funeral spray made of real flowers and a silk label with my name printed on it. At that time (2018), I used to show particular interest in funeral art and especially western 19th century memorials for bourgeoisie class, which I used to reproduce and appropriate the image, and switch the names of the person commemorated, by putting mine instead. It was the beginning of a series of usurpations that were dealing with the notions of identity and social success.



Ars Moriendi (Vanitas), 2018
Funeral spray



Last exhibition I'll participate to is also in Brussels and organized by students of E.R.G art school. It's called Right In the Feels and it's dealing with how one expresses him/herself through digital technology. From the different projects I proposed, they've chosen the Facebook post buffering minimalist animation. Lockdown had just begun when I applied for the show and at that exact moment, it used to be quite accurate and actual, given the over-business and saturation of internet connection worldwide. With the organizers of the show, we concluded that the buffering animations would be web art pieces included in the online exhibition (they are planning to make both online and offline shows). I'm thinking of different web pages, each one having 2 versions—desktop and mobile—, and each one appropriating graphic interfaces from websites and apps that enjoyed high online trafic during lockdown like social medias, streaming video (porn included), and take away platforms. The idea is to evacuate all information and visual content inside webpages' skeleton design and enjoy the potential aesthetic of buffering animations, like contemplative screensavers.





Screeshots of websites for Right In the Feels group show





So this is it for the upcoming art shows. I hope that I'll manage to get everything done on time and that things will go +/- how I want. Now let's move on to more recent art projects and how they've evolved since last month.

Basically, I've been working on the projects related to Apple, Deliveroo and Amazon, putting aside the one about FIFA . . . which is fine 'cause the next World Cup is in 2022 and they didn't start to make much advertising in EU countries yet (except in Paris and Berlin), so I still have time to elaborate and develop it.

Pious assemblages and forbidden fruit
I've continued to experiment and explore different ways of evoking high-tech cult, my own fetishization of Apple products and devotion for the brand. Therefore, I began to make a new series of assemblages with Apple packagings, combining them with religious-related artefacts (mostly Christian iconography) found in thrift-shops, flea markets and via Facebook announcements.


Ex-Voto

, 2020

Assemblage



I've made one special Facebook post/announcement to find a collection of beans/figurines from Galettes des Rois (from French "Kings Pie") representing figures from the Nativity scene. To be short, the Galette des Rois is a typically French patisserie and christian tradition—even though it's older than Catholicism since Romans were already doing this ritual to celebrate spring solstice and the coming back of sun(light). The tradition consists in sharing a frangipane pie inside of which there is one bean. The one that gets it becomes the king (or queen), referring to the three Magi Kings visiting baby Jesus.
So I've found a complete bean collection and glued it inside a MacBook Pro box, to make a modernized version of the Nativity Scene. In this assemblage, the Apple packagings becomes the traditional frangipane pie and the white thermoformed object inside becomes an abstract and sanitized architecture and stage set that hosts the Holy Nativity Scene, and the villagers at the bottom. What could also justify the combination of Galettes des Rois figurines with Apple packagings is the geographical place where these atrefacts have been manufactured, which is obviously China.


Adoration of the Magis
, 2020
Assemblage
Balthazar

, 2020

Assemblage


In other assemblages from the same series, I like the 'visual chock' and anachronism between the image of elegant techno-futuristic object/device printed on the packaging and the 'kitsch' artifact with greco-roman art references.



iAltar
, 2020
Assemblage
Zen Packaging

, 2020

Assemblage

Trash Apple
I also started to do a new kind of public interventions which consists in sticking Apple's logo on different objects and in different places (both indoor and outdoor).

When purchasing Apple devices, customers receive 2 stickers that are +/- hidden inside the packaging box, among the manuals. Sometimes (yet it's quite rare) we see some sticked on car glass windows, trunks, or on electronic products like microwaves, fridges etc. Yet Apple customers don't really know where to stick them, so a lot of them just remain unused and hidden inside the packaging box.

I was asking myself which places would Apple not like its customers to stick the white fruit logo. And taking in consideration Gary Farrelly's advice according to whom I should 'trash Apple' instead of queering and disguising its packagings, I literally followed his advice and started to stick the original Apple logo stickers on public trash bins, inside public urinals, vomits, birds excrements, dead birds—each time documenting the interventions with photos and videos that I now publish on a new IG account called

@apple_macintrash

— check it out !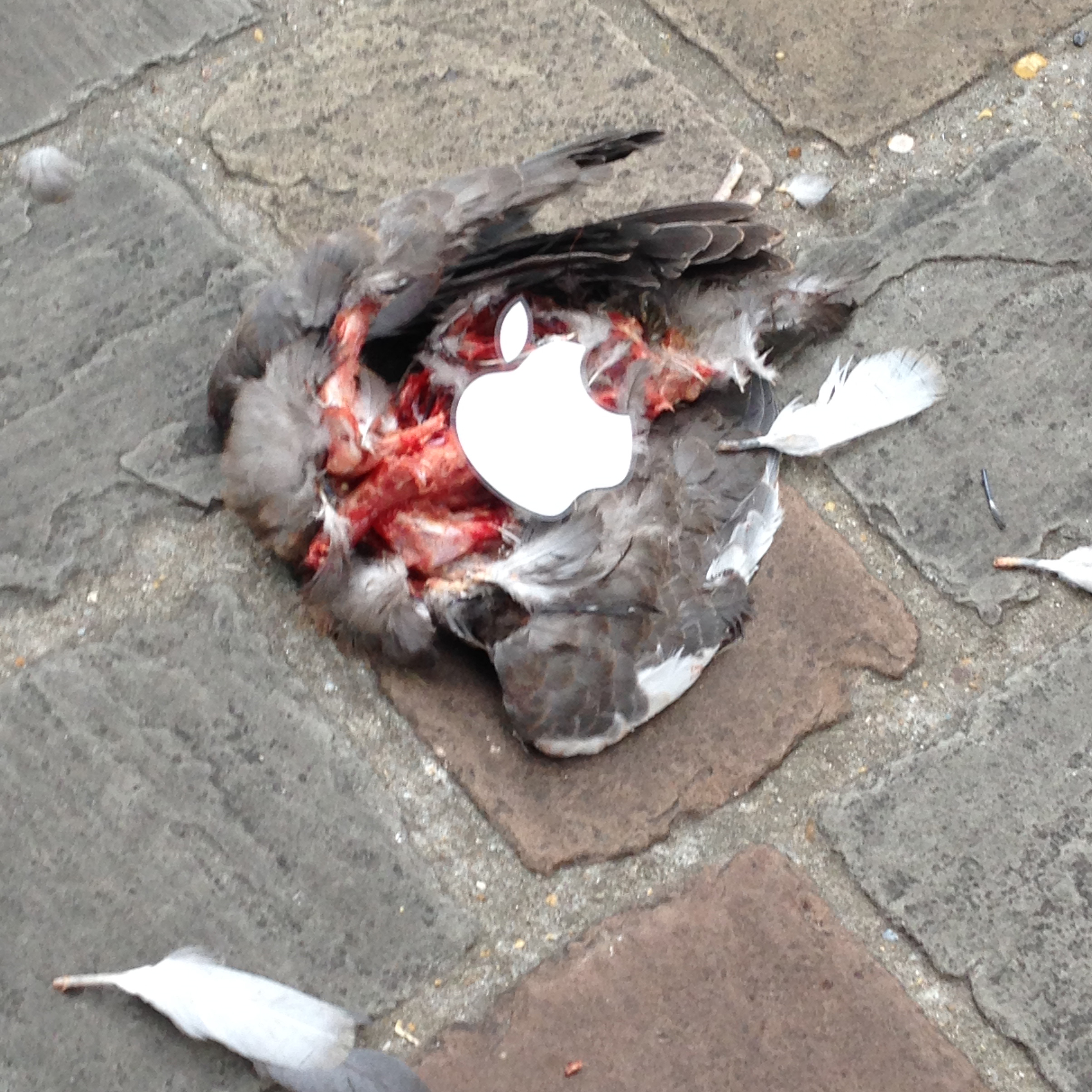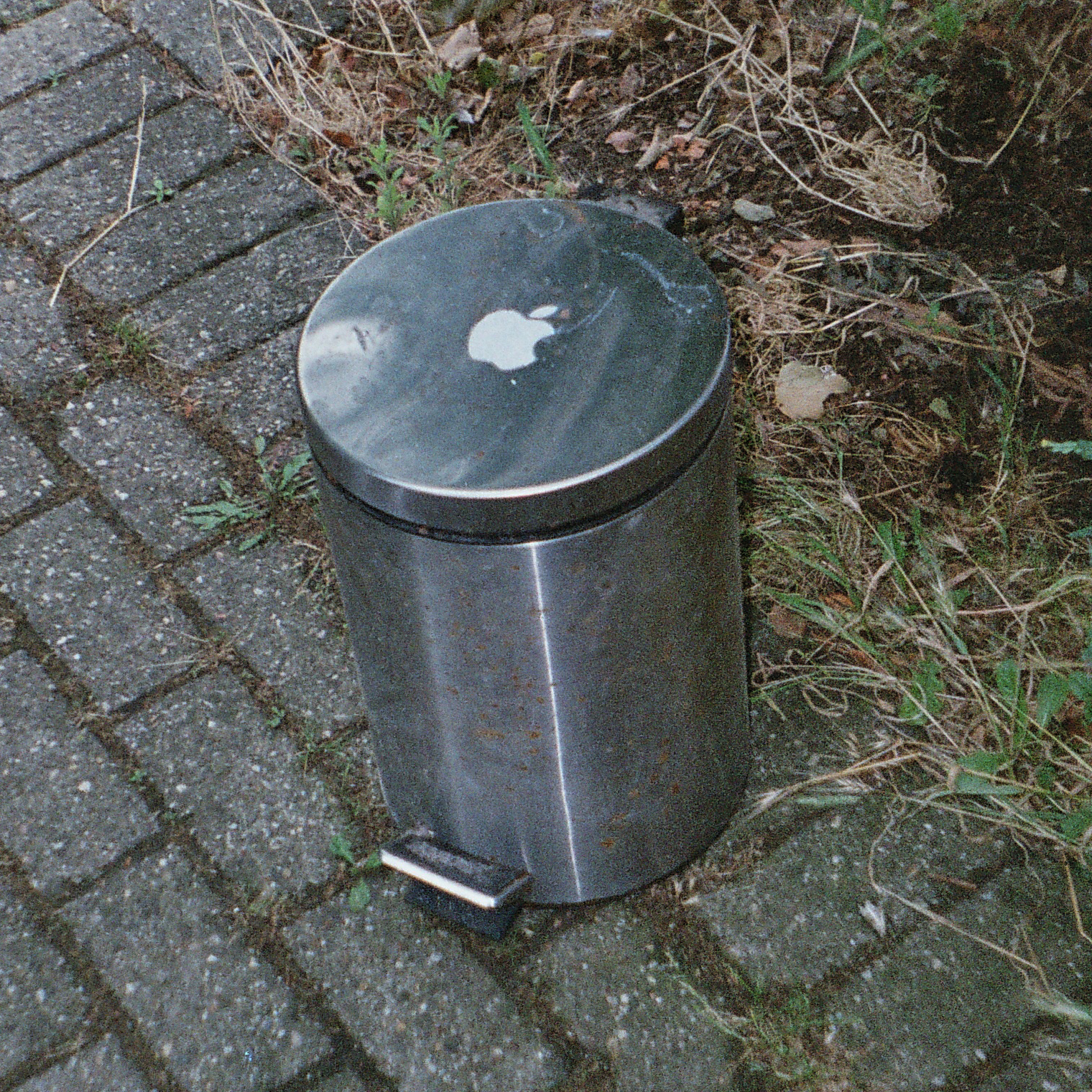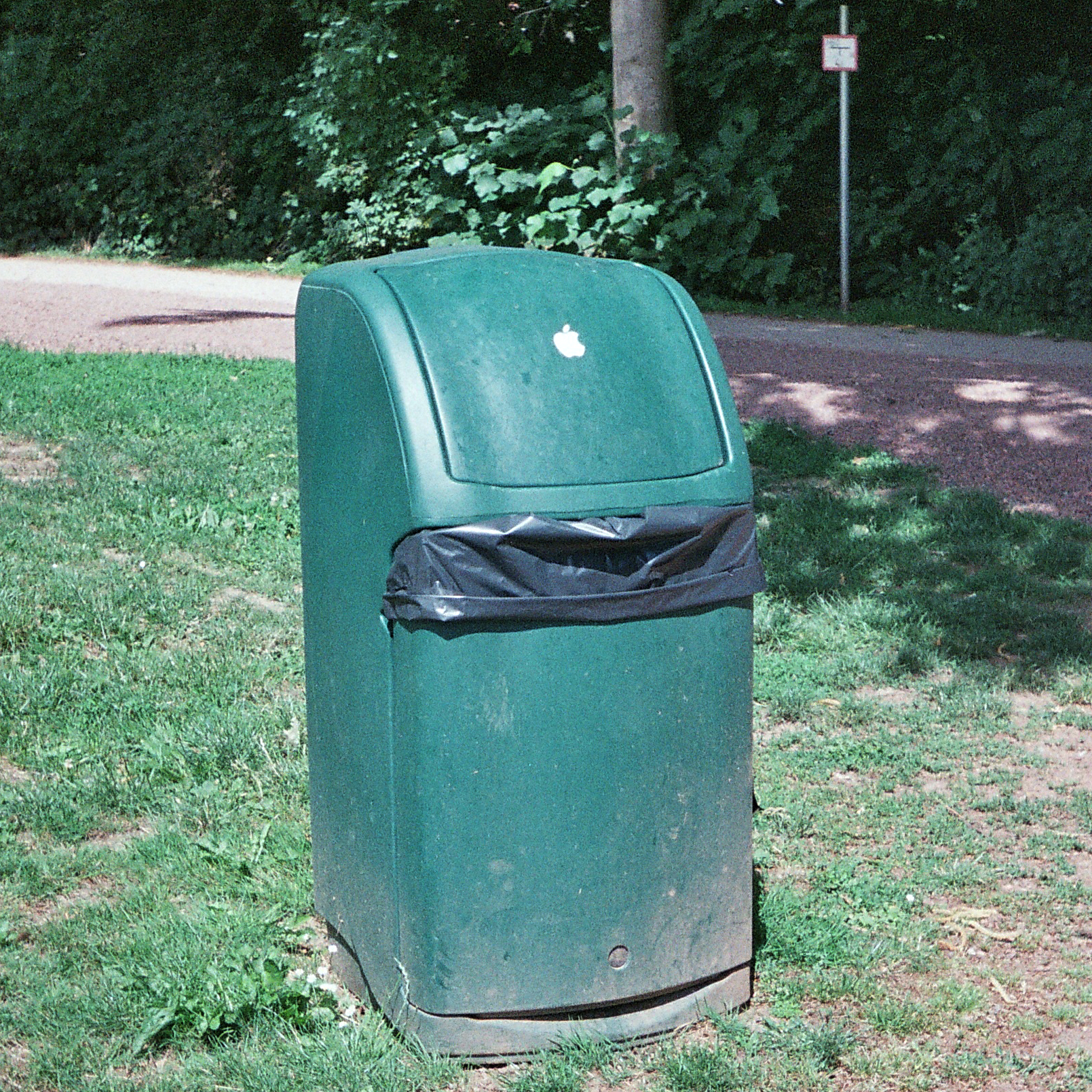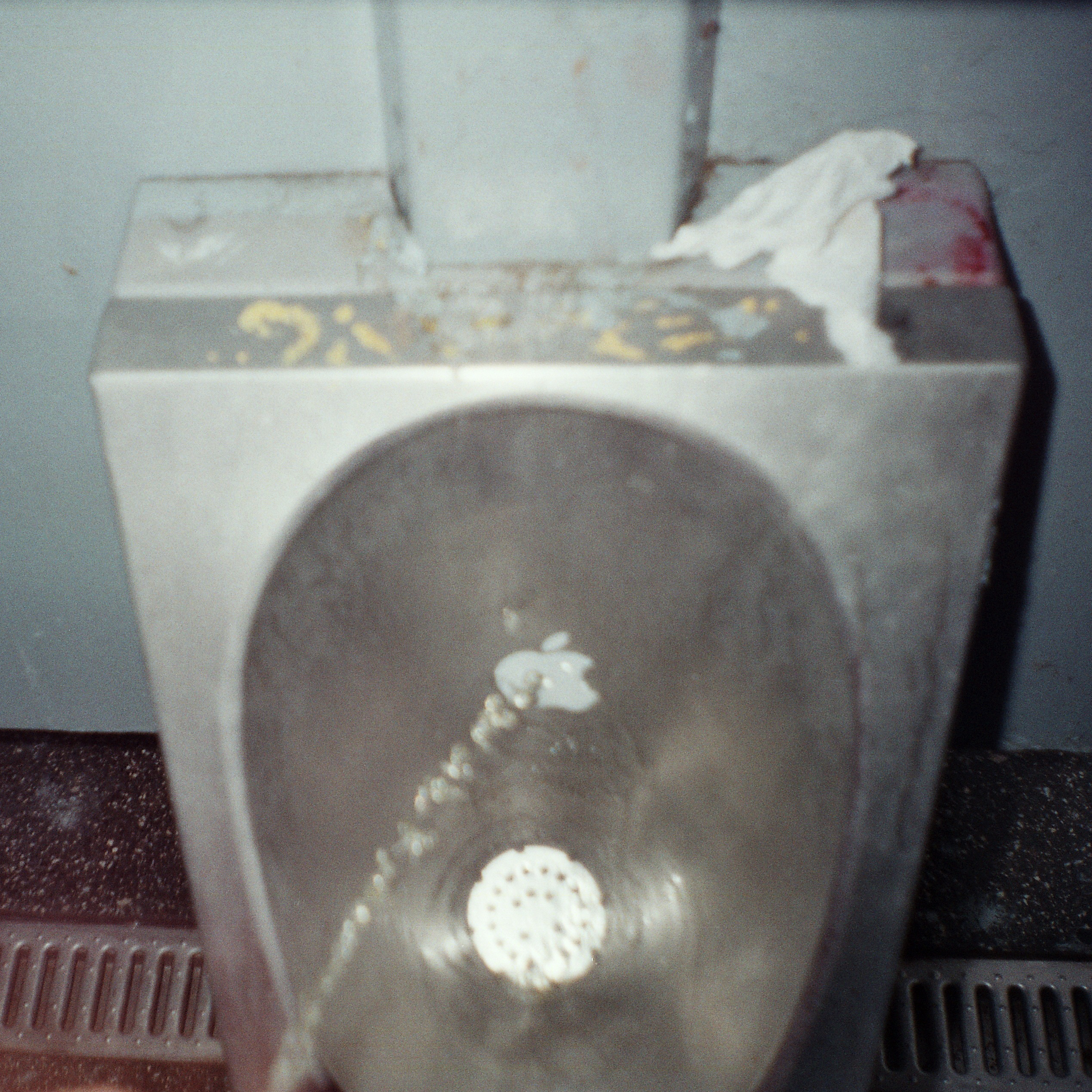 Public interventions of sticking original Apple Logo stickers (Brussels)



On the same account, I also posted stories of photomontages with Apple Ad campaigns (mostly those on large billboards). These pics are from 2017 or so, which don't make them very actual. . . but I'm waiting for October, when Apple will launch the new iPhone 12. I'm thinking of a video with pigeons eating bird seeds on the path-walk, writing and announcing 'iPhone 12'. Could be made in front of the Apple store!


Photomontages with Apple Billboards campaigns.






Parody of Apple campaign for iPhone 11 Pro
Posted on IG page @apple_macinstrash




I'm also thinking of ways of subverting the apple stickers that would 'distanciate' us from this marketing move. One way would be to frame the original film inside a double glass window and to hang it on the wall, like a ready-made, so one could see the 'drop shadows' drawn on the back by the white shapes. Another way would be to trap and lock up the logo stickers film inside transparent resin to make them inaccessible, like if they were condemned to never be used nor 'activated', thus making inefficient and canceling the promotional strategy. In 2017, Leo Luccioni did the same with a money scratch card, which was a pretty strong conceptual move!

Usurpation: "The cowl does not make the monk".
Since last month, I have been wearing the twisted Deliveroo uniform several times while riding my bike both in Brussels and Paris city streets. Most of the time, it was just for ballads, without delivering any food. But one night, I've actually infiltrated Deliveroo by using my friends' phone (mine is too obsolete to download the Deliveroo Rider App. . . ) We waited more or less 1 hour until we received a notification for a course. According to my friend, the reason why it took so much time is because Deliveroo's algorithms memorize how frequently you work for them and privileges the ones that do a lot, discrediting the others . . . which actually shows how gig economy and easy-money jobs are quite competitive and discriminating.
The course was 4km far from where we were and during the trajet, I asked the woman riding her bike behind me if she could to take a picture with my analog camera. The photo is quite shitty but it was amusing at the moment. See pic below.


First course for Deliveroo with the twisted uniform (Brussels)


Worn in public, the twisted uniform functions as a disguisement, a camouflage that fools society, even the police. When I wear it, I feel anonymous and invisible for other people. Disguising myself as a Deliveroo coursier—and, more recently, as a postman—is like playing with my own identity and public posture. It shortcuts subverts and transgresses established social order (likewise, in 2018, when I used to infiltrate art exhibitions by depositing clandestine ready-made objects and/or through falsified signaletic objects like the brochure and exhibition labels).

The evening when I've delivered food, I also met Ottman at Place du Chatelain. He was a guy from my age who left Casablanca when he was 18 to come here and do communication studies. It's been three years since he works for Deliveroo and he also used to work for Uber Eats. He was also curious about me, asking me typical questions. Yet I got pretty uncomfortable because of not being honest with him and fooling him with my disguisement… In the beginning, I thought that wearing the uniform was the best way to 'approach' food delivery coursiers and engage social contact with them, to get to know them. But later on, while being in Paris, I realized that I was more confortable when telling them the truth and being honest about my 'true' identity and intentions.

I don't want to fool food delivery coursiers 'cause they are not my target. My targets are essentially the ones who order food online and for whom the luxury of having food delivered to their doorstep is too often taken for granted. I'm not accusing anybody but the capitalist system which makes food abundance something normal.







While being disguised as a food delivery coursier in Paris, I've asked strangers in the streets to take pictures and videos of me with my telephone.




During my city trip in Paris, I've found myself in deep reflexions and doubts about this project, as I realized how dangerous and unethical my (im)posture could be/appear: as a European-white-privileged-guy, do I have the right to talk about ethic and societal issues like class struggle, determinism and job discriminations due to skin color, inside western cities ?
I began to ask myself wether I should reiterate my infiltrations by working for food delivery platforms while wearing twisted uniforms with 'political messages'. On the one hand, it would have given me a little more rights to talk in coursiers' voices and names since I would totally live and experience their job and do more than just one course in my life. Yet, after speaking with some coursiers, I had the impression that most of them actually don't complain about their job because it's easy money and 'better than nothing'. But on the other hand, if I do work as a coursier and deliver food, this would mean stealing their jobs and earn their money.

I've also been recording food delivery coursiers in Paris with my camera—but also other key workers wearing uniforms in public space—sometimes asking their permission, sometimes not. I've published some of the records on my official IG account, so IG users/followers could see and live (more or less) what it is like to be a food delivery coursier in metros.





Unknown food delivery coursiers who I've followed by bike in Paris


The same day, I've met Ahmed, an Algerian guy in his 50s who started Uber Eats since two weeks. Before that, he used to drop french newspaper Le Monde inside subscribers' mailboxes. He was friendly and i spent half an hour following him by bike to record him while he was working. He told me that Uber Eats has recently set new working conditions and regulation such as facial recognition to check if delivery coursiers are using proper account—I guess in order to avoid another polemic concerning clandestine workers using fake accounts. Also, if app algorithms don't recognize coursiers' face, they cannot go online and work.





Ahmed



I also remarked that Paris, compared to Brussels, has other food delivery platforms like Just Eat (which used to be taken over Takeaway.com), Frichti, Picard and Stuart. Uber Eats and Deliveroo, though, are established in both metros. They are the two titans competing with one another on the food delivery market, tackling every emerging start-ups.

One evening, I went up to Montmarte, disguised as a food delivery coursier and asked a stranger if he could take a pic of me with the Basilique on the back. It has been quite some time since I wanted to have a picture with a religious monument in the composition/picture frame. I wanted to 'contextualize' and relate the twisted uniform with religion, to extend the wordplay from coursier's job conditions to Catholicism in order to highlight what impact both institutions may have on one's freedom.



Contextualization of the twisted Deliveroo uniform in Montmartre, Paris



On the next day, I've showcased the uniform in another institutional context, which was in the famous Musée Pompidou. It was funny to see the reactions of visitors and the museum team who must have been asking themselves wtf I was doing here. I remember the security guard at the entrance being particularly arrogant with me. Unfortunately, they didn't allow me to take the cubic back pack with me inside exhibition space so I had to leave it in the locker room. Once inside the exhibition space of museum's permanent collection, a visitor came to me and asked me about the wordplay and we started chatting friendly. Then I asked her if she could take a picture of me, with some of the art pieces showcased inside vitrines.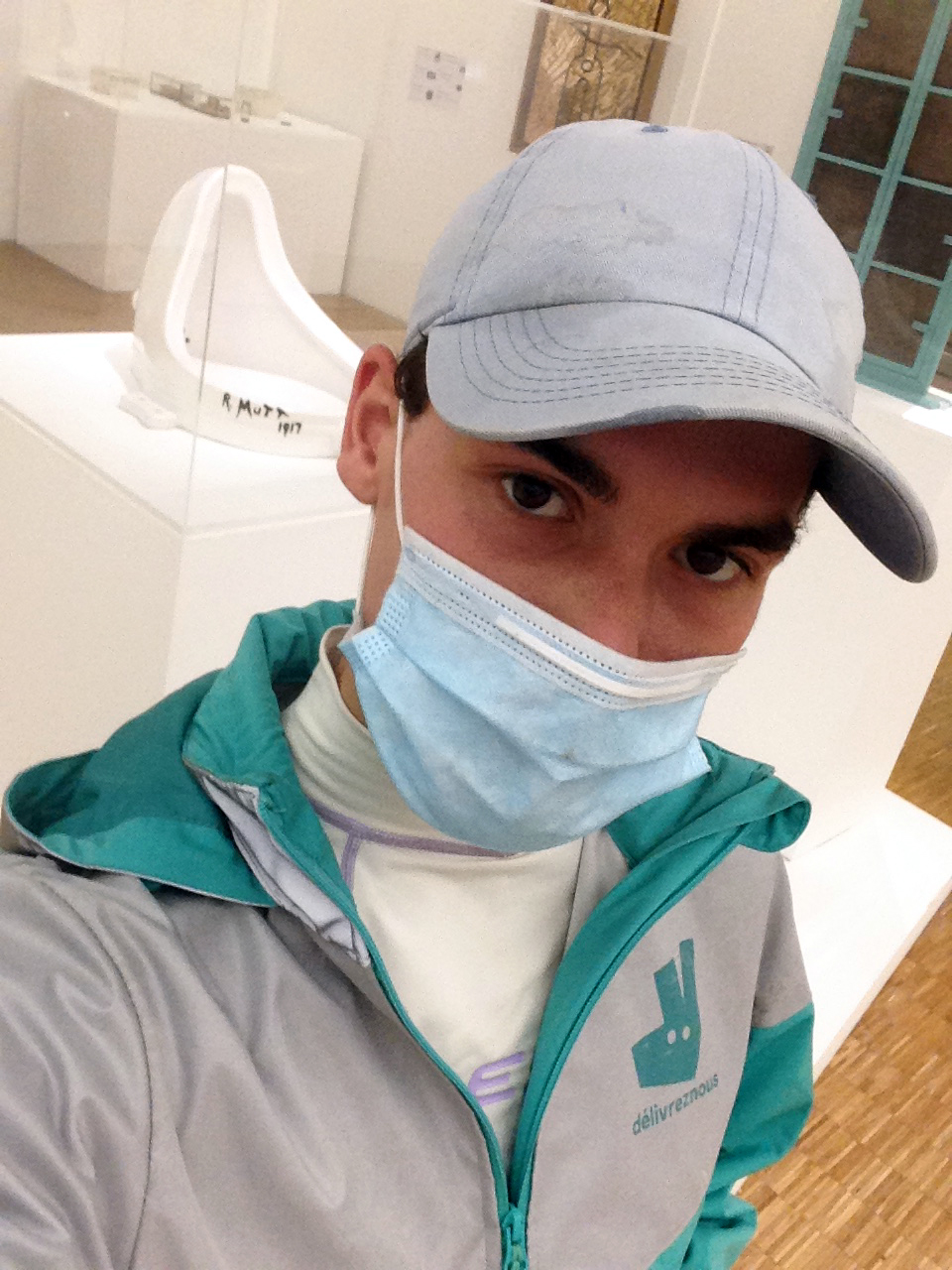 Contextualization of the twisted Deliveroo uniform inside Pompidou Museum (Paris)



I took advantage of this city trip in Paris to experiment and get familiar with TikTok (LOL) and posted two mise-en-scènes videos that document the actions of wearing Deliveroo uniform in Paris. Here's the link of my

TikTok account



Then, back in Brussels, I've showcased the twisted Amazon parcel while being disguised as a postman. In the end, I've sued my own unoform and made it printed in a digital print shop. I'm really not satisfied with my wordplay, which says 'bpost modern art', instead of 'bpost'. Maybe I should have left the original logo of national mailing company. Also the guy didn't print the image on the right side and the visual is just too big.



It was fun to sue my own postman uniform from three different shirts, but the print is definitely a fail.
Contextualization of the Amazon parcel pastiche in Brussels city streets.


Both Deliveroo and Amazon projects shed light on key workers' labor conditions, yet they also deal with notions of identity, social functions, postures and status. . . and how all of that are determined by one's outfit, perceived by society. I realized that what really interests me in these project is actually the function of professional uniforms and how they produce identity-switches.

I've found an interesting essay/paper about professional uniforms, that is part of Nicole D'Almeida's book The Judgement Society[1]. In the text, the author defines professional uniforms as both aesthetic and visual landmarks and signals that organise social relations by identifying roles and determining postures inside society. According to the author, uniforms puts a distance and bypasses all other 'personas' and personality dimensions of the ones wearing them, thus reducing the variety and multitude of potential relations with others. As D'Almeida puts it, the uniform determines and channels [social relations] around one only figure, which is the commercial relation. Later in the text, what the author says about commercial places resonated a lot with my reflexions on the public place and its visual colonization/pollution by corporate graphic designs and visual identities on promotional objects: in the author's words, commercial place is no longer 'fixed, but extensible, open and characterized by free entry and free circulation'.

________________________
[1] Almeida, Nicole d'., La Société du Jugement : Essai sur les nouveaux pouvoirs de l'opinion, 2007, Paris : Armand Colin. My Translation in the text.



July 2020
This publication will focus on my final jury from Arts School (at ENSAV La Cambre, in Brussels): what was presented and discussed; what worked and what didn't; and how the four projects/propositions presented evolved since June.

"Your trash my treasure"
My first project was about Deliveroo, the UK-based online platform for food delivery, and focused on its delivery people's labor conditions. For the show, I exhibited silkscreen printed Deliveroo's paper bags, with a barely visible twist in the original brand name: Deliveroo became 'Délivrez-nous', from the French for 'set us free' or 'rescue us'. The direct and imperative tone of the phrase suggests a state of emergency and distress, a call for help like an S.O.S. Relatedly, I called this project #SaveOurSouls as it evokes the Christian prayer to be freed from evil, symbolized here by hyper-consumerism and gig-economy. As the idea of the twist in the brand name came to me during global lockdown, the ambiguous and polysemous phrase could be interpreted as something said either by the ones who ordered the food online—who, confined by law, felt deprived of their freedom of movement—or by the gig-workers (in this case, the delivery person) doing underpaid, unsafe jobs. In the show, the pastiches of food delivery paper bags were filled with trash that I collected in my neighborhood, and showcased on top of empty pizza boxes, also coming from the streets.





From the 20 silkscreen Délivrez-nous bags, I left half in the streets as if actual trash. In hindsight, I regret throwing them away, having taken so much time to making and assembling them! However, I felt like it made sense to contextualize the artifact in places where I, and anyone else, would usually see them (their 'natural' and 'original' environment/context). By doing so, I hoped to challenge people's perception and to communicate with citizens and street cleaners, for what otherwise appeared, at first glance, as trash or visual pollution.






Contextualization of 20 silkscreen printed food delivery paper bags, on which one could read "Délivreznous" (Brussels, June 2020)




Another part of the project included a living sculpture: for 2.5h, on the Avenue Louise (a wealthy commercial avenue in Brussels), an actor wearing the twisted Délivrez-nous uniform and holding a delivery backpack pretended to wait for someone to pick up their food. The location, being such a busy shopping street, was moreover strategic and offered a situationist dimension to the performance/action: it recreated the ordinary situation of delivery people waiting outside for the food to be prepared or picked up. A moment of vacuity, of void and of activity suspension. The reenactment of the banal situation was thus the spectacle of delivery people's dependency, alienation and temporary deprivation of freedom.







#SaveOurSoul, 2020
Action/Living Sculpture
in situ (Avenue Louise, Brussels)





Later this summer, I'm planning to make another performance/action in public space that will consist in infiltrating the Deliveroo platform by delivering food to customers, wearing the twisted uniform and handing them food in the twisted paper bags. I'm still thinking of technical details—how I want the final video to look like and where to film. I want the video to be dynamic and sophisticated (a drone would be so much fun), but still simple and low budget. Francis Alys's videos in Mexico City, for instance, highly inspire me.

The second project I presented the jury was about Amazon, which also profited from the intensive activity emanating from the global lockdown. Just as I had noticed the increasing amount of Deliveroo, Takeaway and Uber Eats paper bags, I witnessed innumerable Amazon cardboard parcels in the streets on trash collection days (fun fact: I was told that Belgium receives approximately 130,000 Amazon parcels to distribute—per day!). I therefore decided to collect the clean cardboards that my neighbors were throwing away. I took them home and started painting sad emoticons on them using the Amazon arrow logo turned upside down. I also added a pun on the adhesive tape that closes the box: where Prime became 'déprime', from the French for 'depression', thereby evoking my own feeling of desolation at marketing strategy for intense consumerism and abuses of the capitalist system.




Sad, Anonymous Parcels

, 2020

Mixed media


I wanted to paint as many boxes as possible, so I could exhibit them in the streets, among other trash (like I had done with the silkscreen Délivrez-nous paper bags) but also to sell them online. I'm also thinking of a way to activate and exhibit the unhappy Amazon parcels by dressing up as a postman and walking through the city struggling to carry a huge pile of unhappy Amazon shipping boxes. Unfortunately, I still have to find the uniform! I've asked postmen and women in the streets and even tried to apply for a postman job during summer vacations in order to infiltrate the postal services, but the process ended up being too cumbersome and unlikely to succeed. Ultimately, I may just have to sew up my own—stay tuned! As for the Deliveroo project, by wearing the uniform and activating my artisanal artifacts, I wanted to put myself in the shoes of essential workers and get a glimpse at what their daily lives look like. I want to play: both with my own identity and people's perception in the city streets.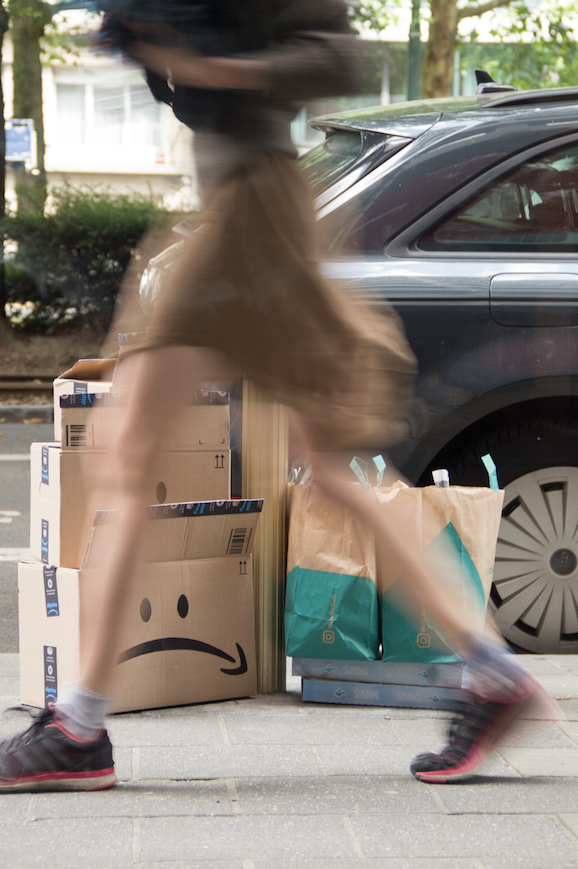 Now we move on to the third jury project which was about the FIFA World Cup edition of 2022, taking place in Doha, Qatar. I started conceiving this installation back when I was still in Beirut, after I saw a light projection on El Raouche (one of the national emblems and a touristic attraction in Beirut) that advertised the mega sport event. As I stood there, I wish I had the means to put together my own light projection near the bay: a projection that would appropriate the 2022 World Cup visual design and subvert it in order to expose the labor conditions on Qatari stadium worksites, where approximately 1,300 migrant workers from Bangladesh and Nepal, among others, had already died.
I was also outraged by the absurdity of hosting the World Cup in a desert, which would put athletes at risk and thus require that stadiums be equipped with huge, polluting, air-conditioning systems, all of that for sensationalist spectacles that cultivate nationalist, racist and macho ideologies worldwide and that are sponsored by the most unethical and unhealthiest multinationals.
For my show, I therefore decided to use the black box room to exhibit an ice-replica of the FIFA World Cup trophy inside a mini-fridge. Next to the ice sculpture, a screen projection showed the 2022 FIFA World Cup design, with the following pun: "FROZEN WORLD CUP, QANAR 2022"—where Qanar refers to the French 'un froid de canard' or 'freezing cold'. Those visual and lexical reminders of the cold (the iced-trophy inside the fridge, the snowflakes, the shades of blue instead of red) were meant to draw the attention to the air conditioning systems being installed in the new Qatari stadiums.
I projected a video of an animation I had made in Beirut to parody FIFA's advertising campaign by simulating a 3D mapping video on El Raouche with snowflakes, Nepali passports and rhododendron falling down. As the video played, an epic and sensationalist soundtrack was played in synchronization with the animation.
If I were to do it again in a European City, I probably would remove the reference to El Raouche, as people might not recognize the Lebanese symbol, and remove the wordplay on Qatar, but I would keep the symbolic snowflakes, passports and flowers animation, as well as the shade of blue and incrusted snowflakes of the 2022 logo design. I like the screensaver aesthetic of this parody of advertising campaign for 2022 world cup. Lastly, I should make another silicon molding of the FIFA Trophy (which should be 3-D Print to respect original dimensions. The one I did was in clay and became smaller while drying...




Frozen World Cup, 2020
Installation
Mini fridge, ice sculpture, video projection, sound system




Last but not least: my 4th project focused on Apple's packaging design as seductive mechanism and marketing strategy. For the show, I presented a series of assemblages of Apple boxes customized with extravagant and eccentric accessories, costumes, children toys and flashy puppets, in an attempt to ridicule Apple's zen-like minimalistic aesthetic. But it didn't work, as these customizations in fact glamorized and made Apple products even more desirable objects to possess. Thus, contrary to my intentions, my assemblages weren't criticizing the tech giant but, instead promoted it, free of advertisement! This, in turn, made me realize the dangers—and traps—of the pastiche art, as a tool to denounce social and economic injustices.




Queer Packagings, 2020
Assemblages




Full disclosure, I was very much inspired by David Attwood's work "The indebted Man"[1], which shows Nike shoes on top of iPhone4 boxes. I interpreted the combination as a subtle way to shed light on the complicity between the two multinationals: after years serving as a member of the Nike board of directors, Apple CEO, Tim Cook, was promoted to lead independent director in 2016. So yeah, it seems like in contemporary art, appropriating Apple products as ready-made artworks is OK, as long as it evokes and shows underlying truths and facts that we maybe don't know, especially unfair socio-political and economic issues Apple is involved in: the tech giant enjoys low fiscality in EU countries, poor labor rights in DRC—for cobalt mine extractions— and in Chinese FOX CONN factories, ...

Moreover, I had always thought of capturing the almost-sacrosanct dimension of high-tech products in our lives, and Apple's success and mania was the perfect subject. A few months after I got back from Beirut, I decided to infiltrate Brussels' Apple Store by wearing a vendor uniform and distribute the round, altar bread-like, Apple candy to customers. But because of the current global pandemic, this project was put on hold. But I still did talk about the project during the jury and came up with a sort of Apple triptych that presented edible Apple sweets next to a poster advertising a fake new Apple product on a pedestal, as well as a white iPhone box, covered with stickers.





iBelieve, 2020
Installation



In chapter 7 of his book Brand Sense[2], Martin Lindstrom evokes Apple's part in this holistic branding realm by stating that 'at the core of Apple brand is a philosophy that guides its users which is far deeper than its stylish technology (Lindstrom:179). According to the author we, consumers, are looking for both emotional fulfillment and connection/bonding. And 'Holistic Selling Proposition' brands like Apple tend to accomplish this in several ways. Packaging is one of them: 'by the means of tactile feelings of the product, its packaging . . . can provide a pharmaceutical company with a whole new geography for bonding with their consumers (Lindstrom:197).

______________________

1. http://www.davidattwood.net/index.php/selected-works/the-making-of-the-indebted-man/
2. Lindstrom, Martin, Brand Sense, Build Powerful Brands through Touch, Taste, Smell, Sight and Sound, Free Press, 2005.






Septembre 2019
Highlights de l'exposition How to reappear : through the quiverring leaves of independent publishing (Beirut Art Center).




À travers un panel d'éditions ne disposant, pour la plupart, pas d'un identifiant ISBN (International Standard Book Number), l'exposition aborde les relations de pouvoir et d'influence entre, d'une part, une industrie littéraire et éditoriale dominante et, d'une autre, une culture "sub", amateure, expérimentale, minimales ou dans l'excès, souvent dé-coloniale et anti-capitaliste. Leurs dénominateurs communs : leur marginalité, leur transgression et leur indépendance vis-à-vis du marché officiel.
L'exposition s'ouvre sur une sélections de livres parus dans les éditions
Post-Apollo Press
: une maison d'édition fondée en 1982 en Californie par l'artiste libanaise
Simone Fattal
— très célèbre dans la région et en Amérique, où elle mena une carrière de sculptrice. Spécialement dédiée à la poésie, la littérature expérimentale et aux traductions, Post Apollo Press, jusqu'alors inconnue par les libanais, se dévoile ici dans une mise en scène où les publications jouxtent des documents et autres archives d'époques, parmi lesquels des correspondances et des croquis de Mme Fattal pour certaines couvertures.
Dans la salle de droite, les spectateurs sont appelés par l'immense cimaise haute en couleur, accueillant des affiches et des numéros des deux revues d'art arabes que sont
Soufles
(basée au Maroc) et
Intégral
. L'installation est signée
Zamann Books & Curating
et entend rendre hommage au designeur graphique marocain
Mohamed Melehi
, fondateur des revues exposées.
Les revues d'art et autres journaux critiques sont les principaux objets d'études dans l'installation
Seismography of Struggle — Towards a global history of critical and cultural journals
.
Dans cette black-box, les quelques 59 vidéos-projections font l'inventaire de journaux critiques non-européens, publiés entre à la fin du XVIIIème siècle et la chute du mur de Berlin, tandis qu'une mini-bibliothèque, disposée à l'entrée, invite à consulter des livres critiques, appréhendant la revue d'art en tant qu'objet culturel et pratique artistique. En feuilletant l'un d'eux, je fus ravi d'apprendre que l'artiste français
Ben
infiltra la revue Reg'Art, avec une version dérivée et non dénuée d'humour, connue sous le nom de Gép'Art. Une reproduction d'un encadré dans le n°2 du Reg'Art paru en 1977 montre une liste écrite par Ben : sorte de recette pour la conception du prochain numéro de la revue. Sur la page de gauche, une autre liste (cette fois-ci sous forme de contrat dactylogrpahié) stipulant, entre autre, que "Gep'Art ne se prend pas au sérieux, parce qu'il n'est pas sérieux".
Je me dirigeais ensuite vers
Streetschool
(Protoype), une pré-sculpture sociale réalisée en collaboration et dont le projet fut dirigé par l'artiste
Raaft Majzoub
. Cette install' conjugue une série d'objets hétéroclites, récupérés dans les décharges et les dépôts clandestins le long des routes. Ici, des volets en bois sont assemblés entre eux, de manière à construire des gradins. Là, un banc recouvert d'une bâche imprimée ayant jadis servi à une pizzeria, et dont l'encre s'est effacée à coups de sur-ex' au soleil. Puis, ce sont des fragments de dalles de carrelage, coulés dans du béton, des demi-pneus alignées en arc de cercle, un vestige de colonne corinthienne,... Tout ces objets familiers renvoient à un imaginaire commun et, entre eux, forment cet espace semblable, il est vrai, à une arène.
Trop imprudent.e serait celui/celle qui serait amené.e à considérer l'œuvre comme hors-sujet, car ne correspondant ou n'abordant pas le format-livre imprimé. Le titre et le cartel sont éclairants à ce propos et justifient l'œuvre. Pour Majzoub, l'œuvre qui nous est donnée à voir est une "proposition" et une "publication" d'un prototype (comme indiqué entre parenthèses).
Le concept de publication est à interpréter dans son sens large, c'est-à-dire en tant qu'action de dévoiler quelque chose, de la rendre publique. Ce que l'artiste rend public, ici, c'est une première version — celle prototypique — d'un dispositif sensé fonctionner dans l'espace urbain : une "école de la rue", basée sur "l'apprentissage mutuel".
Dans l'espace institutionnel du white cube, l'œuvre ne peut que nous dé-familiariser de ces objets-rébus et stimuler notre imagination, quant aux potentielles modalités d'activation du dispositif.
Depuis le balcon de la mezzanine, un écran diffuse une vidéo documentant la réalisation de l'œuvre, notamment les expéditions en voitures pour récupérer les différents matériaux. Sa situation en hauteur (la télé surplombe l'arène) et son autonomie en tant que pièce indépendante (celle-ci porte un titre différent de celui de l'installation du bas), peut porter à confusion, d'abord sur le lien de parenté entre les deux œuvres mais, aussi, quant à la valeur accordée par l'artiste aux deux pièces. Est-ce que les interractions sociales et émotionelles prennent le dessus sur l'objet fini, réifié, institutionnalisé ? C'est ce que semble affirmer l'emplacement symbolique et hiérarchique de l'écran plat dans la scéno'.
Restons, encore un court instant, dans le champs de l'esthétique relationnelle pour aborder la bibliothèque monumentale intitulée
NO ISBN
(Arabic version), conçue par l'artiste
Bernhard Cella
(Autriche). Comme point de départ : un open-call régional, lancé par Cella qui, comme pour la première version, pensa à un univers architectural, un display approprié, en vue d'accueillir les divers livres-candidats.
Construit à l'aide de panneaux de bois peints en bleu-clair, le display prend la forme d'un tracé de courbe croissante qui pourrait peut-être signifier l'augmentation du nombre de publications indépendantes et autonomes dans les pays arabes.
Partant du sol, la courbe traverse et coupe la salle pour rejoindre le mur d'en face, dynamisant ainsi la scénographie.
La bibli' réunit une centaine de bouquins (quelques uns sont en arabes, la majorité en anglais), plus un grand format se démarquant des autres, car il s'agit du statement de l'artiste, prenant la forme d'une interview avec
Léo Findleisen
. On y apprend, entre-autre, que l'approche conceptuelle et curatoriale de Cella (dont la profession officielle est, rappelons-le, conservateur de musée) remonte il y a un bout de temps et qu'il fut l'élève de
Franz Erhard Walther
à Hambourg.
Une autre très belle pièce du même artiste (
Les Manquants
, 2012) occupe la quasi-entièreté du mur de droite et consiste en un patchwork de tapisseries, tissés d'après des photographies de couvertures de livres ayant été volés ou égarés lors des 'Salons' organisés par l'artiste. Outre leur aspect "bel-objet", leur intélligence réside dans leur capacité à évoquer en même temps les trois disciplines que sont l'imprimerie, la photo' et le tissage. De plus, la pièce illustre (quasi au pied de la lettre) la théorie de Roland Barthes selon laquelle un livre et son contenu n'auraient, non pas, une signification précise et défnie par l'auteur.e, mais bien une constellation, un "tissu" de significations. Lors de sa lecture, le/la lecteur.rice crée.e sa propre interprétation et, dès lors, devient il/elle, aussi, auteur.e.
Enfin, pour les amateur.e.s de zines, la plateforme
Glitched plants
(dirigée par
Sarah Ahmed
) avait son petit stand où étaient réunis, entre autre,
Seeing plants in Google Maps
: recueil de captures d'écran de fenêtre Google Street View, répertoriant différentes plantes décorant des bureaux et des salles d'attentes visibles grâce au service en ligne de Google. La démarche conceptuelle de s'imposer une contrainte, en vue d'une œuvre plastique rappelle l'art sans talent de DADA, des situationnistes et l'OuLiPo.
Un autre fanzine retint mon attention. Il s'agit d'une micro-édition format A5 imprimée sur papier machine par Omar Al Sadek, où chaque jour correspondait à un photomontage numérique, fait à partir de ces images très à la mode aux débuts d'internet, et qui devaient ponctuer d'une touche d'amour et de gaieté les premiers e-mails. Le côté cheap des montages originaux est accentué par la superposition et l'accumulation de selfies du jeune homme aux regards tantôt tristes, tantôt benêts, parfois affublé d'une paire de lunette de soleil, ou coiffé de deux couettes. En s'appropriant ses images stéréotypées — et un brin bisounours —, l'internet-kid-artist y exprime ses propres émotions d'une manière sensible. On y retrouve le ton ironique et absurde de la culture internet, le désenchantement face à un monde "offline" extérieur n'ayant, parfois, aucun sens. Les deux zines sont typiques "post-internet", dans ce sens qu'ils ont été créés à partir de matériaux visuels trouvés sur internet. Coups de cœur, donc!