July 2021

So this is it: I've just graduated from La Cambre and got my master degree in printmaking. I must say that I'm a bit melancholic to leave school after six blossoming years there, though the administration must be quite happy that I finally get the hell out.

For the final jury, I presented the projects on Deliveroo, TASCHEN, Bird, Proximus and a series of screenprints. These were large reproductions of preparatory sketches for potential installations (i.e. a "Délivrénoo" motocycle showroom), performances (distributing Apple Eucharists in an Apple Store), sculptures (a melting FIFA World Cup trophy on a pedestal),.... Some of them parody, while other poeticize and aestheticize brands and their visual merchandising. Although they are preparatory sketches, these potential art pieces will probably remain as mere images, and won't be realized. There are around 10 copies from each image below.




From left to right:
iBelieve
, 2021, Screenprint on ZERKALL paper, 56,5 x 77 cm ;
Showroom Délivrénoo
, 2021, Screenprint on ZERKALL paper, 56,5 x 77 cm ;
Untitled (Apple Store)
, 2021, Screenprint on ZERKALL paper, 56,5 x 77 cm ;
Frigo Virus
, 2021, Screenprint on ZERKALL paper, 56,5 x 77 cm ;
Protect Me From What I Want
, 2021, Screenprint on ZERKALL paper, 56,5 x 77 cm ;
I Can't Remember To Forget You
, 2021, Screenprint on ZERKALL paper, 56,5 x 77 cm ;
Apporté Avec Soin
, 2021, Screenprint on ZERKALL paper, 56,5 x 77 cm ;
FIFA World Cup 2050
, 2021, Screenprint on ZERKALL paper, 56,5 x 77 cm
Second project was on the micromobility company named Bird. The original plan was to place several Bird e-scooters covered with feathers and singing on the rooftop of the surrounding buildings. But unfortunately, two men working for Bird arrived the day before with a van to take back the four scooters I had stolen from the streets and covered with feathers. The two men were collecting all the uncharged scooters in Brussels, which they could localize with their mobile app.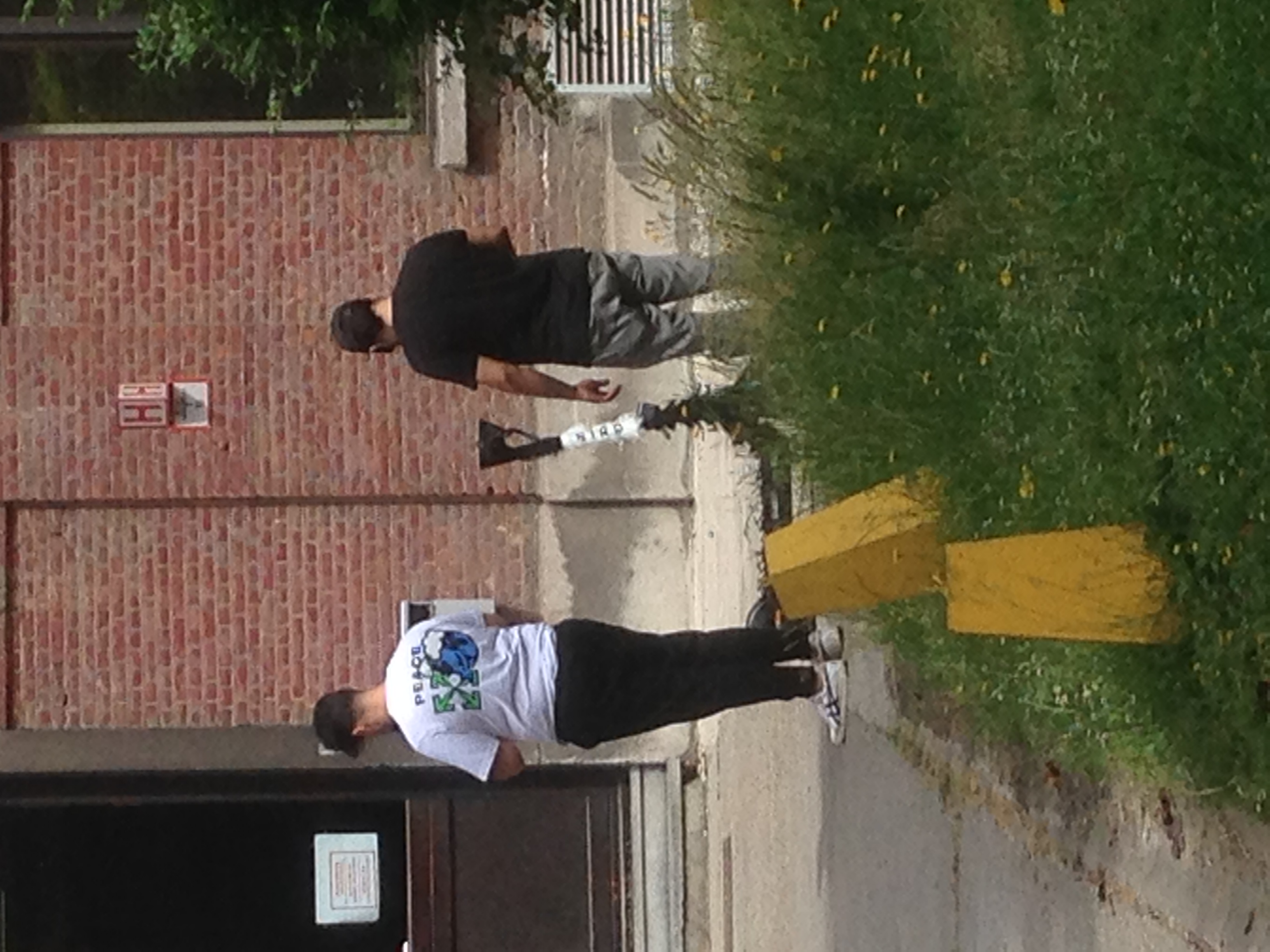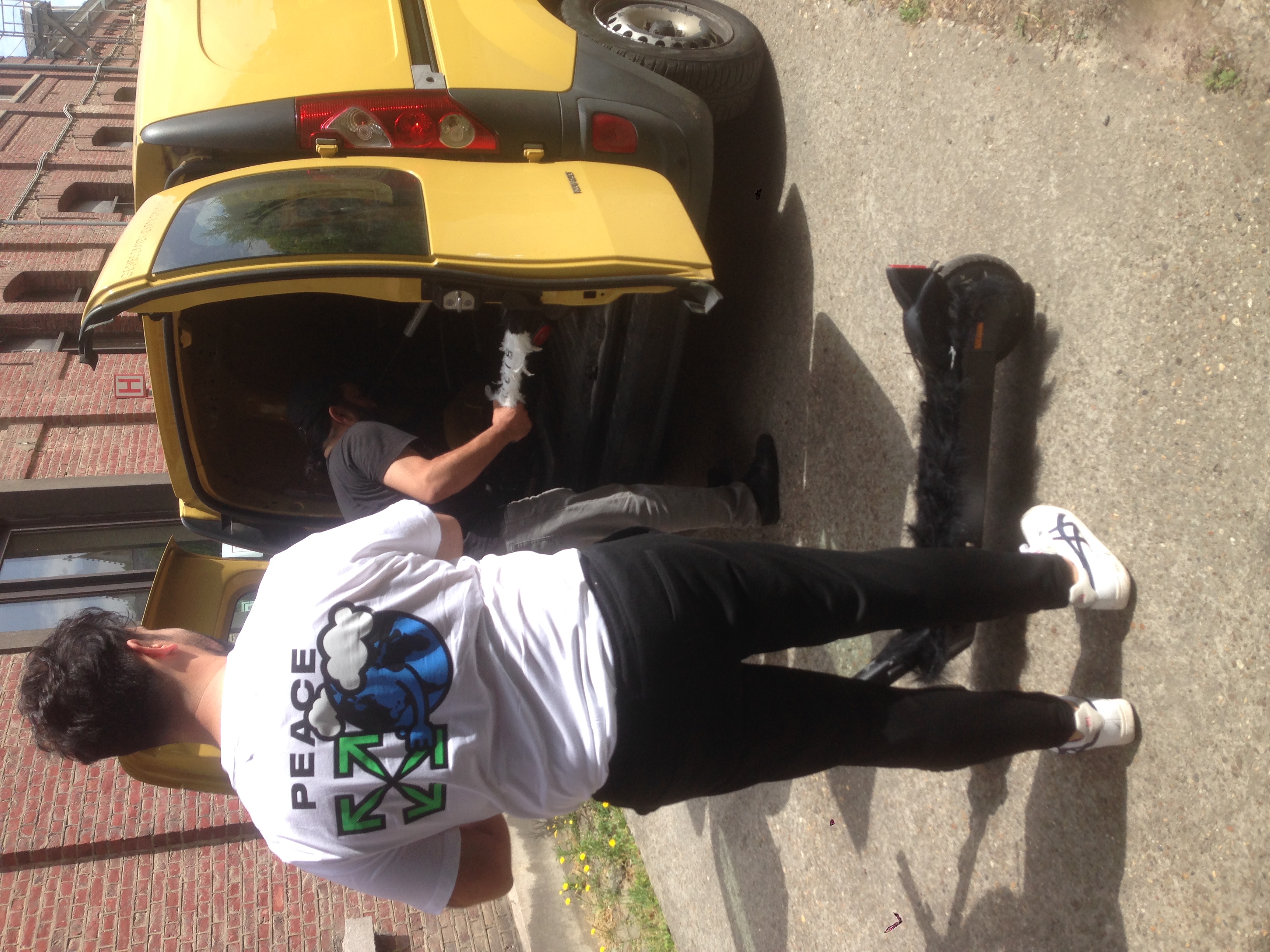 When they came to me and saw the scooters covered with feathers behind me, they surprisingly laughed out loud. They were like 'So this Is an art school, right ?'. Then they left and went to the other building, where I had hidden two other scooters. I guess the scooters went back in the streets, after being recharged and un-feathered. Hopefully, I've taken nice pics of the twisted Bird scooters in a public parc close-by, before they got embarked.



Predator

, 2021

On the photograph, the customized scooter appears as an ambiguous sci-fi entity that is both animal and artificial. The title "Predator" ironically compares Bird e-scooters to hunting animals, competing with other brand-species of e-scooters, in the globalized jungle of neoliberalism.




Magic Deals

, 2021

Lightbox, 60 x 60 x 20 cm


Third piece I presented was the Magic Deals light box, which is a pastiche of a promotional object from Proximus' point of sales. I came up with this idea back in winter, when I applied to the open call for the group show "Third Place or What", at Tick Tack gallery in Antwerp. In the beginning, I had proposed the Proximus flag without logo and thought that other twisted promotional/branded objects from Proximus shops could make the proposition more solid. So in front of TickTack gallery, on the pathway, there was the logoless beach flag and, next to it, social distance floor stickers without signage information ("in", "out", "1,5m", ...). These were arranged in a playful and chaotic way, making them appearing like graphic elements composing a full-scale abstract painting. The Magic Deals light box was hung at a high level on the wall, like an icon or relic. All three had in common the idea of withdrawing consumerist information from the objects, making them flirting with Geometric Abstract art.




Proximinus, 2021
Outdoor installation at TickTack gallery (Antwerp)





I'm thinking of a series of new lightboxes, with other pastiches of Proximus' advertising campaigns. The images printed on the plexi glass would look like these: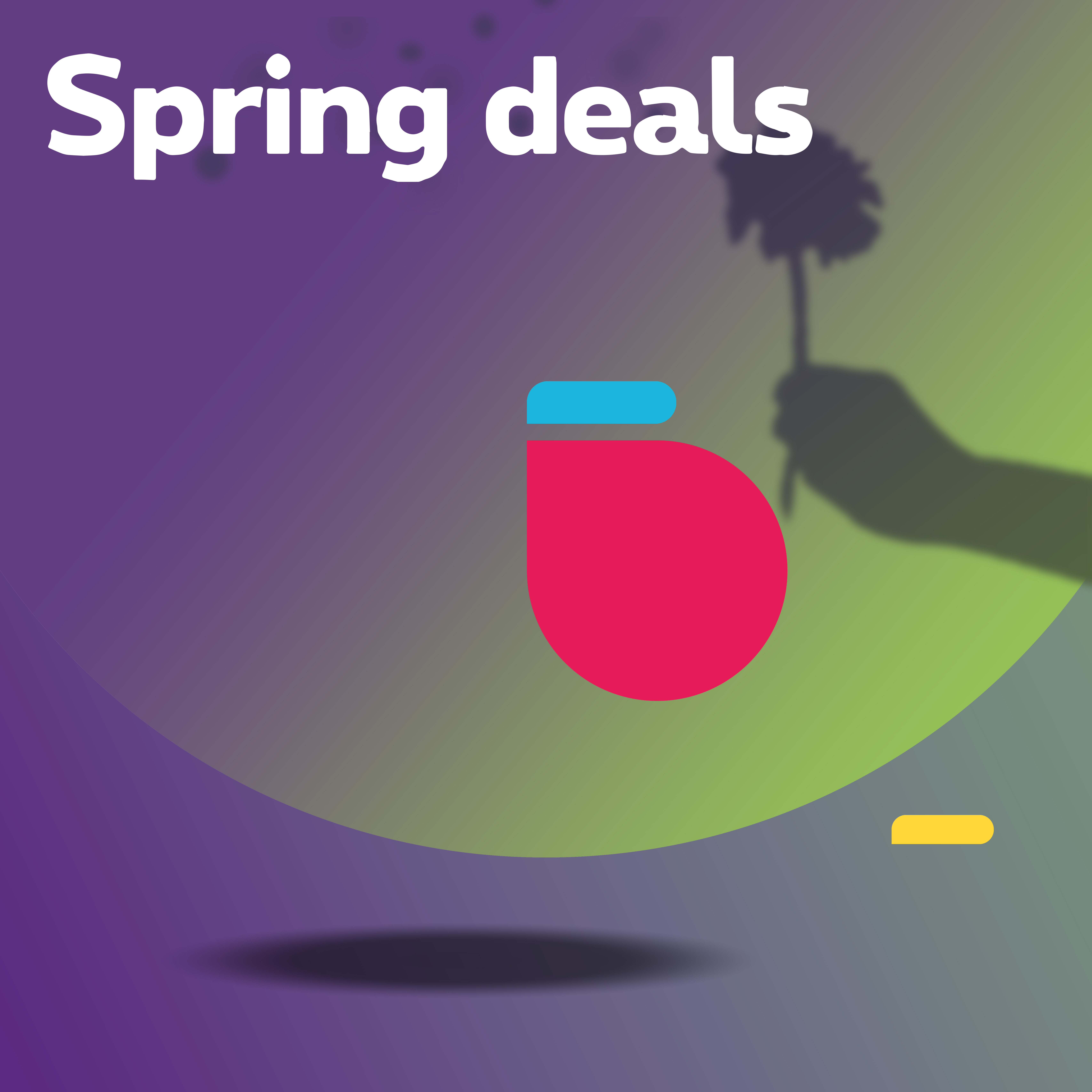 Photomontages from Proximus advertising campaigns



In the fake TASCHEN book that I've recently published, I relate to this show at TickTack Gallery and extrapolate by saying that I've transformed the whole space and vitrine into a fake Proximus shop, which is not completely true. And this lie is far from being the only one in the book. Since the object is, at first glance, a hoax, I was free to romanticize and fantacize my life and future. Therefore, I foresee and predict a successful art carrier, based in New York city, Maurizio Cattalan being my sugar daddy. I'm also planning to disappear in ten years, during the opening party of my solo show at "Babosian gallery", in Los Angeles.
Since the monograph is autobiographical, I did confess and unveil some intimate things about me, my childhood and adolescence. But above all, the book is about self-derision and is a joyful critique of the art world and its myriad of institutions (TASCHEN being one of them).




Views of the installation Faire Tasche (Eleven Steens, Brussels, 2021) and details of the fake Taschen book


For the group show IRL* at Eleven Steens (Brussels), I've showcased the book in a display that parodied the interior design of TASCHEN book stores. The book was presented on a branded pedestal: a baroque column, with gold letters forming the word "TASCHE" (in french, "tache" stands for "stain" and "faire tache" is when something or someone's presence isn't desired and is problematic).

I still have 70 copies left from the standard edition. The deluxe edition includes a cute screen print edited to 20, signed and dated. I've made a website which imitates the one from TASCHEN and where you can pre-order them online. There it is:

www.tasche.one

(wait 5 seconds for the page to open).
I'm also planning to deposit and sell some books in cultural institutions in french-speaking countries, but also to infiltrate bigger book shops like Filigrannes, FNAC and ... TASCHEN stores, OFC!

Please Ask For Assistance

, 2021

Screenprint on Zerkall paper, 16,5 x 22 cm

Multiple of 20



Last but not least: the project on Deliveroo. After one and a half year working on this project, it became an installation that recreates a fitness room with musculation machines, twisted food delivery uniforms and equipments, a video and a performance with someone activating the objects. The installation thus pretends as if Deliveroo started to set up sport clubs around the world to train its coursiers. It compares fitness with delivering food, to put on a same level the physical violence of training musculation and the social and emotional violences of being a coursier. Thus, the set up tends to question labor conditions of coursiers, but also to show my fascination for colorful branded uniforms and for fitness clubs.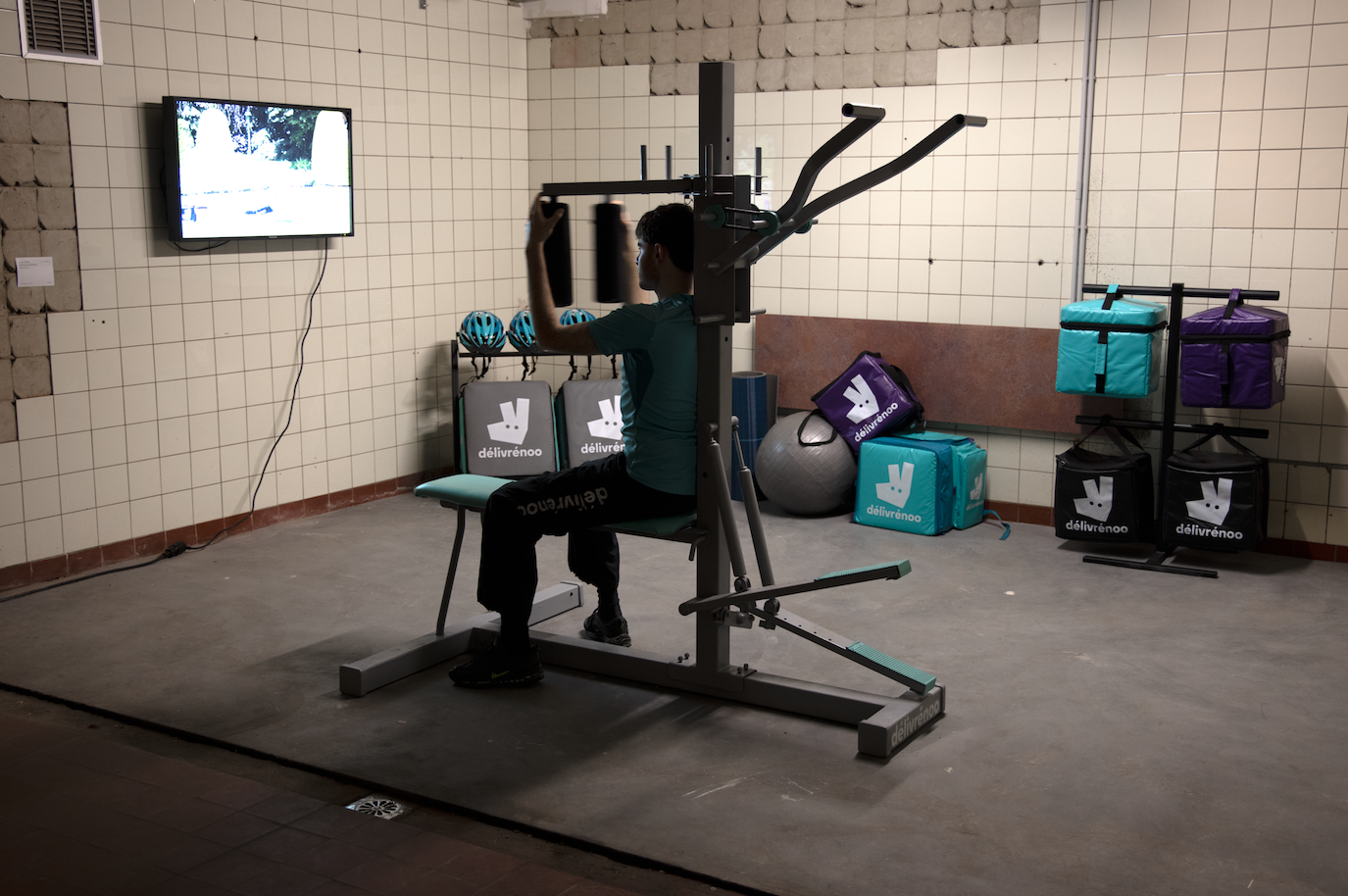 Délivrez avec Délivrénoo!, 2021
Installation and performance
Eleven Steens, Brussels
Activation of the Délivrénoo objects showcased in the installation

Twisted Deliveroo equipments, showcased on dumbbell racks







If I had to show the installation again, I would add extra machines, nutrition boxes and frames on the wall, with twisted Deliveroo uniforms like on the photomontages below :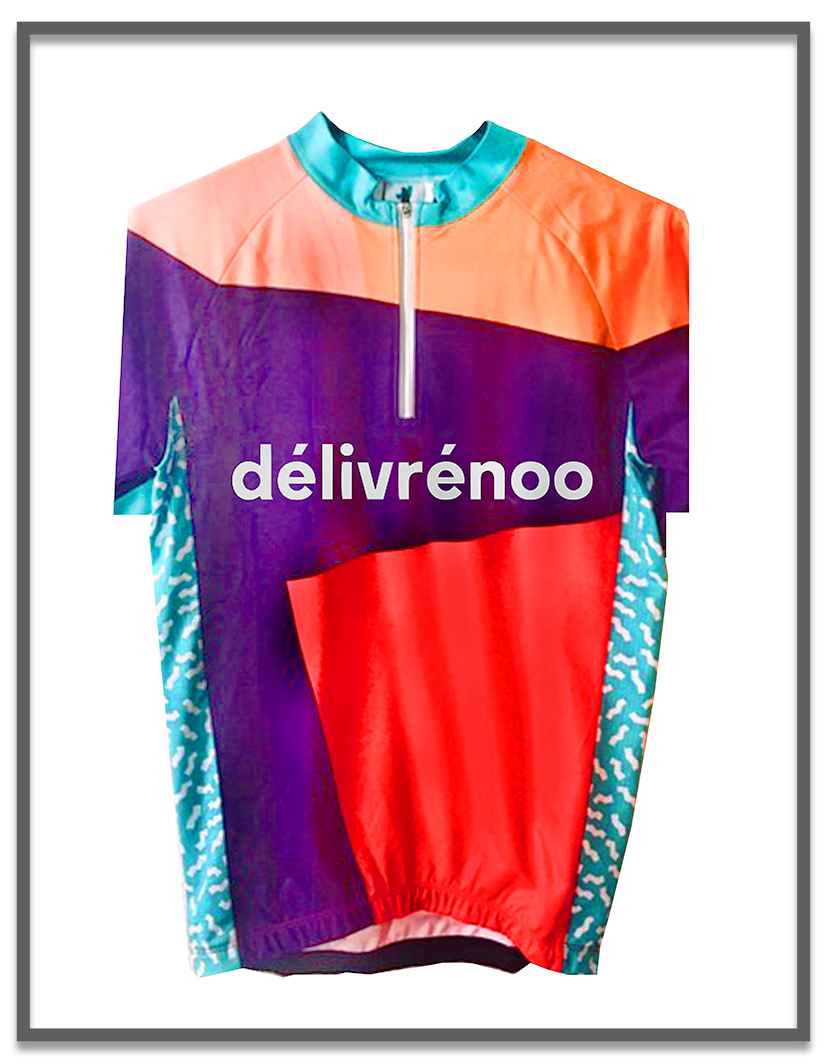 I didn't communicate much on that, but in March 2021, for the open doors of La Cambre, I've organized outdoor performances which were fake fitness classes, during which a coach was commanding four novice-coursiers and trained them for the job. The performance ended with several duels, where the fastest gets the job. It was fun to hear the public encouraging the actors during the duels, like it was actual sport and entertainment. The performance was spectacular and quite successful, both in real time and on the internet. I've recently been contacted by an emerging performance festival in Brussels called SUEUR, and for which I'll probably re-iterate the performance at the end of September.








Délivrez avec Délivrénoo, 2021
Outdoor performances (La Cambre, Brussels)



Although I've been focusing more on startup companies lately, I still enjoy subverting the visual merchendizing from multinationals titans, especially from the fashion and glamour industry. So now I'm working on a series of surrealits-dadists assemblages that combine sexy packagings and shopping bags with other found objects like puppets and children toys and disguisements. The assemblages look quite similar to the ones I've been making last year with Apple packagings. I don't know yet if it worths showcasing and spatializing them in tangible exhibition space, or if they could simply exist as photographs.





Latests assemblages





Back in June, I was supposed to participate to a group show called SHAME, at the eponymous gallery in Brussels (Sablon), which is an emerging queer cultural space. The show was basically focusing on sex, porn and drugs. Unfortunately, it coincided with the final jurys and I thought i could be able to make it... but I could not. I would have exhibited the Bird scooters, the TASCHEN book and a series of new assemblages with funny frames and porn images from the net.





Assemblages with found frames and hardcore gay porn stills




I also wanted to recycle old stuff like 2015-16 photomontages that twisted iconic paintings from art history. This is when I discovered contemporary art and was very inspired by Barbara Kruger... LOL.





The show could have been an opportunity to finally make something with these informational rotative pannels we sometimes see in city streets. Mine would have been on the pathway, in front of the gallery, to pretend as if there was a store selling hard drugs closeby.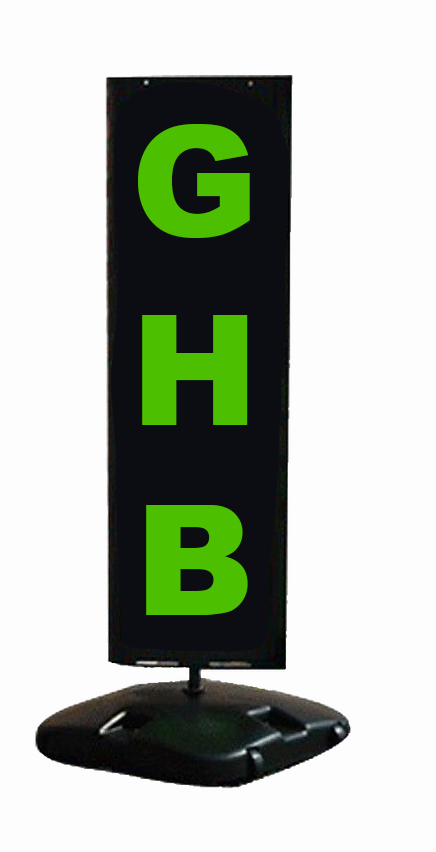 Theeeen, there is also the "Triennale de Gravure" show, which was supposed to take place last year in Liège (Luik), and that has been postponed up to this September.
For this show, I will exhibit the iMac boxes with twisted wallpapers, and sacralized on wooden pedestals. I've made two new photomontages from the Mac OS wallpapers, that are less frontal and less perceptible at first glance.





There will also be the funeral wreath elevated on a nice marble column i found in Brussels.




And lastly, the un-customized cake, museified in a refrigerated vitrine.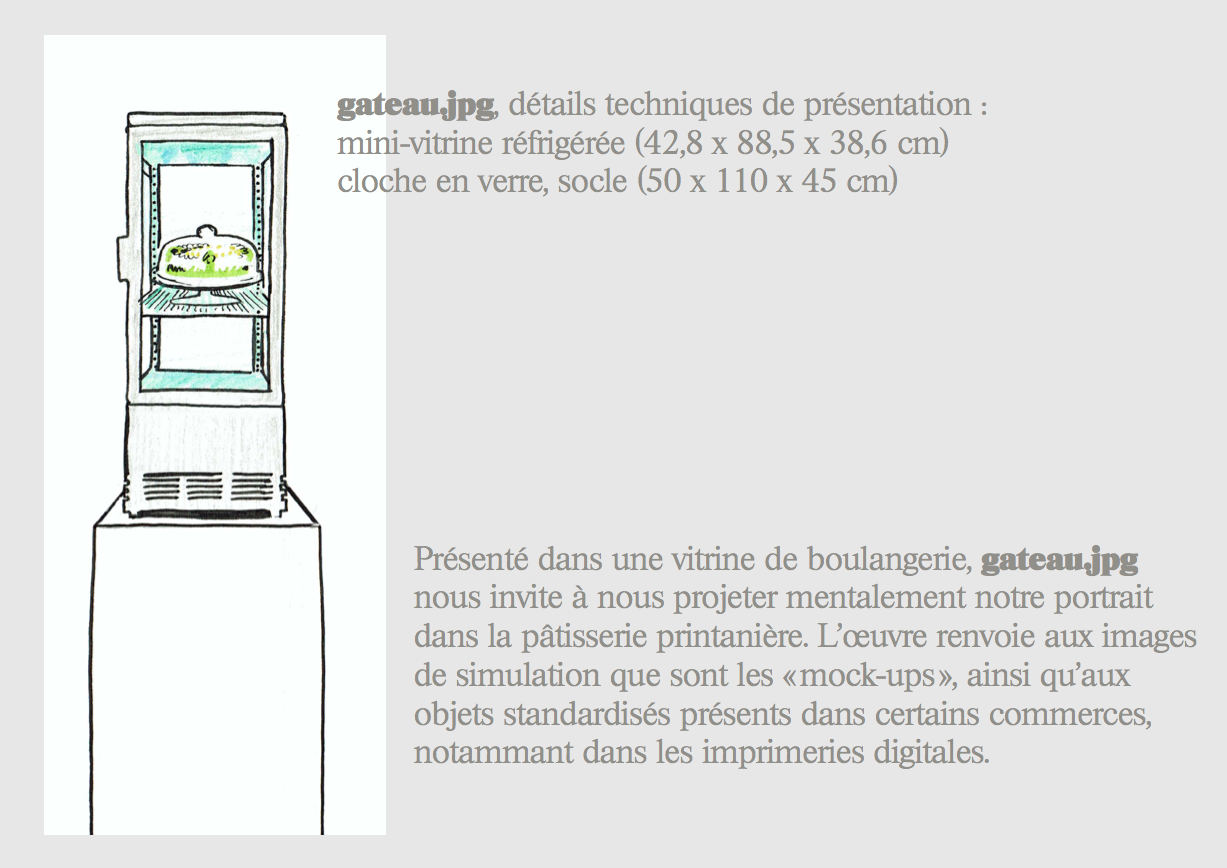 January 2021
Three months have passed since the last blog post and I have to admit that November and December have been quite emotionally intense, since I got myself in trouble many times like at school, with the police, a coursier and other pp. Also, full moon in Gemini didn't help much. So it felt nice to have the Christmas holidays to reflect, take some rest, and some distance with everything.

Art contests, grant requests, shows
Since October, I've applied to some art contests like Prix Médiatine (Brussels) and Prix Jeune Création (Paris). I also sent a dossier for two grant requests to SOFAM (Société multimédia des auteurs des arts visuels) which is a Belgian ONG that launches several open calls for artists. For one of the request, I had to propose a project with a budget, calendar, etc. So I proposed something like three showroom spaces with branded objects from Deliverro, Takeaway and UberEats. Audio pieces from my interviews with the coursiers and restaurent owners would have been part of the installation. Here are some slides of the dossier:




The other grant was given to the ones who sent a portfolio with 7 pics and description of their work. Unfortunately, neither my application for Prix Mediatine and my grant requests have been selected... I was quite disappointed, for I had high hopes for this, which would have financed my final year degree show at LaCambre. But it's part of the game so it's OK.



I'm glad that I've been invited to participate to the next Windowmuseum group show, curated by Lola Meotti who launched this project as a response to the shutting down of museums and cultural spaces because of covid. Not long ago, Lola contacted me and proposed that we reiterate the performance with food delivery coursiers waiting somewhere and wearing twisted branded uniforms. This next edition of WindowMuseum will be hosted by ISELP (Brussels) and will take place in the public parc next to it (Egmont and Georges parc), probably around Spring/Summer 2021.
Though the curator proposed to hire real coursiers for the performance and pay them twice as much as they would usually earn, this sounded to me a little bit too ethically borderline as it would instrumentalize coursiers and take advantage of their economic precarity to make art. So I'd rather ask some friends, or simply do the performance myself.




Another good news is that I successfully sent an application to participate to a group show called Third place or what? at TickTack gallery in Antwerp, which will be curated by two students from Espace Urban department of La Cambre. Every year, the gallery offers carte blanche to students from one art school and 2021 will be devoted to La Cambre. It was nice to meet Paul Gérard and Jules Flamen to discuss about the project and our respective work. They were particularly interested by the flyering performance I did back in 2018, and expressed me their desire for a sort of an in situ artwork/performance that would create communication between the inside and the outside of TickTack gallery. We planned to go on site after mid-year evaluations and exams to check the place. The show is supposed to be around April 2021 and the thematic deals with the notion of 'third place'. After some time, they the curators went back to me and told me they had selected 3 works of mine, like the Flyering performance, the Proximus flag without logo and the Full Moon light box. I thought that if I had to exhibit the Proximus flag, why not re-create a whole Proximus point of sale vitrine, without any information but beautiful gradients. If they pick this projects, I'd like the Tick Tack gallery to look like this: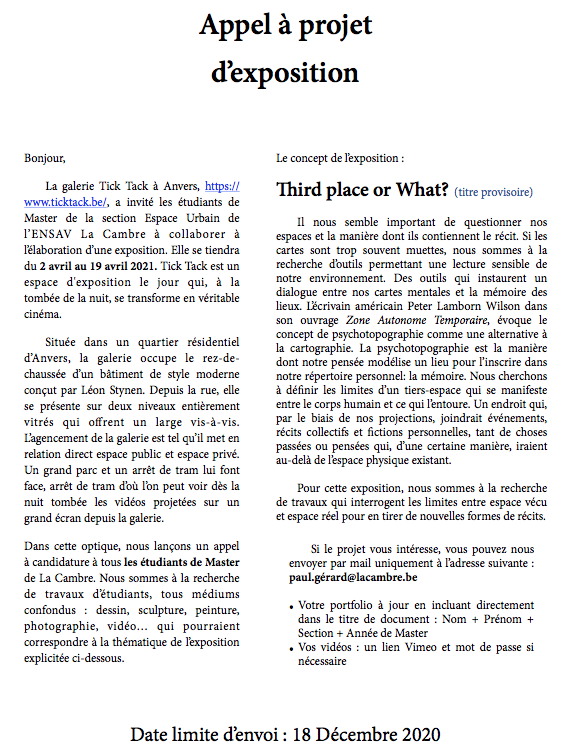 Sonic creation school module
Master class students from La Cambre also had to pick a specific course, so I picked the '
création sonore
' module, directed by Céline Gillain, Julia Eckhardt, Myriam Pruvot and Caroline Profanter.
In the beginning, I was making some mash-up's from the audios I had collected from my latest interviews with coursiers and restaurant owners in Brussels. One of the composition is from the interview I did with an employee who works in a fast food that is in partnership with Takeaway. The track opens with the ringtone/alert from the Takeaway tablette/terminal that sends orders to the restaurent. Through the track, we hear the guy explaining what is the process to be partners with Takeaway and how one restaurant buys 'primary goods' from takeaway's online catalogue (branded objects like delivery bags, tissues, note pads ... but also food itself. URL of the catalogue here: https://shop.
takeaway.com/fr-BE/home
). I also added some ASMR soundtrack from frying aliments to recreate the atmosphere/ambiance of the place. The idea would have been to add the track to a video, displayed through a fake Takeaway terminal where we could see the employees working in the snack.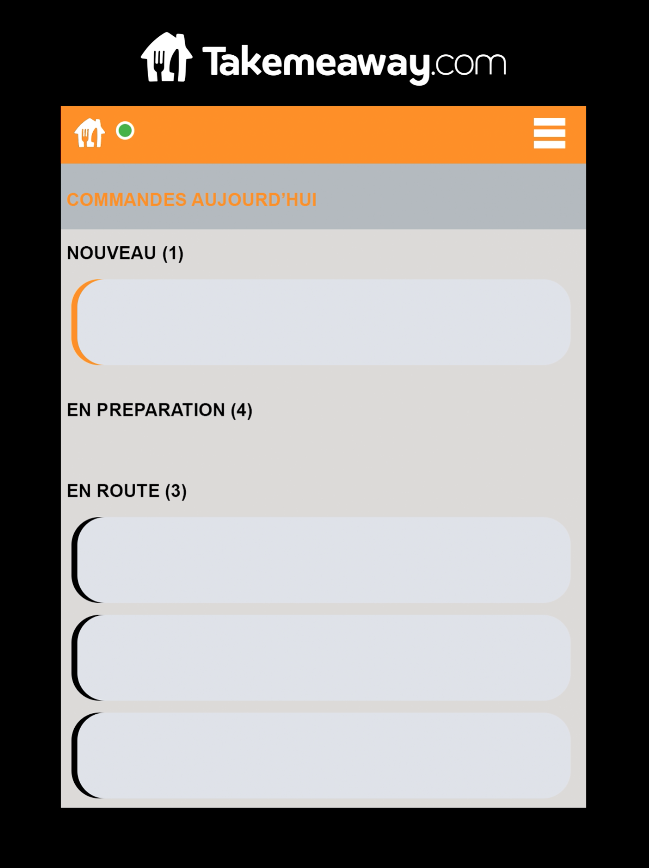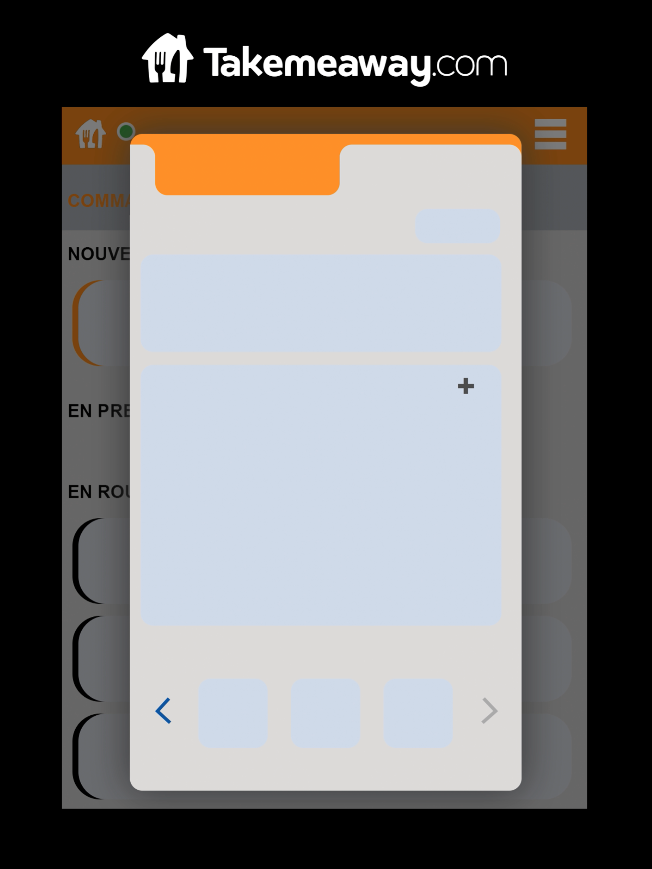 The 2
nd
track I did is also from an interview (this time from a coursier I met in Brussels) from which I've extracted words and phrases, and put them on top of city streets sound effects, mashed up with robotic guidance voice from google maps indicating the way to the coursier, as if he was actually on the way to deliver food. During the trip, the coursier talks about social prestige, discrimination, racism and the violence of social relations between coursiers, customers and restaurent owners. Sometimes, he sends voice notes to an imaginary customer who's waiting for his/her food to be delivered. Have a listen:
https://soundcloud.com/ravier-1/assisting-steph
However, because these tracks are too documentary-like, I decided to stay on my very first idea and work from an interview with Jitse Groen, the CEO of
Takeaway.com
. Thus I've extracted words and phrases from the latter and mixed them on top of the happy indie pop rock soundtrack Takeaway uses for their commercials. In the mash up, the voice of Groen comes out of a burger box, surrounded by other objects that comes and go every time the music starts. In the final sequence, every objects end up fighting with each other, going frenetic and crazy because of a too clean and deadly sanitary aesthetic that is precisely the one of visual merchandizing and mass-advertising.
I didn't post the video online yet because it looks, in my view, a little too
amateur
and there are many aesthetic clumsinesses. I still have to think wether I shoot it again or not. Anyway, working and directing a team of 13 people was quite challenging and stressful, but still it was fun and nice experience.
Mid-year evaluations
The last week before the Christmas holidays, we had a lecture/presentation with printmaking department teachers inside school's gallery space, so each student could prepare to the mid-year evaluations. The lecture ended with a collective installation inside the vitrine/box.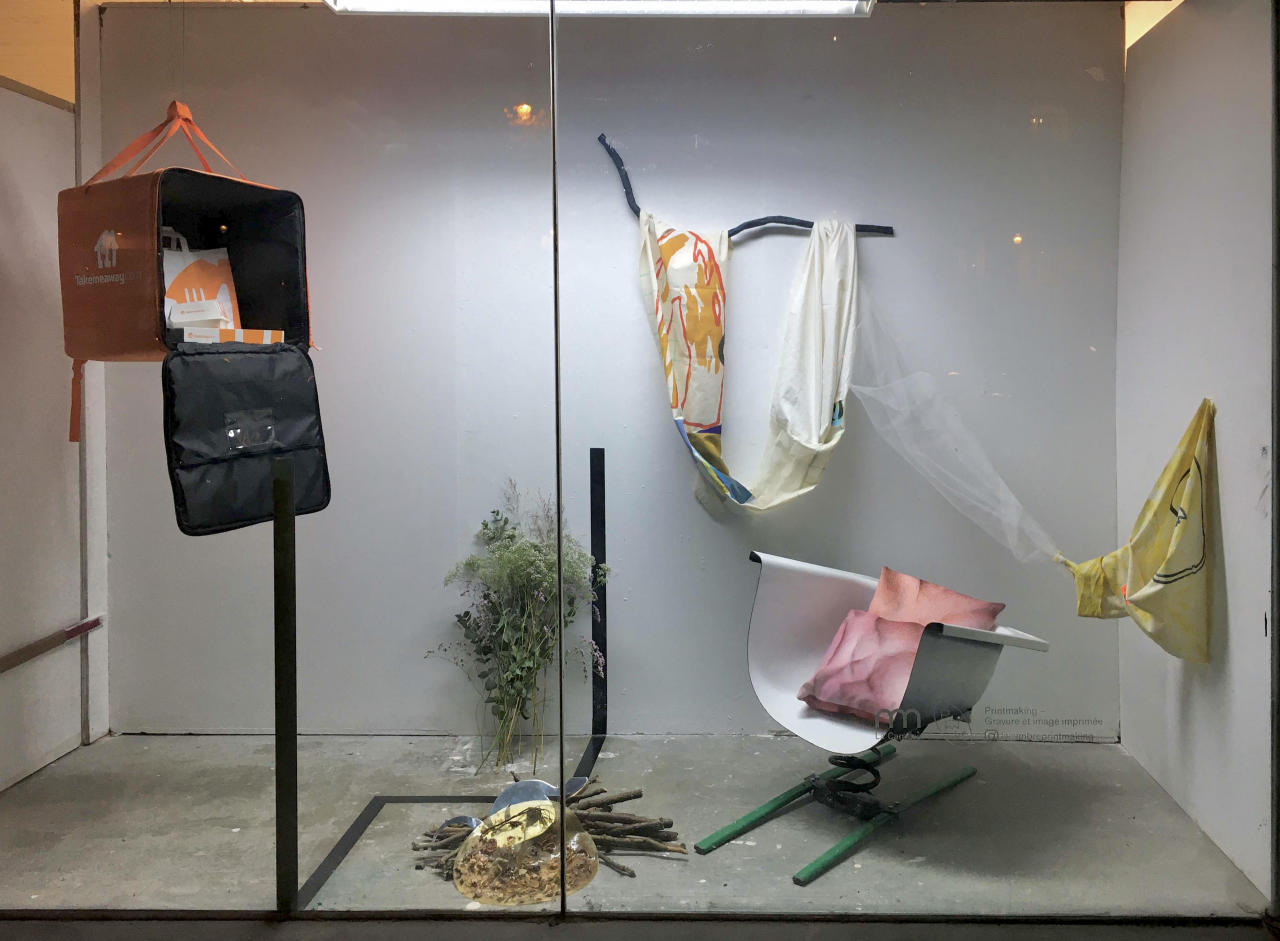 View of the collective installation inside school's gallery vitrine
with works of Nina Koopmans, Apoline Sanguinède, Aliocha Tazi, Lou Coco Valentino and me.


For this presentation, I recreated an office space from Berlin's Takeaway headquarter. The floor was covered with a grey carpet, on top of which I put tables and chairs. One table had twisted branded uniforms and packagings, and the other one had a computer screen with a loop video and a glass with orange Takeaway pencils. The video was a compilation from Youtube videos published by Takeaway on its channel. It started with the cartoonish video formation to apply as a coursier for the company. Then, there was an after movie and recruitment video, where one sees all the white collars going to ski together, wearing the branded jackets and skiing, assisting to talks, chilling in transats and partying together. I left the videos telles quelles, like ready-made contents and didn't intervene on them. But it didn't make much sense that I show the twisted artefacts (with the wordplay Takemeaway) among original videos from Takeaway. Perhaps it'd have been more relevant and impressive if I had made the videos.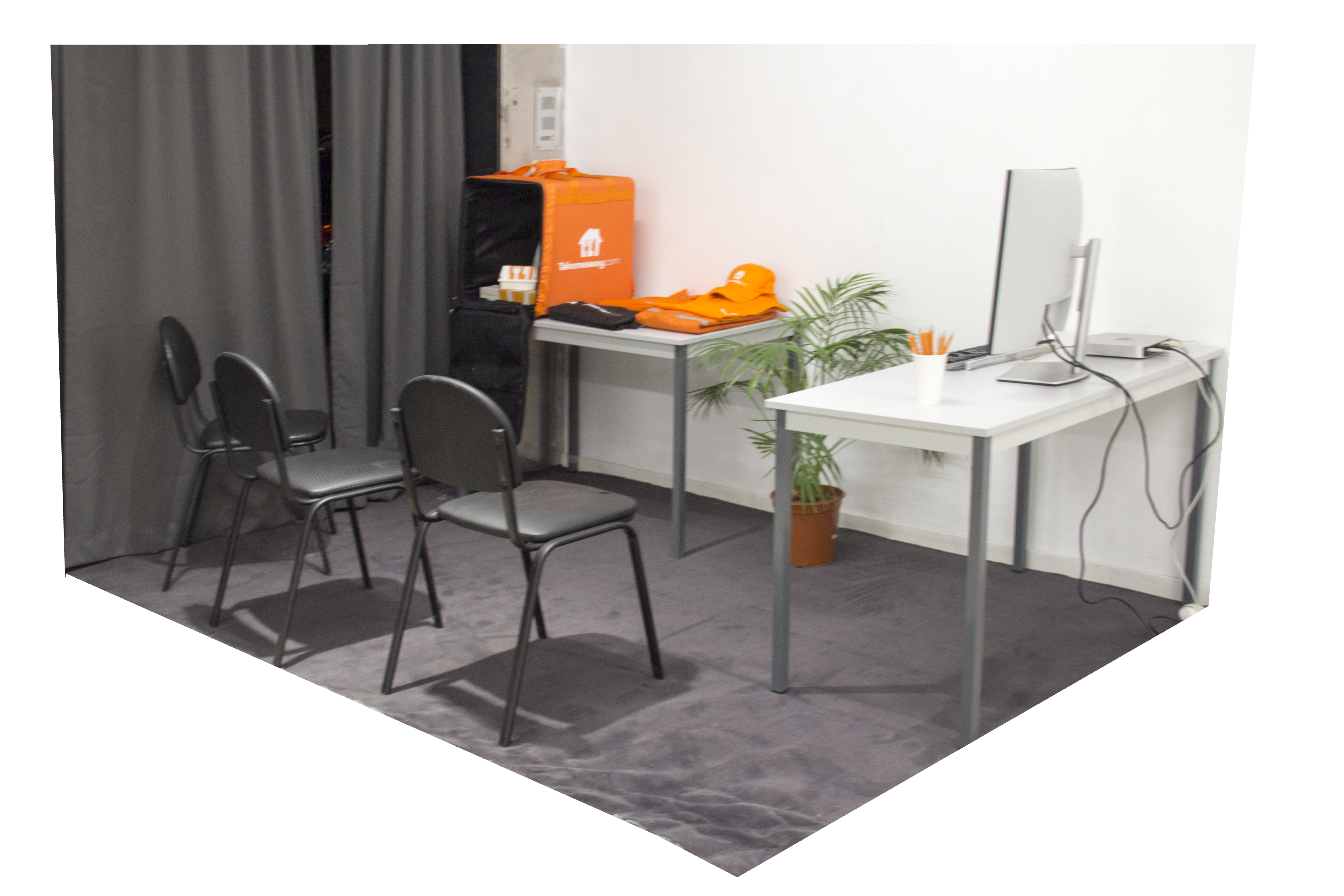 Clearly, an extra element was missing: something that would have disturbed this whole clean and sanitary aesthetic. Teacher Anne Fransen proposed that something liquid could have leaked from somewhere, an oversaturated soundtrack playing out loud, a blinking light,… Though I wanted to share my interest and fascination on corporate aesthetic and entreprise culture with this remake of office environment, it was quite boring. Also, I'm not inventing anything since these kind of installations are no new and quite recurrent in contemporary art. So I think I'll leave this idea of display for my graduation show.
Takemeaway e-bike, delivery bag and packagings, 2020
Also, showcasing
tels quels
the fake Takeaway e-bike, the uniforms and packagings was unsatisfactory and reduced them to mere gags. Whereas showcasing, for instances, the ebike it on top of a pedestal/podium, or fixing it to the wall (like hipsters do) would add an extra point and another element to bounce on.
I also showed the Uber Mensch delivery bag and jacket on a pedestal. A compilation video from my interviewes with the coursiers in Brussels was displayed on a smartphone inside the jacket. Link of the video here: https://
www.youtube.com/watch?v=6pwa6f8g2bI
UberMensch
, 2020
Deliverybag, jacket, smartphone and video (3'34")


Another point that has been said during the presentation is that (because of its documentary dimension), it's too down to earth and too critical. It seriously lacks fantasy, poetry, fiction, ... and fun.

I also printed in large format this photomontage that mimics a 2019 Deliveroo advertising. But lmao because the resolution of original pic from the Last Supper was so low compared to the HD incrusted delivery bags. In the end, the background was super pixelated, and the delivery bags super clean. What has been said is that the slogan and the word play in the logo twist must be from the same language. Otherwise it doesn't work 100%.




Left: Devotion can wait, 2020, photomontage
Right: Billboard from Deliveroo commercial campaign in 2019, London



I wish that for this second semestre, I take some time to travel and take some pics of friends of mine, wearing uniforms from Délivrénoo, Takemeaway and UberMensch in natural environments like at the beach, in mountain, the forest, and so on. The idea would be to de-contextualize food delivery coursiers from their working place (the city) and get them to sublime natural places where we would feel freedom and hope, somewhere they would finally be 'away' (takemeaway) and free (délivrénoo). These pics would then be posted in public space, inside advertising panels and clipping frames. I'm also thinking of some short films that would parody Deliveroo and Takeaway advertisings, to publish them on the internet.




Délivrénoo (Ski)
, 2020
Photomontage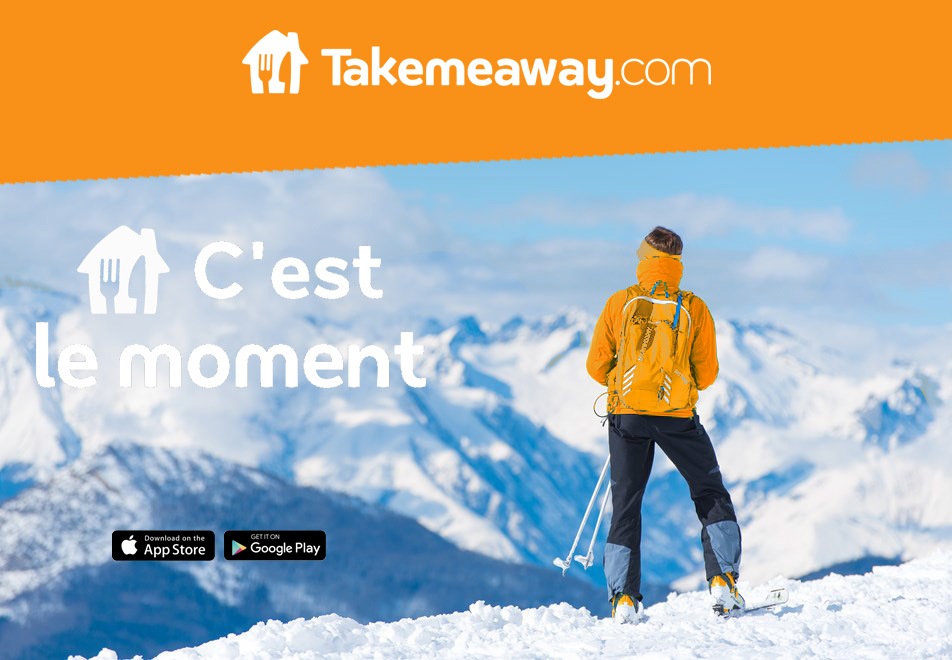 C'est le moment (ski)
, 2020
Photomontage

Food delivery / leisure and xtreme sports
An ex-student from the printmaking department gave me the advice that I should think of a scenario for my final degree show installation. He told me that my critique of food delivery industries could be more subtile, intelligent and less critical, if I compare them with leisure and extreme sport like motocycle races, skiing, trekking, motor cross, formula 1, diving, ice clibing, air diving, and so on. We came up with the idea of a fake store that'd sell extreme sport equipment items branded with Délivrénoo, Takemeaway and Ubermensch. In this scenario, the feeling of speed, of danger and of competition could subtly evoke the precarious working conditions of the coursiers. Also, a fake store with branded clothes would also anticipate a future trend/fashion that is: the re-appropriation of food delivery uniforms by youth and their becomming of cool, vintage and fashionable objects.



Off to the races (Sponsoring), 2020
Photomontage


Also, it's funny to imagine an advertising/commercial campaign with food delivery coursiers having to climb a hill or dive deep in the ocean to bring food to someone. In the first case, if he has to climb cliffs and snow mountains, this could anticipate the moment when the ocean level would rise and that populations will have to migrate uphill.
The comparison between food delivery and sport and body culture is also interestingly absurd, since it compares leisure and labor/work. I'm really fascinated by showroom aesthetic and there are many chances that I'll make this kind of environment for my final degree show. Curious assemblages and homoerotic images would be part of the trick, hihi.



Délivrez-nous
(Showroom 1), 2021
Photomontage



Délivrez-nous (Showroom 2), 2021
Photomontage


Last but not least, for this second semestre and last 5 months at La Cambre, I'm planning to screen print some of my drawings extracted from my sketchbooks and which, for the majority, also deals with consumerism and my own fascination for visual merchandizing. Some of them are potential performances and sculptures that I'll probably never produce in real life and that will remain as images. I'm OK with that.


October 2020

A couple of weeks ago, I offered artist Leo Luccioni to be his assistant. He said OK so I'm now doing an internship with him and so far, helped him for his solo show ÉGRÉGORIEN at Everyday gallery in Antwerp. Basically, I had to fix stained glasses to their plumb structure, then clean them and remove fat with sawdust. The two pieces represented the logo from British oil company BP. While the first one is a replica of the original logo, respecting the same colors, the second, untitled PB, is a more dark and opaque version, with glasses tainted in deep dark marine blue and bordeau.




Léo Luccioni, BP, 2019-2020, Plexi glass, glass



I also gave him a hand assembling and painting 4 baroque-style speakers made of digital engraved panels of wood. The engravings were decorative and geometrical patterns from popular logos; and the speakers, during the show, played spiritual-chorus chants of brand names. I also had to paint two large doors forming the M from MacDonald's (also CNC engraved).






Léo Luccioni, Égrégorien Speaker (4), 2019-2020, Yellow pine, speaker






Léo Luccioni, ÉGRÉGORIEN, 2020, exhibition view, Everyday Gallery, Antwerp



Working with Leo made me realize that I was actually going in the same direction as him, by often referring to the sacrosanct and using Jesus Christ's figure. Although it's been a long time since I'm interested in the difference between the sacred and profane, and more recently, in 'holistic branding'1 and the appropriation of religious vocabulary/aesthetic for marketing strategies, I ended up criticizing monotheist religions... which was not my initial intention.

Probably that I've lost myself in this whole thing, by trying to assess religious connotations to every brand and by considering every form of consumption as a communion ritual. Doing it for Apple used to make sense, but not really for app-based food delivery companies, lol.

Sooo, I guess I'll leave the religious registre for a little while, although I have been making new assemblages with Apple packagings and porcelain statuettes from Galettes des Rois. Anecdotally, I received plenty of statuettes from a woman who commented on my fb post when I was looking for some. The woman told me she had so many because she works in a retirement home in Brussels where they celebrate the Christian holiday of the Epiphany, but where, for safety reasons, they remove the little statuettes from the Epiphany cake.


The Annunciation, 2020
Assemblage
9 x 17 x 3,9 cm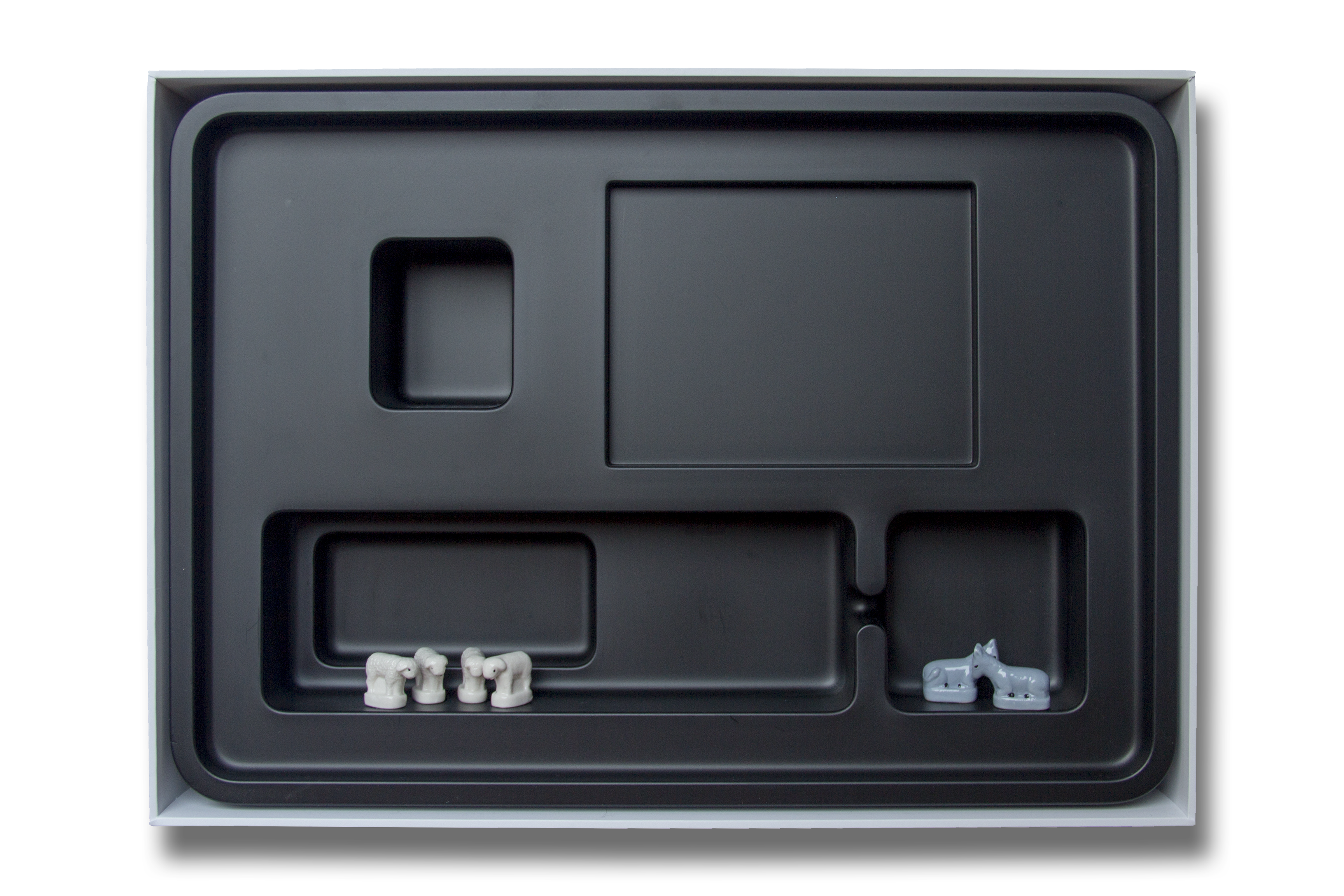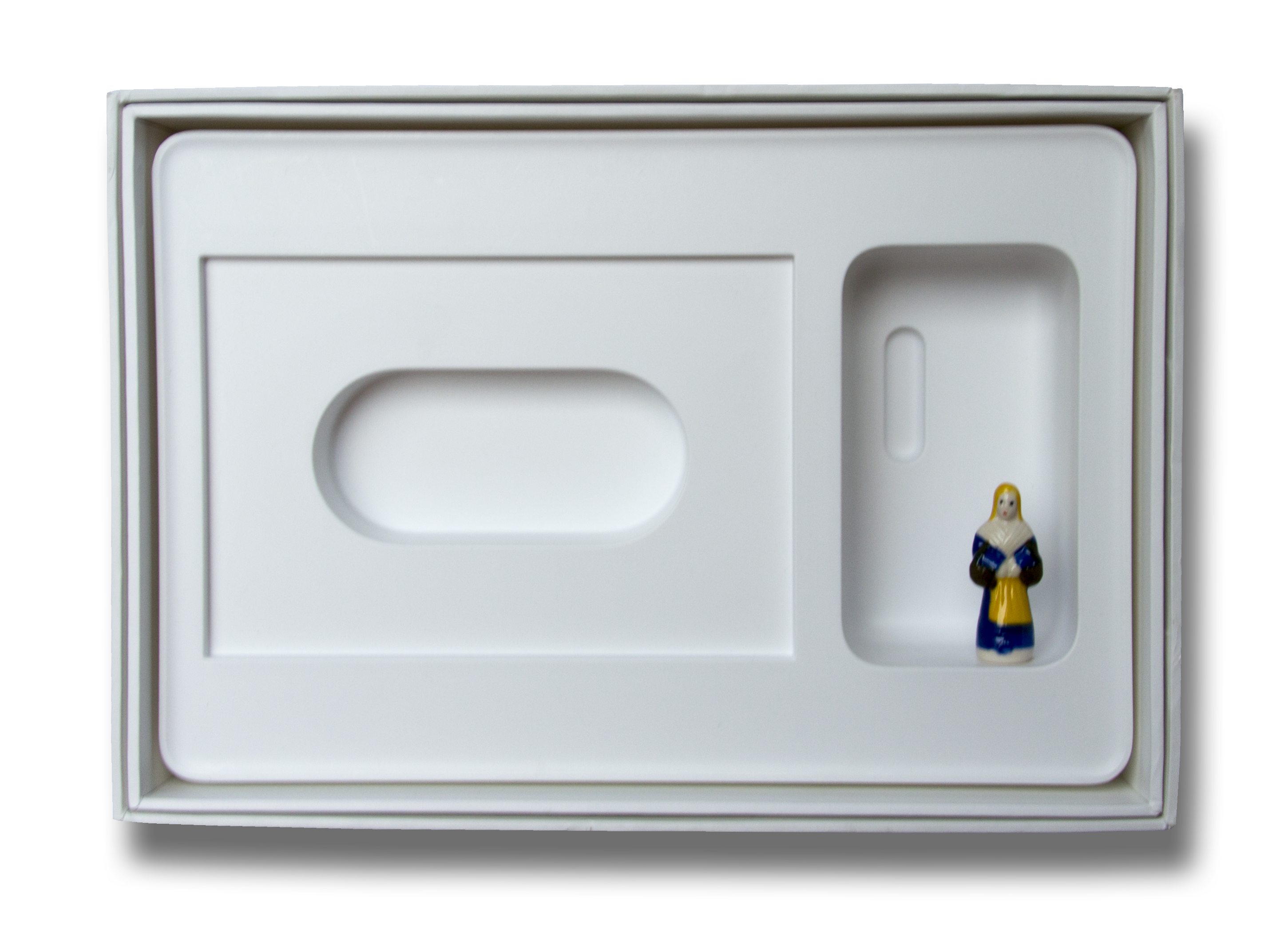 What else ?
I'm still working on the food delivery industry project and have been applying to be given access to the vitrine of Centrale For Contemporary Arts in Brussels. One of the criteria to get selected was to consider the institution's neighbourhood. As the street is full of bars and restaurants, many delivery people meet and wait together in the area. So obviously I proposed something in relation with the takeaway industry and delivery guys' working conditions. Here are some pics of the dossier I've sent.



Cover and other slides from the application dossier sent to Centrale For Contemporary Arts (Brussels)



In hindsight, I wish I had kept the first twist for Takeaway (turned into 'Takemeaway.com') instead of alluding to Islam: the drawing of a Mosque and inscription 'inchallah.be' were of bad taste in this context. By doing this, I hoped to shed light on social determinism of people with immigration background in western cities, but also to suggest the illusion of freedom and happiness that promise both religions and app-based, uberized jobs. But still, the parrallel isn't really relevant and it was clearly not the smartest nor mature way to refer to pp with immigration background. And I truly don't want to offend anyone. So, enough with blaspheming towards Islam and Catholicism, 'cause this is not my point.

I'm still thinking of an installation with branded uniforms from food delivery coursiers and their other working tools, like vehicules (scooters, motorbike, bycicle,...), smartphones, earphones, ... but also branded food packagings. I've heard and checked last year's show entitled Strike Now!!2, directed by Aram Bartholl, which took place at Panke Gallery (Berlin) and which also dealt with app-based food deivery platforms and, more generally, gig economy. The installation is very inspiring: there were dismantled and unstitched isothermal delivery bags suspended in the air like a crucifix, or lying on the ground like welcoming sofas. In the middle of the room, electric scooters were stretching a branded uniform from Foodora, like it was actually quartering a delivery person's body. Also, Strike Now!!'s program included life performance with a female coursier riding a bike inside the exhibition space, and talks from scholars who studied the whole subject.



Shots from Strike Now!!, directed by Aram Bartholl, at Panke Gallery (Berlin, 2019)


So, at some point, I thought to myself: What more could I add to this already complete synthesis and critique of this economy?'... Then I realized that, perhaps, what was missing was some testimonies from coursiers, restaurant owners, customers and white collars (like sales managers and companies' CEO's) in order to provide a documentary and sociological dimension and approach.

Thus I began interviewing coursiers in Brussels and, so far, did nine filmed interviews during which I usually ask them basic and naive questions like: How is the formation and application ? How are their relations with other coursiers ? with the customers ? with the pp working in the offices/hub/basement ? If they ever had an accident . . .



Stills from my interview with a coursier from Takeaway.com explaning me how he passed the test at Uber Eats' offices in Brussels. I'm blurring his face 'cause I didn't tell him I was recording.




From these interviews, I've learned that having a contract with Takeaway, or being Deliveroo's coursier-partner is actually not that simple, since the demand for these jobs is quite high (apparently, it takes between 6 monthes and 1 year to get employed for Takeaway. Same for Deliveroo). Also, to work as a coursier, one must have an updated and recent smartphone that can download riders' apps. I'll let you imagine how much money coursiers must spend for mobile internet, performant smarphone and vehicule. Also, a lot of them have either an electric bicycle, a scooter or a motorbike, because a simple bicycle isn't profitable. If you ride by bike, you're not fast enough for delivering the food and therefore, you don't get much deliveries because the algorithms fuck you.

Once, a Bengladeshi coursier from Uber—to whom I introduced myself to by saying I wanted to be a coursier too—told me that I should try with Deliveroo, because I have the Belgian nationality and that Deliveroo prefers to have partnerships with workers born in the same city and not with people with immigration background. Comparatively, Uber Eats and Takeaway don't discriminate coursiers, depending on their nationality.



Stills from my interview with Raul at Place Debrouckère, Brussels


As I said above, I've also started to interview restaurents' owners. I ask them since when they collaborate with app-based delivery platforms, how does it work, if they are often in contact with them. But also how is the contact with the coursiers. Usually, I present myself as a journalist student who has to write a short article about the restaurant industry in Brussels since COVID-19 (hihi).




Stills from my interview with a cooker in a pizzeria in Brussels


I've also applied to become a food delivery coursier for the company Takeaway.com. First, I had to watch a cartoon video formation and then to answer a 13 questions quizz in 2 minutes. Although the questions I was asked made me feel like I was doing a vocabulary test or a 'are you human' kinda test, to check if I'm not a bot—I failed twice. I finally succeded and had to answer another series of questions about my age, sexe, school and finally, to write a 'motivation letter'. Then I had to wait 2 weeks untill I recieved a negative answer through an automated email.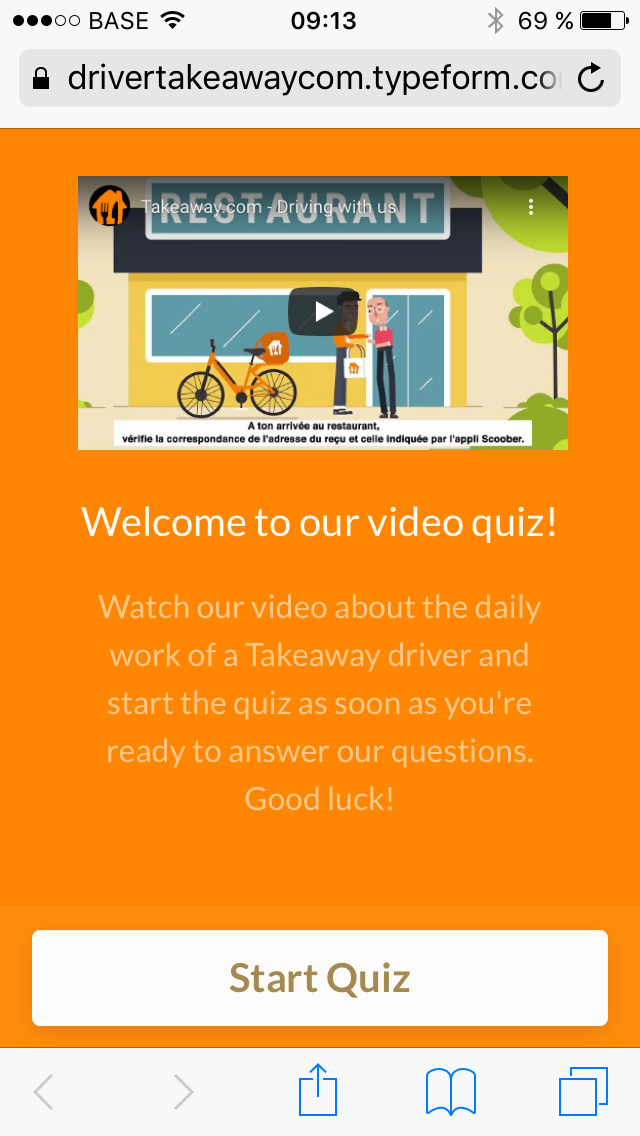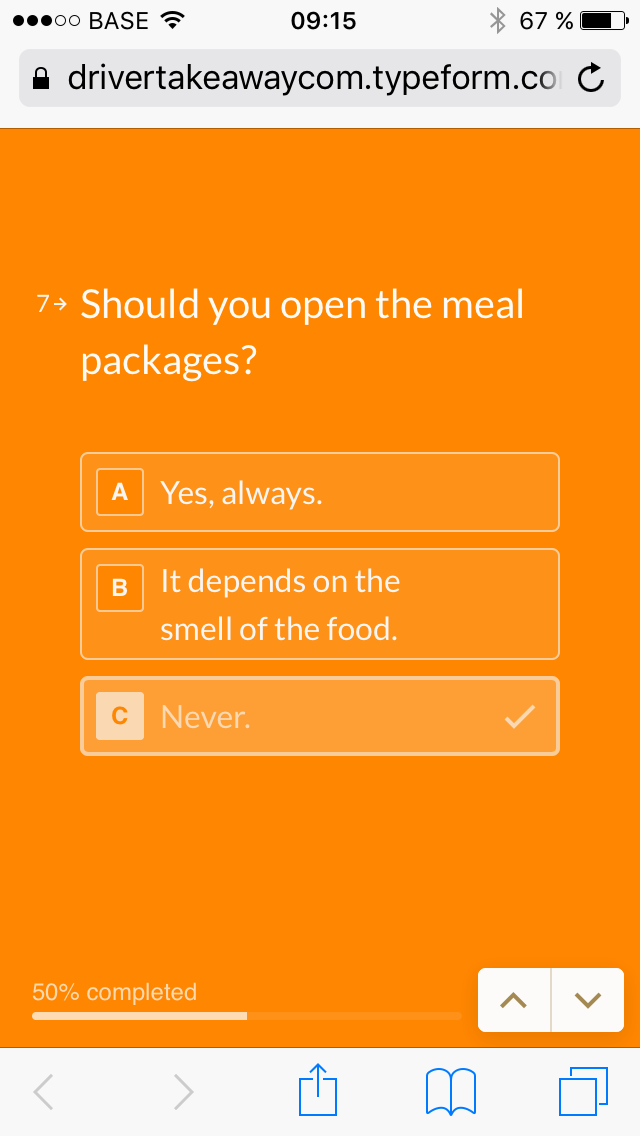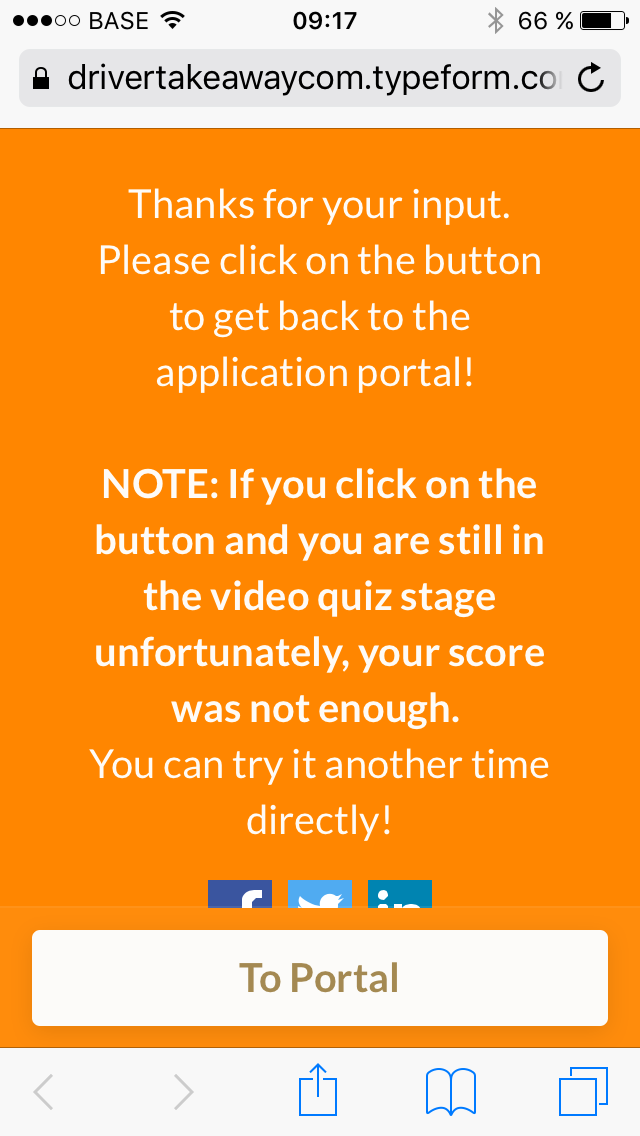 Screenprints from online formation and application to be a Takeaway.com coursier



Two days in a row, I went to Takeaway's hub in Brussels (which is nearby North Station) to interview the people working in the offices. I also said I was doing journalism studies and that I was writing something on the restauration industry in Brussels since the corona virus. I'm glad I could get an interview with the supervisor (who is about my age, LOL) and could take some pics of the place.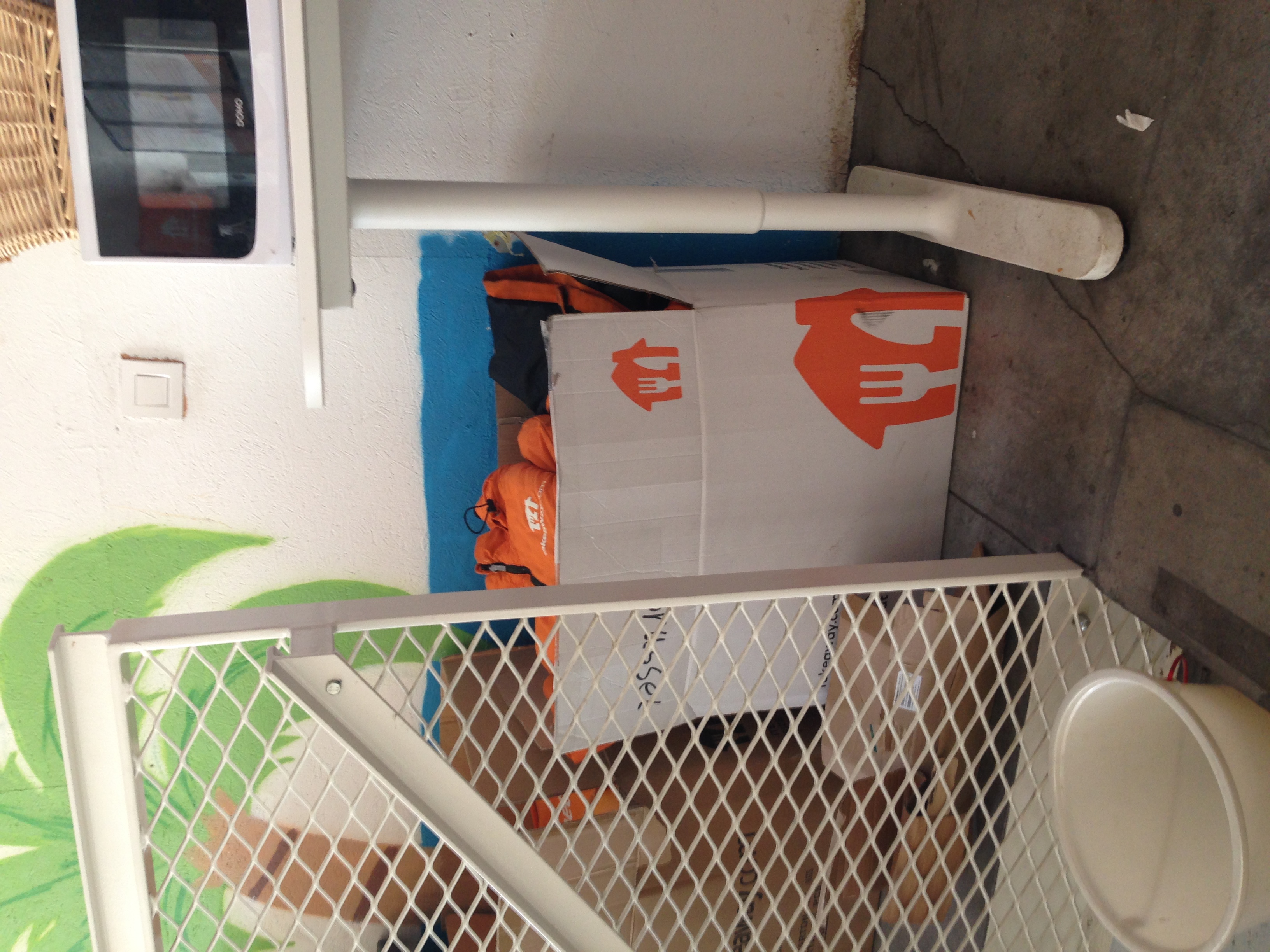 Inside Takeaway's hub in Brussels


I have to admit that I'm quite fascinated by these places, because they are the headquarters and hidden backstages of what we regularly see on a daily basis in the streets (coursiers delivering food). Both Deliveroo, Takeaway and Uber Eats have a headquarter and offices in each city they operate in. These places are inspiring and challenging to infiltrate.

On YouTube, Takeaway.com has been posting some promotional videos with interviews of riders and coordinators/supervisors. ANd one can have a glimpse of what the Berlin's hub looks like. Here are some stills of Delivery Talks: meet Niels.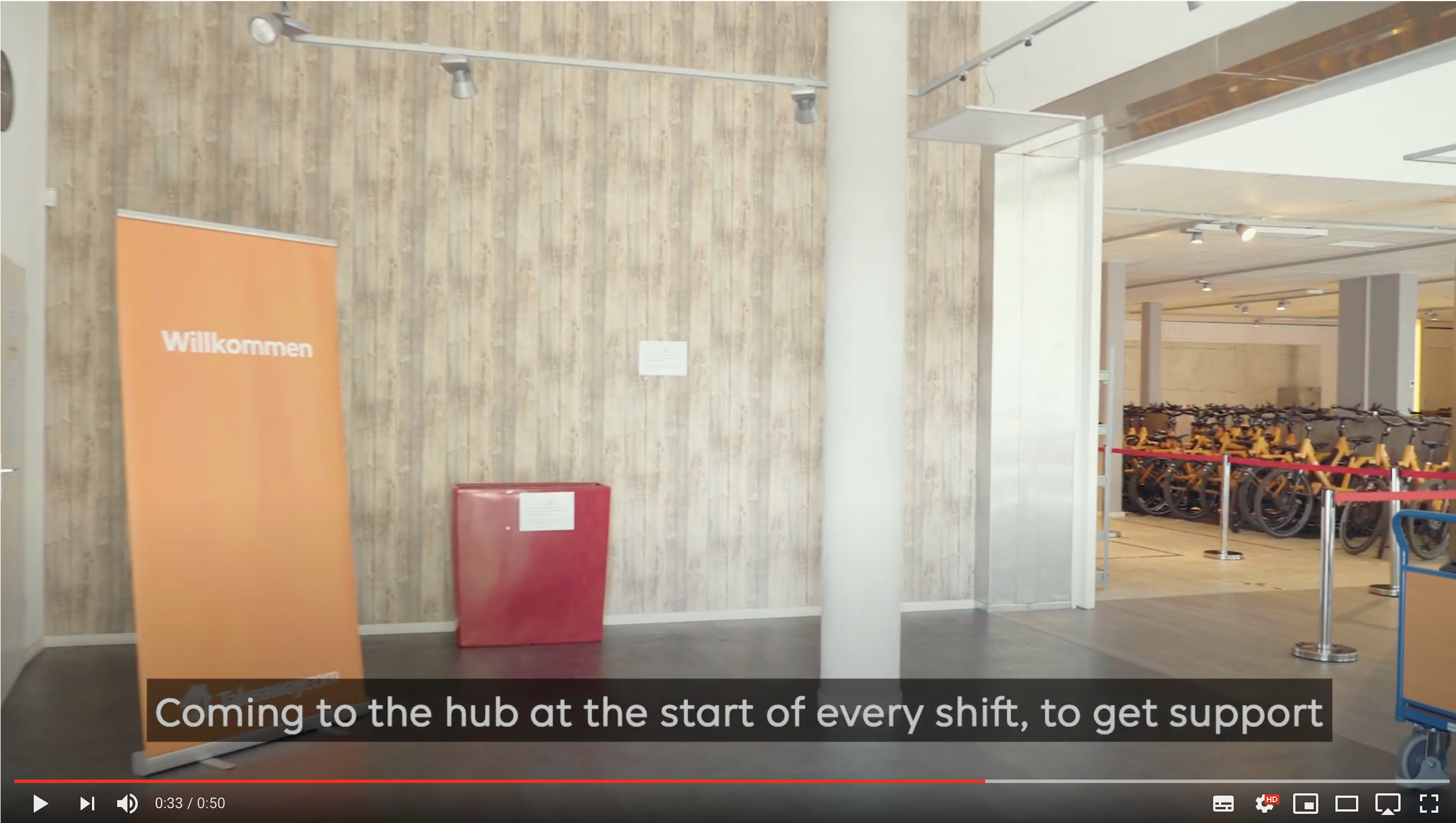 Link of the vid: https://www.youtube.com/watch?v=rw8i-GUZsE8

And then, there was this shot, with a white collars' meeting inside an office. Inspiring for an art installation, isn't it ? This could be the perfect scenography to showcase the twisted uniforms.


Stills from Delivery talks: meet Harley and Tereza, Hub Coordinators in Berlin
https://www.youtube.com/watch?v=qxrbpjSuqws

About three times this month, I've seen young people wearing Uber Eats branded jacket and distributing flyers nearby university campuses in Brussels, to promote Uber Eats and offer free 15€ on customers' first order.
Young woman distributing Uber Eats flyers in front of University Campus in Brussels (ULB)


I talked to the two youngsters who were distributing the flyers and who, actually, weren't delivery people but just on punctual jobs that they had received from mobile app called "Opizy". I also learned that this campaign is supposed to last from September until December (giving me time to think about something and hijack it. I still wonder what to write on the flyer: if I comment it with annotations that deconstruct and analyse visual communication strategies or if I focus more on delivery people themselves, for instance by revealing their working conditions and the fact they earn 4,95€ per delivery) ... idk yet. This is what the flyer looks like:










Flyers from Uber Eats promotional campaign in Brussels





This is how Oppizy presents itselfs through its official website:

"FLYERS: A NEW WAY TO ACQUIRE CUSTOMERS

Oppizi is the world's leading Flyer Distribution company. We provide a new avenue to grow your business and acquire customers. Businesses have used street flyer and leaflet distribution for years, but measuring success is difficult and it's hard to know if flyers are actually reaching potential customers. Our unique tracking methodology ensures you're getting the best results from your flyer campaign. We use proprietary technology to track your campaign and optimise results, so flyers are consistently handed out in the best performing locations. Our friendly ambassadors communicate with enthusiasm and deliver your message to potential customers effectively. We've delivered strong results for leading Australian and International businesses like Uber, Hello Fresh, THE ICONIC and many others. We operate flyer advertising campaigns across all major metro cities in Australia, France, the United Kingdom, New Zealand and the United States of America."





1. See chapter 7 of Brand Senses, from M. Lindstrom Martin, Free Press, 2005.
2.

https://arambartholl.com/strike-now/

I highly recommend you to read the exhibition brochure if you're interested in app-based food delivery industry and gig economy.




This month of September started with the annual post-summer re-opening of art spaces and galleries in Brussels and it felt good to have a shoot/dose of contemporary art, to get back arty events and meet new people after this culturally dead spring and summer 2020.

Among the nice shows I saw, there was Much Without Many, at Messen de Clerq gallery: a group show of seven international artists wherein I discovered the work of Théo Massoulier. The artist presented a series of intriguing, elegant wall-based assemblages inside vitrines (Anthropic Combinations of Entropic Elements/5G, 2020 and Samples, also from 2020). Although most of these hybrid combinations were made of unknown minerals, plants and electronics, one could recognize, at some point, obsolete electronic devices like ethernet cables. Some tiny pieces of iridescent glass reminded me of Vapor Wave visual aesthetic.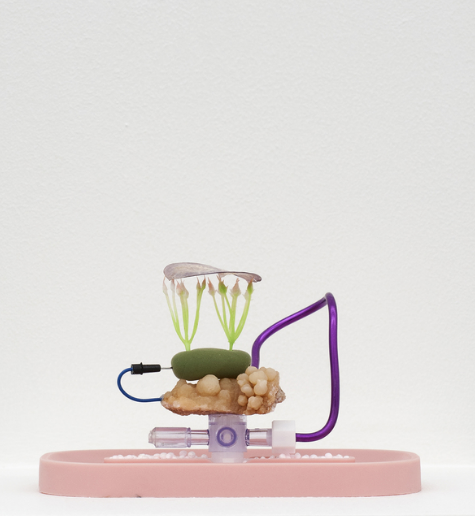 Théo Massoulier, Anthropic Combinations of Entropic Elements/5G ; Samples, 2020

Every compositions/constructions were contained inside the same thermoformed ovoid plastic recipient/receptacle —evoking bio-engeneerig laboratories—each time of a different soft and light pastel color. They appeared to me as 3D models for video games' stage sets ; or microscopic environments inside which I could project and immerse myself ; but also as relics and still life's of our communicational and hyperconnected societies.


Then there was VESSELS - On Body Fluids -, a group show of 9 artists, hosted at art space ISLAND. I enjoyed the realistic wall-based water color paintings from Emeline Depas, which one of them represented human testicules (Up Down, 2020), framed by a white rope/lace. The depiction of a stranger's genitals was un-sexy, crude, pathetic ; and the rope thightening them created a feeling of oppression and pain. Also, as the genitals had been appropriated by the artist and were under spectators' influence, they no longer appeared as a symbol of domination and pride but, on the contrary, as one of vulnerability and fragility.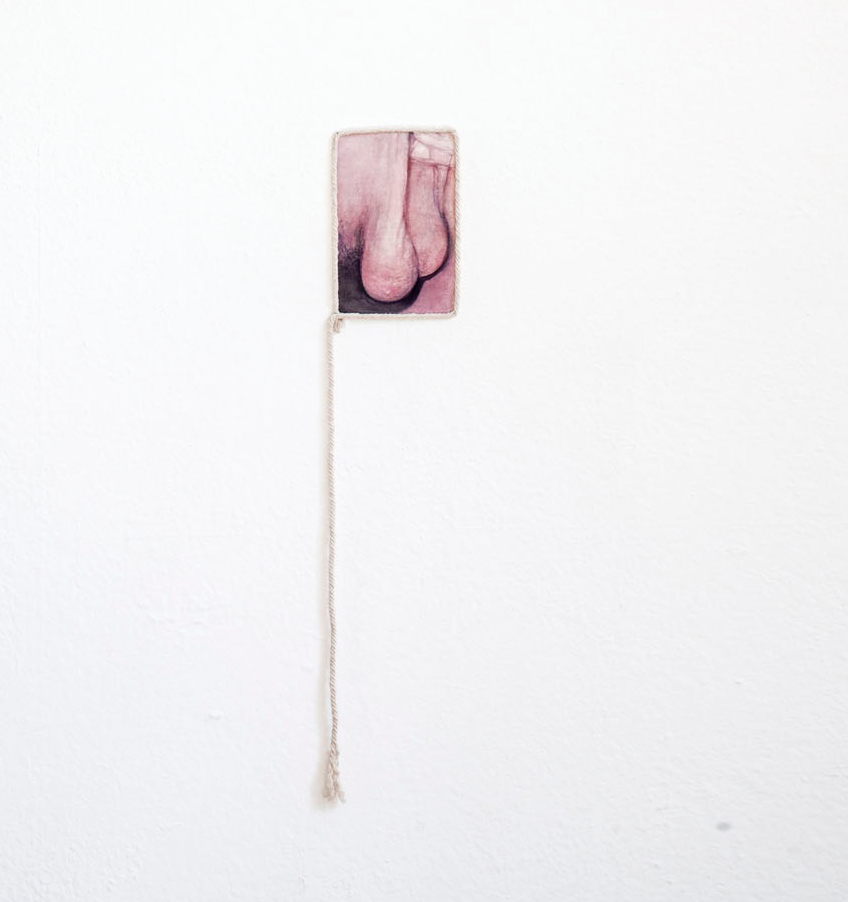 Emeline Depas, Up Down, 2020

I also liked Aline Bouvy's sculpture, Accumulation Primitive (2019), which represented a realistic female body cut between the belly and just after the pubis. The top of the sculpture was entirely covered by a layer of red EuroCent coins, now obsolete and valueless on the market. In here, the female body is being compared to an unworthy piggy bank, an object of desire both for sex and wealth. The combination of money and human body obviously evokes prostitution, but the hairless pubis also suggests pre-puberty stage of life and innocence.




Aline Bouvy, Accumulation Primitive (2019)

Another show was the strange and surrealistic Animal and Sculpture from duo artists Daniel Dewar and Gregory Gicquel at gallery c - l - e - a - r - i - n - g . The show consisted in mostly wooden (oak) sculptures imitating old fashioned artisanal and functional household objects (like cabinets, benches, dresser, etc.) but also wall based reliefs. Each artefact had incrusted sculpted elements like animals (snails, pigs, rabbits), vegetables and human (anonymous) organs like noses, feet, arms, hands and torsos. Some pieces were quite disturbing and abject (but still beautiful and poetic) like the relief of a torso swarmed by snails, or this chest with repeated human arms serving as drawer-pullers, and enthroned by a lying rabbit on top (see pic n°3 below).



1. Daniel Dewar & Grégory Gicquel, Oak chest of drawers with giant Flanders rabbit and arms, 2020
2. Oak relief with body fragments and snails, 2020


It was a little bit mind fuck, and super intriguing to understand the making process of merging and incrusting such organic shapes objects on wooden flat panels. I was also intrigued to know the symbolic of such animals, over-represented in western art history. Sometimes we see snails and bugs in Vanitas still life paintings that highlight the vanity and ephemerality of materialism and hedonism, so perhaps Dewar and Gicquel's art pieces have similar moralistic purposes and memento mori discourse.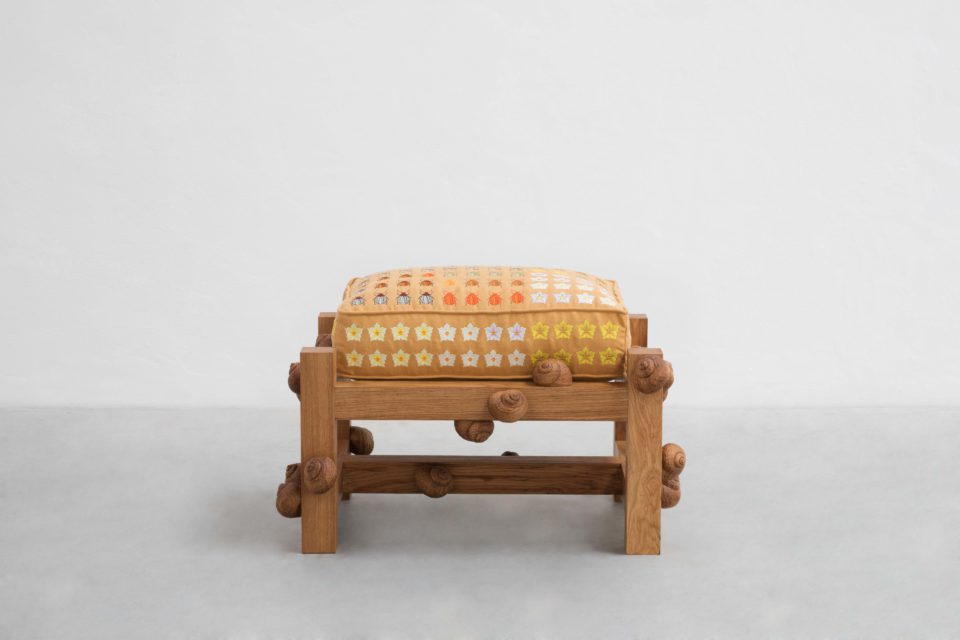 Daniel Dewar & Grégory Gicquel, Oak bench with Colorado beetles, potato flowers and snails, 2020

What I enjoyed most from the show was the series of cute benches with wooden snails swarming and climbing the feet. Each bench had a colorful fabric cushion with digital embroidery creating a grid and a pattern repeating two-dimension images of one same element like bees, flowers (sometimes alternating the colors). Maybe I was more interested in this series because it combined several materials and techniques, but also because of their lightness, colorfulness and playfulness kind of broke the monochromatic, heaviness and monumentality of the show. So it was a nice surprise.

Aaaand last but not least art show I really enjoyed was They Said They Felt, an eco-feminist, queer group show at Cinema Palace -1 gallery space (also in Brussels), which I had been asked to document the performances during the opening party.
Shots from They Said, They Felt group show at Cinema Palace (Brussels)

Basically the show was a total art work, with subtle and precious art pieces and life-art/performances, multicolor lights and experimental-ambiant soundtrack . . . all of that creating a welcoming, warm atmosphere. I've noticed the recurrence of the water element with Apolline Sanguinède's screening video of a sea horizon with zooms making the video going abstract and epileptic ; Set Chevalier vaporizating clay and latex assemblages/sculptures that were hanging on the wall or suspended in the air ; Nina Andre's clay incrusted on the concrete walls like mollusks and seashells, . . . Also, each artist proposed life art/performances that presented a ceremonial, ritual and therefore sacred dimension among them a nail art salon set up by Chloé Van Oost, who endorsed the role of asian migrant workers in western cities' nail salons ; Set Chevalier pouring water on the sculptures ; Luz de Amor reading texts she wrote, inspired by exhibited artworks in the show ; and lastly, my friend Nina Andre switching identity, going non-binary and genderless by having her face make up by Apolline on top of a table/desk covered of shiny fabrics, vestals, mirror etc.

So this is it for my highlights from Brussels' gallery weekend and other independent shows in the city.
Next up will focus on the We Art XL 'parcours d'artistes' which turned out to be completely the opposite of what I expected. Basically what happened is that there was no place left wherein I could exhibit works, so a friend of mine (Babette Cols, who was also participating to the event) invited me to their group show at L'Atelier du Doute ("doubt atelier") which is the place where they live and work with Eugene Pereira Tamayo. They already had Nestor Georget as resident artist but we managed to show works the four of us. I enjoyed team working with them, brainstorming for the title of the show (which was 'Expo Sans Doute', literally 'no doubt art show') and making a visual/poster for the event:




Poster for our group show Expo Sans Doute (Atelier du Doute, Brussels)

Here are some pics of artworks by Babette Cols, Eugene Peireira Tamayo and Nestor Georget:



For this show, I've made a new video which is a sort of a mash-up/compilation from Youtube videos of people unboxing Apple products (sometimes ASMR), and inside Apple Stores (e.g. for the launch of the last iPhone). The video was displayed on a smartphone, sticked on an artisanal wooden plate that used to be a pious object of devotion with Jesus' portrait in metal bas-relief. At the bottom of the object was an engraved piece of metal with these words 'Souvenir de Communion'. I've repeated white fading transitions and put an epic soundtrack to convey a spiritual and transcendantal dimension to the video.



Souvenir de Communion, 2020
Mixed media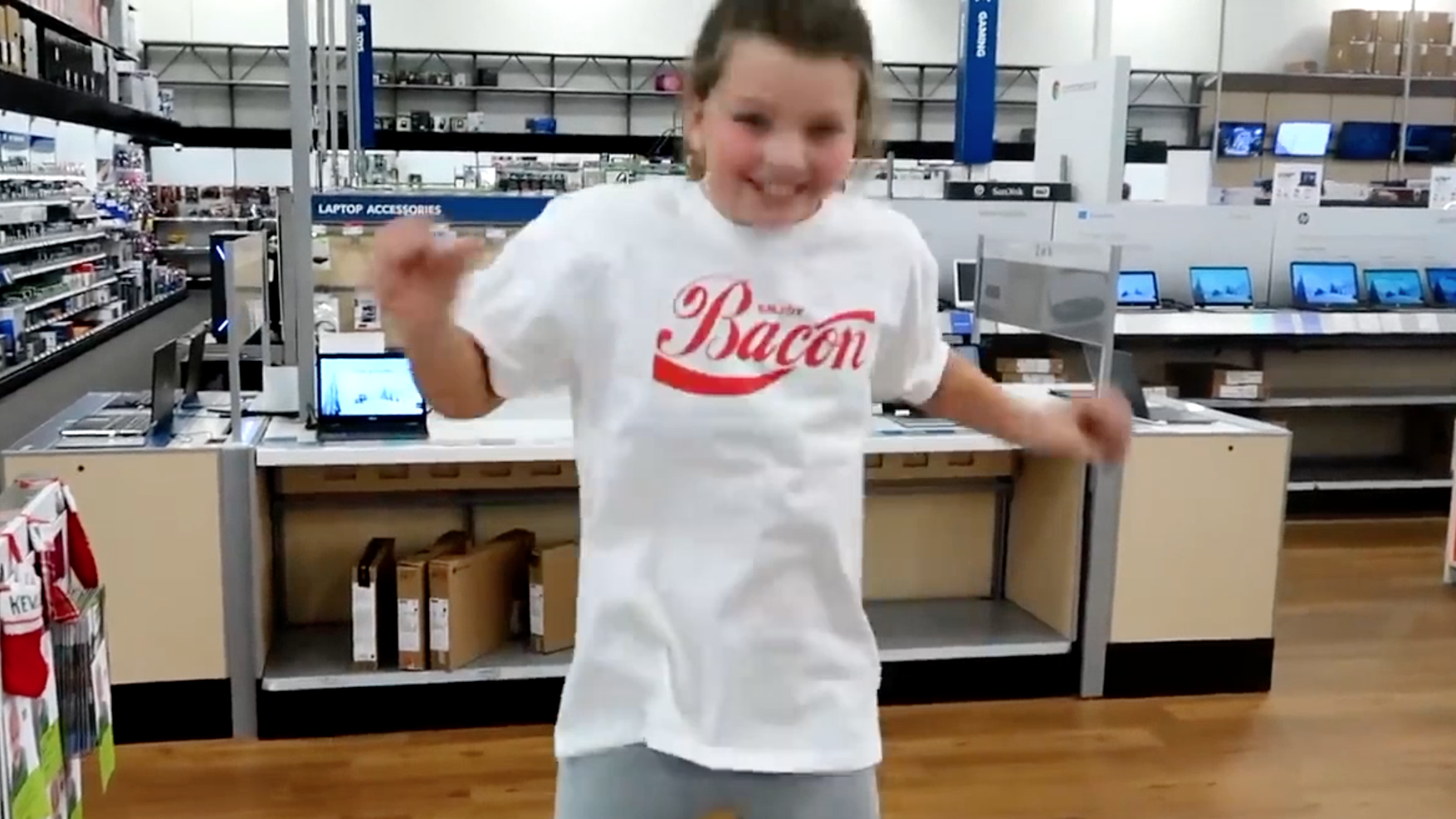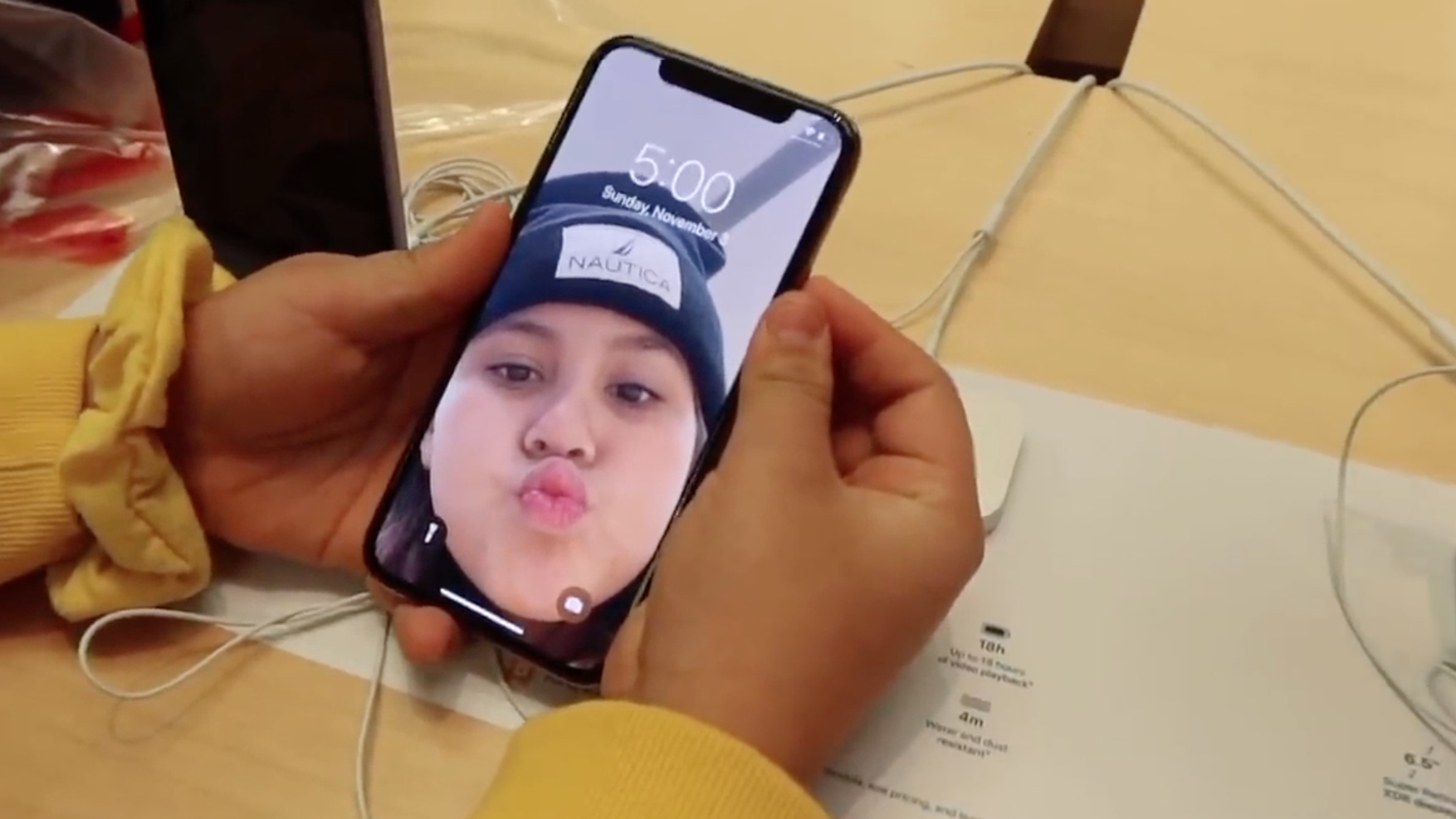 Stills from the video Souvenir de Communion

Second new artwork I've shown was The Last Order, which pretends to be Jesus' last dish order (with Deliveroo platform) before his crucifixion. The pastiche and twisted Deliveroo paper bag has a receipt stapled to it, listing the 13 dishes and red wine ordered form a Lebanese restaurent in Brussels. The bag was supposed to be inside a plexiglas vitrine (which used to museify and sacralise the fake trash), but I broke it during the opening night . . . this what it looks like without the plexi vitrine:



The Last Order, 2020
Silkscreen print on craft paper, ink jet print on reciept

As the Deliveroo project also took this christic and sacrosaint dimension, I'm actually thinking of an installation set that would be a remake of Da Vinci's fresco, The Last Supper. I would still keep the original set and background with the architecture, and furniture from Da Vinci's painting, but the scene would be emptied/deserted, with only the rests and trash of the Last Supper. . . kind of like the 'Tableaux Pièges' from french Nouveau Realist artist Daniel Spoerri. Thus spectators would arrive afterwards the actual dinner, with guests already gone and Jesus being already crucified. Also, I liked the idea of presenting Deliveroo as the official sponsor brand of Jesus' crucifixion. Like UEFA 2020 (soccer tournaments in the EU) and Takeaway.com's partnership since +/- a year, Jesus' 2020 passion and death would appear as a spectacular and entertaining event, appropriated, merchandized and sponsored by Deliveroo.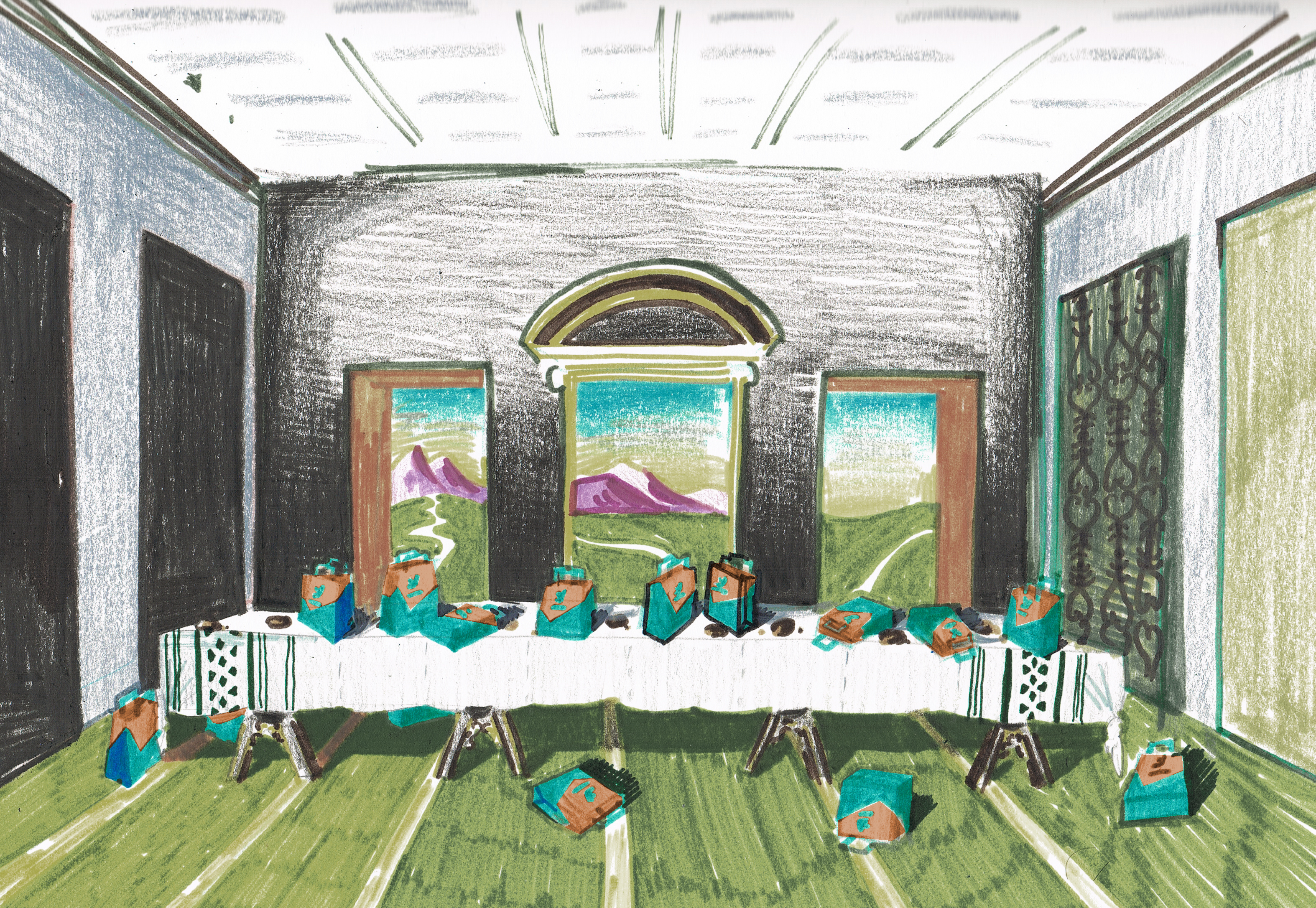 Preparatory sketch for Last Supper Installation Project

This thing said, when i showed this drawing to my art teacher Jean-Pierre Muller, he encouraged me to reproduce some of my sketches in large formats (he proposed lithography but i'm more confortable with silkscreen) so i could make a little money and finance these onerous installation projects . . . (like land-artist Cristo did).

What I've also shown at Expo Sans Doute was a twisted thermic UberEats bag, on which one could read 'ÜberMensch', from German "beyond-" or "super-human". The wordplay/pun refers to Nietzsche's philosophical concept which among its field of significations, also depicts a human archetype that is both a saint and a genius. This intervention on a food delivery coursier's working tool and uniform thus ironically define gig-workers as geniuses and heroes, while society discredits and underestimates gig-economy jobs.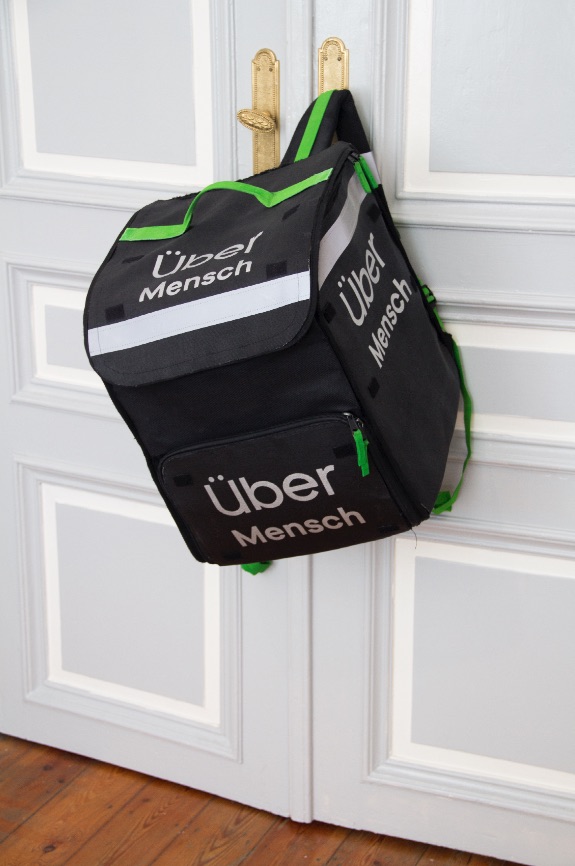 Übermensch, 2020
Silskscreen print and spray paint on fabric, thermic food delivery bag


Also, transhumanist philosophers use the term Ubermensch to coin the augmentation and transformation of human body and condition through technology. In the cases of food delivery coursiers, informatics and communicational technologies with smartphones and geolocalisation are the digital prostheses extending their body. I don't know about you, but sometimes i feel like food delivery coursiers, with their flashy/poppy working uniforms and sculptural backbags look like space travelers from the future.
I am planning to disguise myself once more as a delivery guy, with the twisted bag and jacket, both in public spaces (to re-iterate these everyday/common situations in city streets) but also in institutiuonnal context like fancy art shows openings and see how people would react.



Food delivery coursiers in a white cube, 2020
Color pencil and felt pen on A4 paper

Since the Deliveroo twist and wordplay to "délivrez-nous" had religious and Catholic connotations, i thought i would stick to this registre for new wordplays and puns for UberEats and Takeaway (which are the three main delivery platforms competing with one another in EU metropolis). In the end, i would have a sort of trilogy and trinity.


Twisted logos from food delivery brands

Finally I've found 2nd hand Takeaway.com uniforms like impermeable jackets, hoodies and cap at good price. Yet I am still struggling to find a thermic back-bag since food delivery coursiers from Takeaway must pick it up and return it back after each shift, to a warehouse located in north of Brussels. Same with promotional orange Takeaway bicycles.

I also struggled to find an orange fabric in Brussels that was the exact same color as Takeaway. So what I did was that I painted a blank white fabric with acrylic paint, screen printed the twisted logo on top of it and sued it back with the rest of the jacket. But i think that for better discretion, I must find a uni/blank orange jacket and cap and make them printed at digital print shops with vinyl thermic prints.



I also pay close attention to how food delivery brands make advertising, depending on the city. For instances, in Brussels, only Takeaway.com makes advertising campaigns through outdoor panels but also on the internet, with targeted ads on YouTube and Instagram (stories and newsfeed). UberEats and Deliveroo also did video advertising campaigns on the internet and television, but apparently not in the BENELUX area, neither in France and rest of Europe. I should do some researches about that.
Takeaway.com outdoor Ads in Brussels' city streets

Since the lockdown, i'm seeing the same Takeaway.com ad on my Instagram newsfeed and between Stories. They start the ad by evoking the global unusual situation due to COVID-19 pandemic, but assure customers to deliver 'tastes' and 'savors of normality'. Through this advertising, they claim that food abundance and the luxury/caprice of having one's food delivered at home is something normal.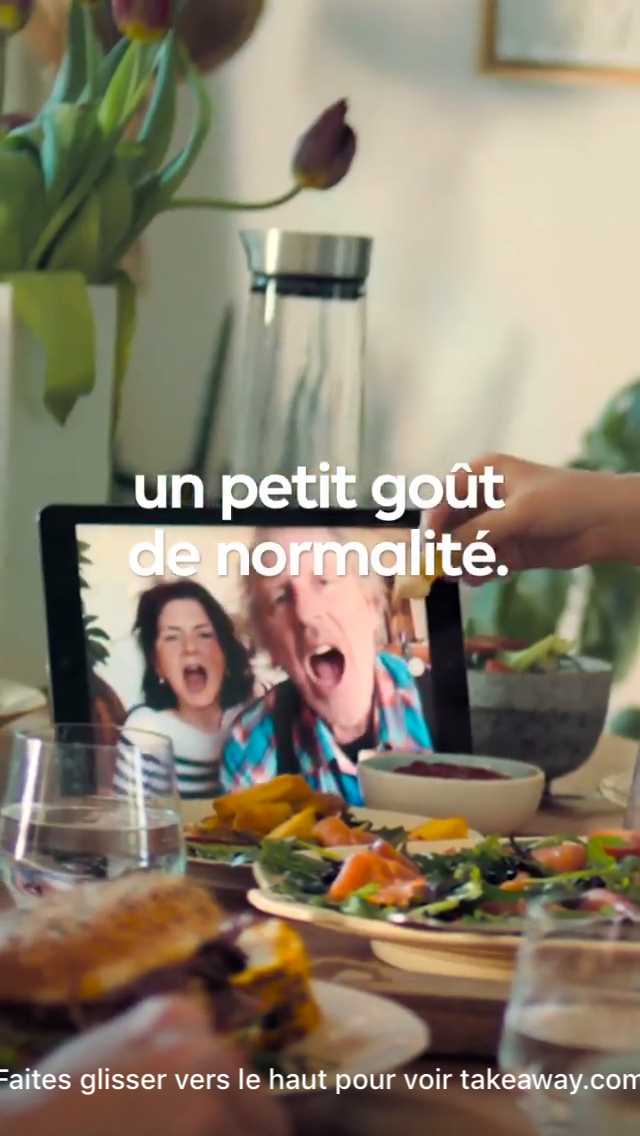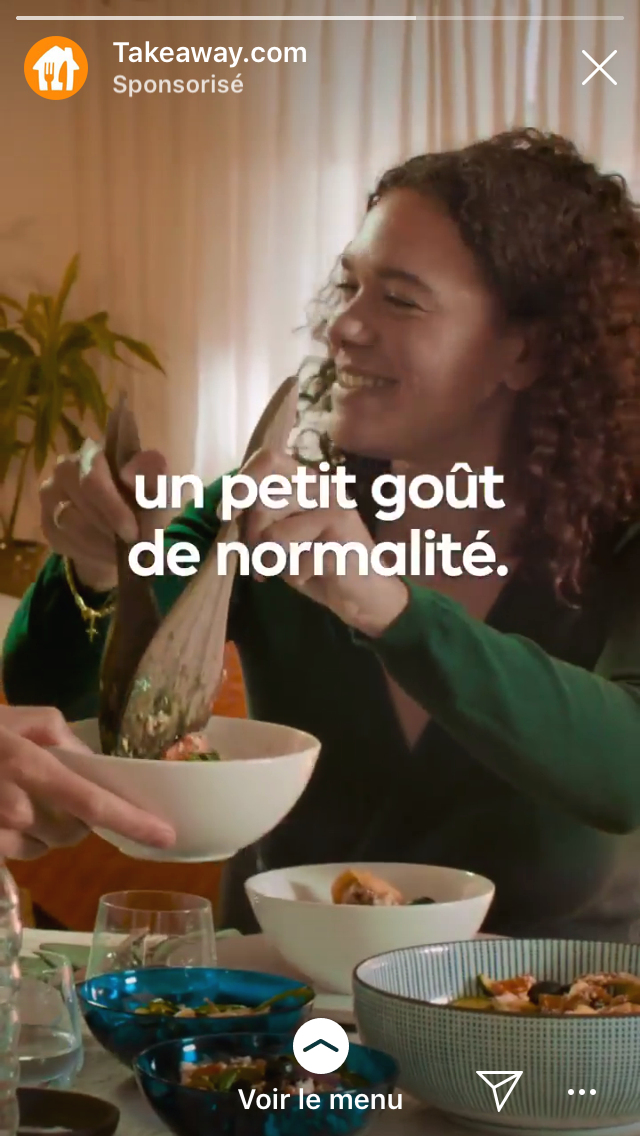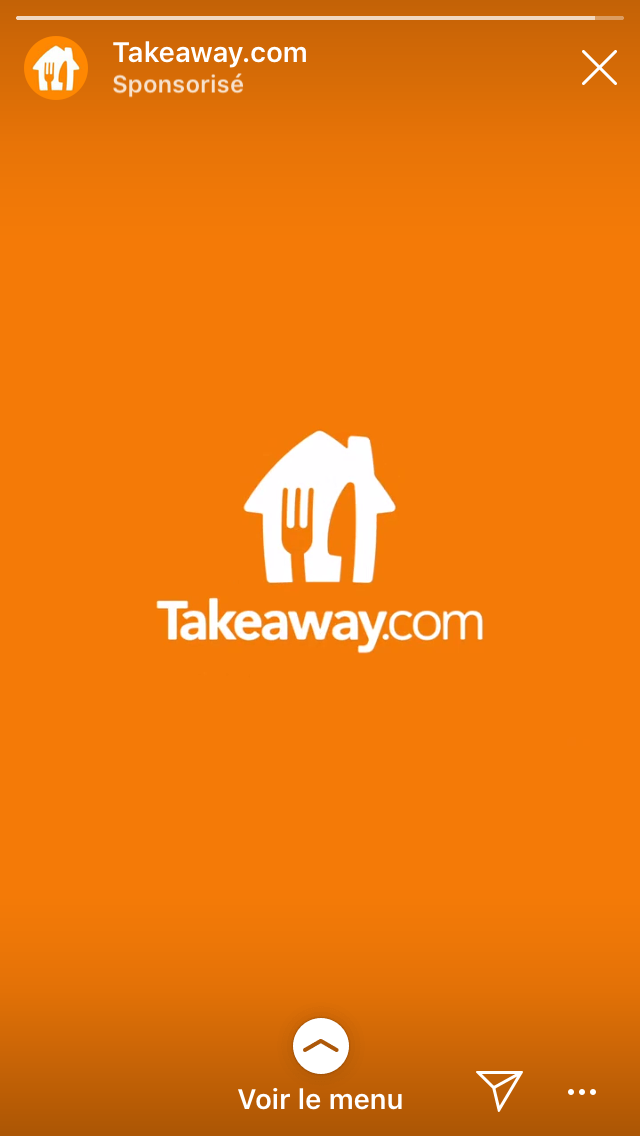 Takeaway.com targetted advertising since March 2020 between Instagram Stories.