January 2021
Three months have passed since the last blog post and I have to admit that November and December have been quite emotionally intense, since I got myself in trouble many times like at school, with the police, a coursier and other pp. Also, full moon in Gemini didn't help much. So it felt nice to have the Christmas holidays to reflect, take some rest, and some distance with everything.

Art contests, grant requests, shows
Since October, I've applied to some art contests like Prix Médiatine (Brussels) and Prix Jeune Création (Paris). I also sent a dossier for two grant requests to SOFAM (Société multimédia des auteurs des arts visuels) which is a Belgian ONG that launches several open calls for artists. For one of the request, I had to propose a project with a budget, calendar, etc. So I proposed something like three showroom spaces with branded objects from Deliverro, Takeaway and UberEats. Audio pieces from my interviews with the coursiers and restaurent owners would have been part of the installation. Here are some slides of the dossier:




The other grant was given to the ones who sent a portfolio with 7 pics and description of their work. Unfortunately, neither my application for Prix Mediatine and my grant requests have been selected... I was quite disappointed, for I had high hopes for this, which would have financed my final year degree show at LaCambre. But it's part of the game so it's OK.



I'm glad that I've been invited to participate to the next Windowmuseum group show, curated by Lola Meotti who launched this project as a response to the shutting down of museums and cultural spaces because of covid. Not long ago, Lola contacted me and proposed that we reiterate the performance with food delivery coursiers waiting somewhere and wearing twisted branded uniforms. This next edition of WindowMuseum will be hosted by ISELP (Brussels) and will take place in the public parc next to it (Egmont and Georges parc), probably around Spring/Summer 2021.
Though the curator proposed to hire real coursiers for the performance and pay them twice as much as they would usually earn, this sounded to me a little bit too ethically borderline as it would instrumentalize coursiers and take advantage of their economic precarity to make art. So I'd rather ask some friends, or simply do the performance myself.




Another good news is that I successfully sent an application to participate to a group show called Third place or what? at TickTack gallery in Antwerp, which will be curated by two students from Espace Urban department of La Cambre. Every year, the gallery offers carte blanche to students from one art school and 2021 will be devoted to La Cambre. It was nice to meet Paul Gérard and Jules Flamen to discuss about the project and our respective work. They were particularly interested by the flyering performance I did back in 2018, and expressed me their desire for a sort of an in situ artwork/performance that would create communication between the inside and the outside of TickTack gallery. We planned to go on site after mid-year evaluations and exams to check the place. The show is supposed to be around April 2021 and the thematic deals with the notion of 'third place'. After some time, they the curators went back to me and told me they had selected 3 works of mine, like the Flyering performance, the Proximus flag without logo and the Full Moon light box. I thought that if I had to exhibit the Proximus flag, why not re-create a whole Proximus point of sale vitrine, without any information but beautiful gradients. If they pick this projects, I'd like the Tick Tack gallery to look like this: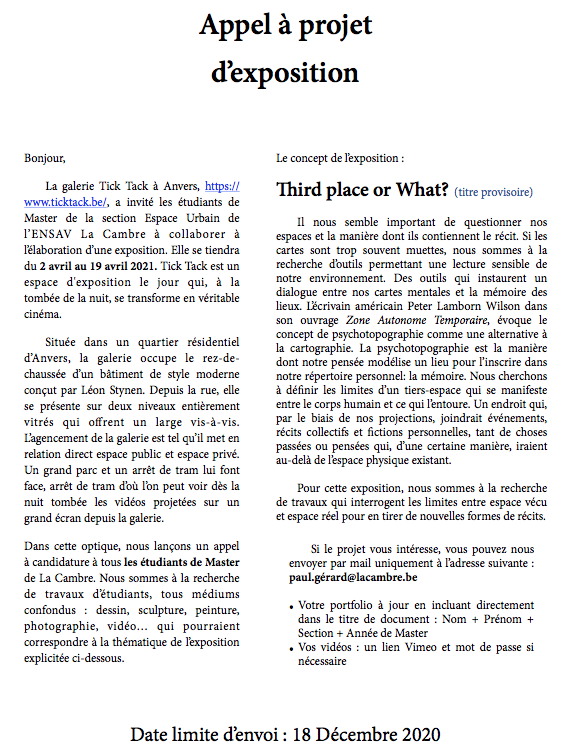 Sonic creation school module
Master class students from La Cambre also had to pick a specific course, so I picked the '
création sonore
' module, directed by Céline Gillain, Julia Eckhardt, Myriam Pruvot and Caroline Profanter.
In the beginning, I was making some mash-up's from the audios I had collected from my latest interviews with coursiers and restaurant owners in Brussels. One of the composition is from the interview I did with an employee who works in a fast food that is in partnership with Takeaway. The track opens with the ringtone/alert from the Takeaway tablette/terminal that sends orders to the restaurent. Through the track, we hear the guy explaining what is the process to be partners with Takeaway and how one restaurant buys 'primary goods' from takeaway's online catalogue (branded objects like delivery bags, tissues, note pads ... but also food itself. URL of the catalogue here: https://shop.
takeaway.com/fr-BE/home
). I also added some ASMR soundtrack from frying aliments to recreate the atmosphere/ambiance of the place. The idea would have been to add the track to a video, displayed through a fake Takeaway terminal where we could see the employees working in the snack.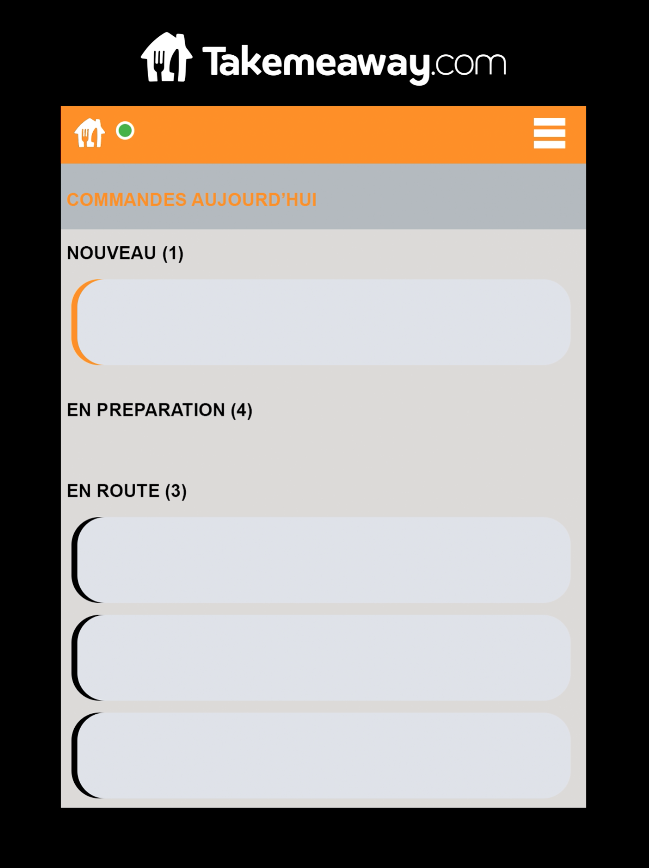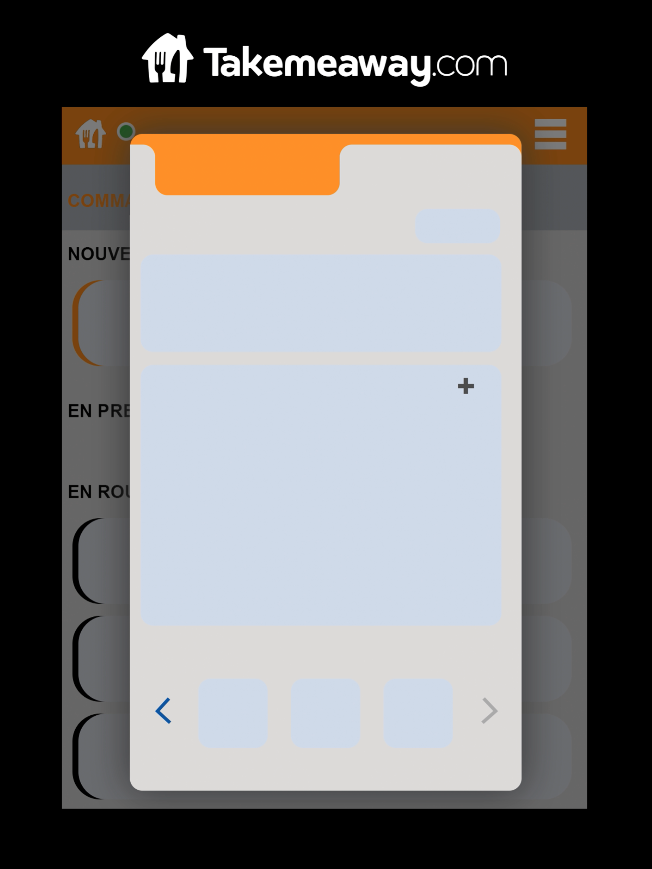 The 2
nd
track I did is also from an interview (this time from a coursier I met in Brussels) from which I've extracted words and phrases, and put them on top of city streets sound effects, mashed up with robotic guidance voice from google maps indicating the way to the coursier, as if he was actually on the way to deliver food. During the trip, the coursier talks about social prestige, discrimination, racism and the violence of social relations between coursiers, customers and restaurent owners. Sometimes, he sends voice notes to an imaginary customer who's waiting for his/her food to be delivered. Have a listen:
https://soundcloud.com/ravier-1/assisting-steph
However, because these tracks are too documentary-like, I decided to stay on my very first idea and work from an interview with Jitse Groen, the CEO of
Takeaway.com
. Thus I've extracted words and phrases from the latter and mixed them on top of the happy indie pop rock soundtrack Takeaway uses for their commercials. In the mash up, the voice of Groen comes out of a burger box, surrounded by other objects that comes and go every time the music starts. In the final sequence, every objects end up fighting with each other, going frenetic and crazy because of a too clean and deadly sanitary aesthetic that is precisely the one of visual merchandizing and mass-advertising.
I didn't post the video online yet because it looks, in my view, a little too
amateur
and there are many aesthetic clumsinesses. I still have to think wether I shoot it again or not. Anyway, working and directing a team of 13 people was quite challenging and stressful, but still it was fun and nice experience.
Mid-year evaluations
The last week before the Christmas holidays, we had a lecture/presentation with printmaking department teachers inside school's gallery space, so each student could prepare to the mid-year evaluations. The lecture ended with a collective installation inside the vitrine/box.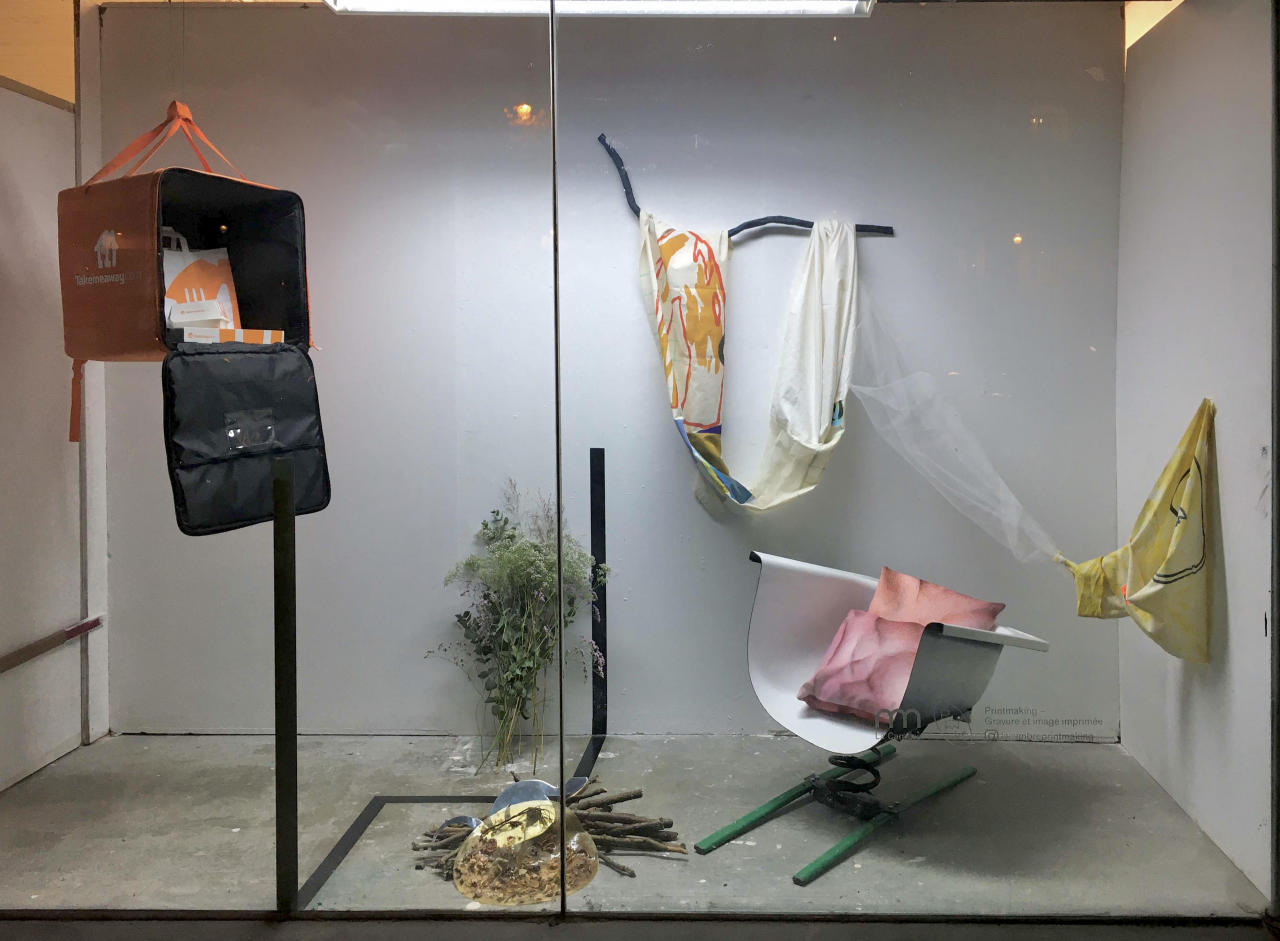 View of the collective installation inside school's gallery vitrine
with works of Nina Koopmans, Apoline Sanguinède, Aliocha Tazi, Lou Coco Valentino and me.


For this presentation, I recreated an office space from Berlin's Takeaway headquarter. The floor was covered with a grey carpet, on top of which I put tables and chairs. One table had twisted branded uniforms and packagings, and the other one had a computer screen with a loop video and a glass with orange Takeaway pencils. The video was a compilation from Youtube videos published by Takeaway on its channel. It started with the cartoonish video formation to apply as a coursier for the company. Then, there was an after movie and recruitment video, where one sees all the white collars going to ski together, wearing the branded jackets and skiing, assisting to talks, chilling in transats and partying together. I left the videos telles quelles, like ready-made contents and didn't intervene on them. But it didn't make much sense that I show the twisted artefacts (with the wordplay Takemeaway) among original videos from Takeaway. Perhaps it'd have been more relevant and impressive if I had made the videos.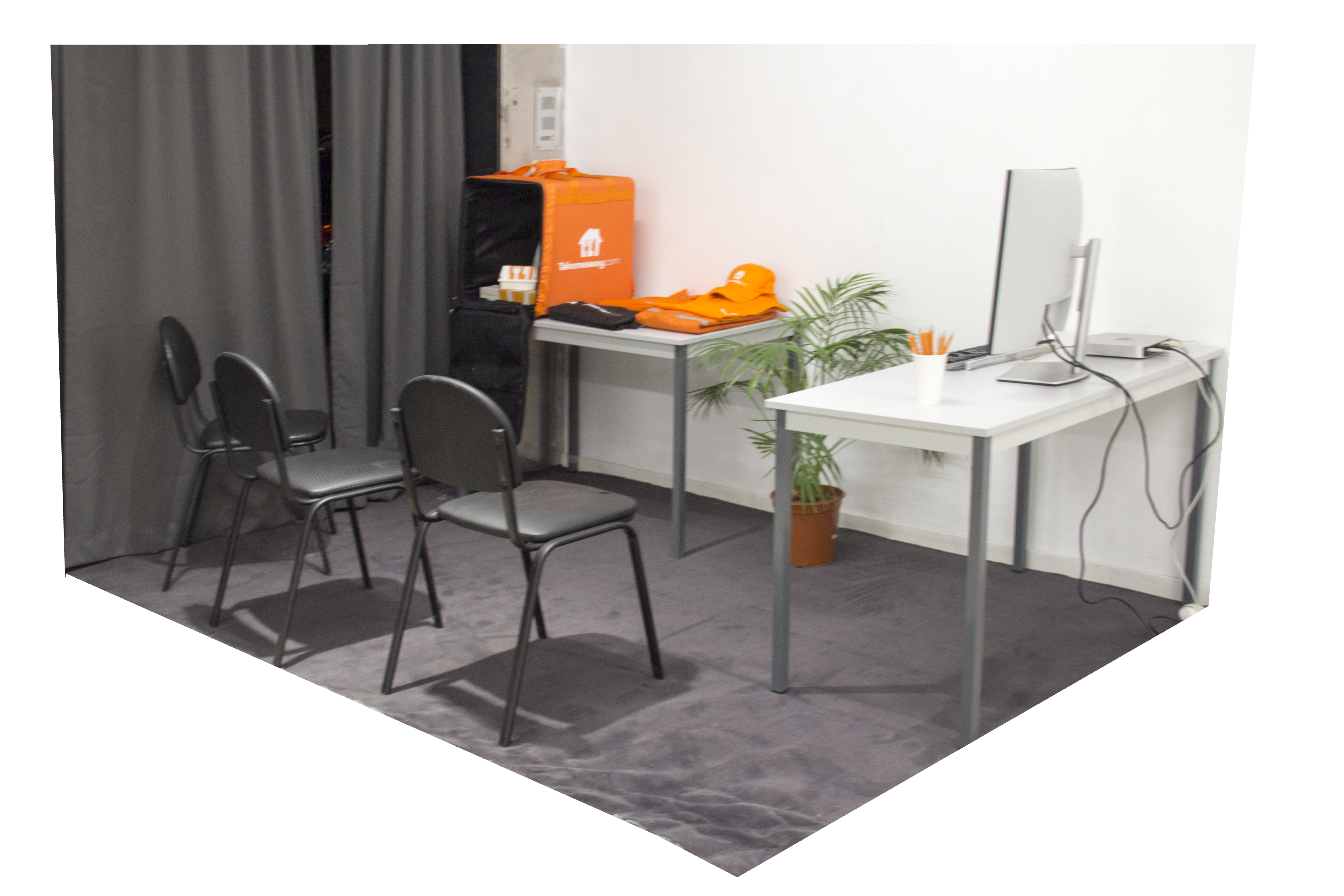 Clearly, an extra element was missing: something that would have disturbed this whole clean and sanitary aesthetic. Teacher Anne Fransen proposed that something liquid could have leaked from somewhere, an oversaturated soundtrack playing out loud, a blinking light,… Though I wanted to share my interest and fascination on corporate aesthetic and entreprise culture with this remake of office environment, it was quite boring. Also, I'm not inventing anything since these kind of installations are no new and quite recurrent in contemporary art. So I think I'll leave this idea of display for my graduation show.
Takemeaway e-bike, delivery bag and packagings, 2020
Also, showcasing
tels quels
the fake Takeaway e-bike, the uniforms and packagings was unsatisfactory and reduced them to mere gags. Whereas showcasing, for instances, the ebike it on top of a pedestal/podium, or fixing it to the wall (like hipsters do) would add an extra point and another element to bounce on.
I also showed the Uber Mensch delivery bag and jacket on a pedestal. A compilation video from my interviewes with the coursiers in Brussels was displayed on a smartphone inside the jacket. Link of the video here: https://
www.youtube.com/watch?v=6pwa6f8g2bI
UberMensch
, 2020
Deliverybag, jacket, smartphone and video (3'34")


Another point that has been said during the presentation is that (because of its documentary dimension), it's too down to earth and too critical. It seriously lacks fantasy, poetry, fiction, ... and fun.

I also printed in large format this photomontage that mimics a 2019 Deliveroo advertising. But lmao because the resolution of original pic from the Last Supper was so low compared to the HD incrusted delivery bags. In the end, the background was super pixelated, and the delivery bags super clean. What has been said is that the slogan and the word play in the logo twist must be from the same language. Otherwise it doesn't work 100%.




Left: Devotion can wait, 2020, photomontage
Right: Billboard from Deliveroo commercial campaign in 2019, London



I wish that for this second semestre, I take some time to travel and take some pics of friends of mine, wearing uniforms from Délivrénoo, Takemeaway and UberMensch in natural environments like at the beach, in mountain, the forest, and so on. The idea would be to de-contextualize food delivery coursiers from their working place (the city) and get them to sublime natural places where we would feel freedom and hope, somewhere they would finally be 'away' (takemeaway) and free (délivrénoo). These pics would then be posted in public space, inside advertising panels and clipping frames. I'm also thinking of some short films that would parody Deliveroo and Takeaway advertisings, to publish them on the internet.




Délivrénoo (Ski)
, 2020
Photomontage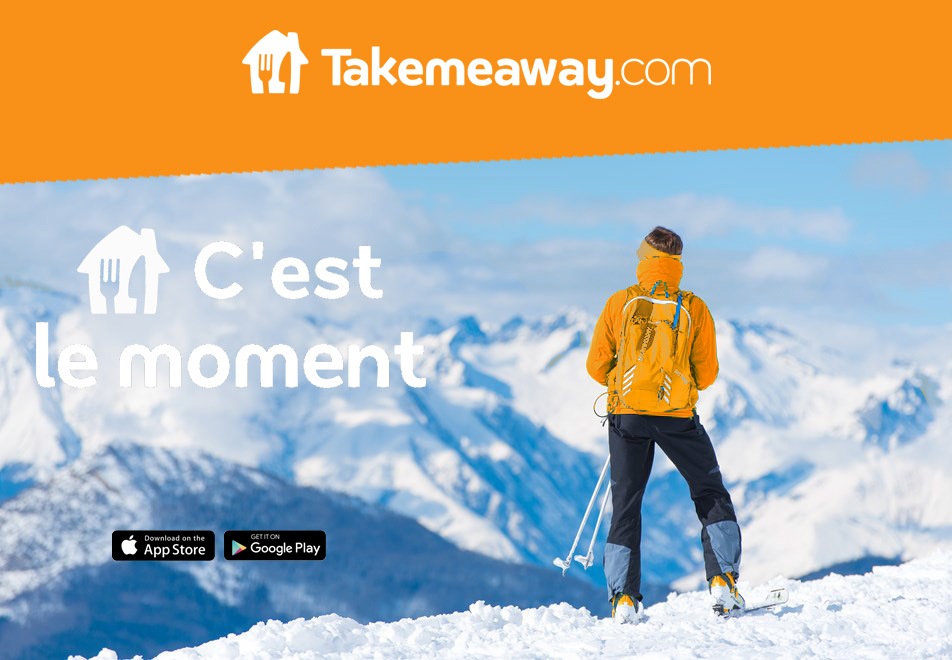 C'est le moment (ski)
, 2020
Photomontage

Food delivery / leisure and xtreme sports
An ex-student from the printmaking department gave me the advice that I should think of a scenario for my final degree show installation. He told me that my critique of food delivery industries could be more subtile, intelligent and less critical, if I compare them with leisure and extreme sport like motocycle races, skiing, trekking, motor cross, formula 1, diving, ice clibing, air diving, and so on. We came up with the idea of a fake store that'd sell extreme sport equipment items branded with Délivrénoo, Takemeaway and Ubermensch. In this scenario, the feeling of speed, of danger and of competition could subtly evoke the precarious working conditions of the coursiers. Also, a fake store with branded clothes would also anticipate a future trend/fashion that is: the re-appropriation of food delivery uniforms by youth and their becomming of cool, vintage and fashionable objects.



Off to the races (Sponsoring), 2020
Photomontage


Also, it's funny to imagine an advertising/commercial campaign with food delivery coursiers having to climb a hill or dive deep in the ocean to bring food to someone. In the first case, if he has to climb cliffs and snow mountains, this could anticipate the moment when the ocean level would rise and that populations will have to migrate uphill.
The comparison between food delivery and sport and body culture is also interestingly absurd, since it compares leisure and labor/work. I'm really fascinated by showroom aesthetic and there are many chances that I'll make this kind of environment for my final degree show. Curious assemblages and homoerotic images would be part of the trick, hihi.



Délivrez-nous
(Showroom 1), 2021
Photomontage



Délivrez-nous (Showroom 2), 2021
Photomontage


Last but not least, for this second semestre and last 5 months at La Cambre, I'm planning to screen print some of my drawings extracted from my sketchbooks and which, for the majority, also deals with consumerism and my own fascination for visual merchandizing. Some of them are potential performances and sculptures that I'll probably never produce in real life and that will remain as images. I'm OK with that.