July 2021

So this is it: I've just graduated from La Cambre and got my master degree in printmaking. I must say that I'm a bit melancholic to leave school after six blossoming years there, though the administration must be quite happy that I finally get the hell out.

For the final jury, I presented the projects on Deliveroo, TASCHEN, Bird, Proximus and a series of screenprints. These were large reproductions of preparatory sketches for potential installations (i.e. a "Délivrénoo" motocycle showroom), performances (distributing Apple Eucharists in an Apple Store), sculptures (a melting FIFA World Cup trophy on a pedestal),.... Some of them parody, while other poeticize and aestheticize brands and their visual merchandising. Although they are preparatory sketches, these potential art pieces will probably remain as mere images, and won't be realized. There are around 10 copies from each image below.




From left to right:
iBelieve
, 2021, Screenprint on ZERKALL paper, 56,5 x 77 cm ;
Showroom Délivrénoo
, 2021, Screenprint on ZERKALL paper, 56,5 x 77 cm ;
Untitled (Apple Store)
, 2021, Screenprint on ZERKALL paper, 56,5 x 77 cm ;
Frigo Virus
, 2021, Screenprint on ZERKALL paper, 56,5 x 77 cm ;
Protect Me From What I Want
, 2021, Screenprint on ZERKALL paper, 56,5 x 77 cm ;
I Can't Remember To Forget You
, 2021, Screenprint on ZERKALL paper, 56,5 x 77 cm ;
Apporté Avec Soin
, 2021, Screenprint on ZERKALL paper, 56,5 x 77 cm ;
FIFA World Cup 2050
, 2021, Screenprint on ZERKALL paper, 56,5 x 77 cm
Second project was on the micromobility company named Bird. The original plan was to place several Bird e-scooters covered with feathers and singing on the rooftop of the surrounding buildings. But unfortunately, two men working for Bird arrived the day before with a van to take back the four scooters I had stolen from the streets and covered with feathers. The two men were collecting all the uncharged scooters in Brussels, which they could localize with their mobile app.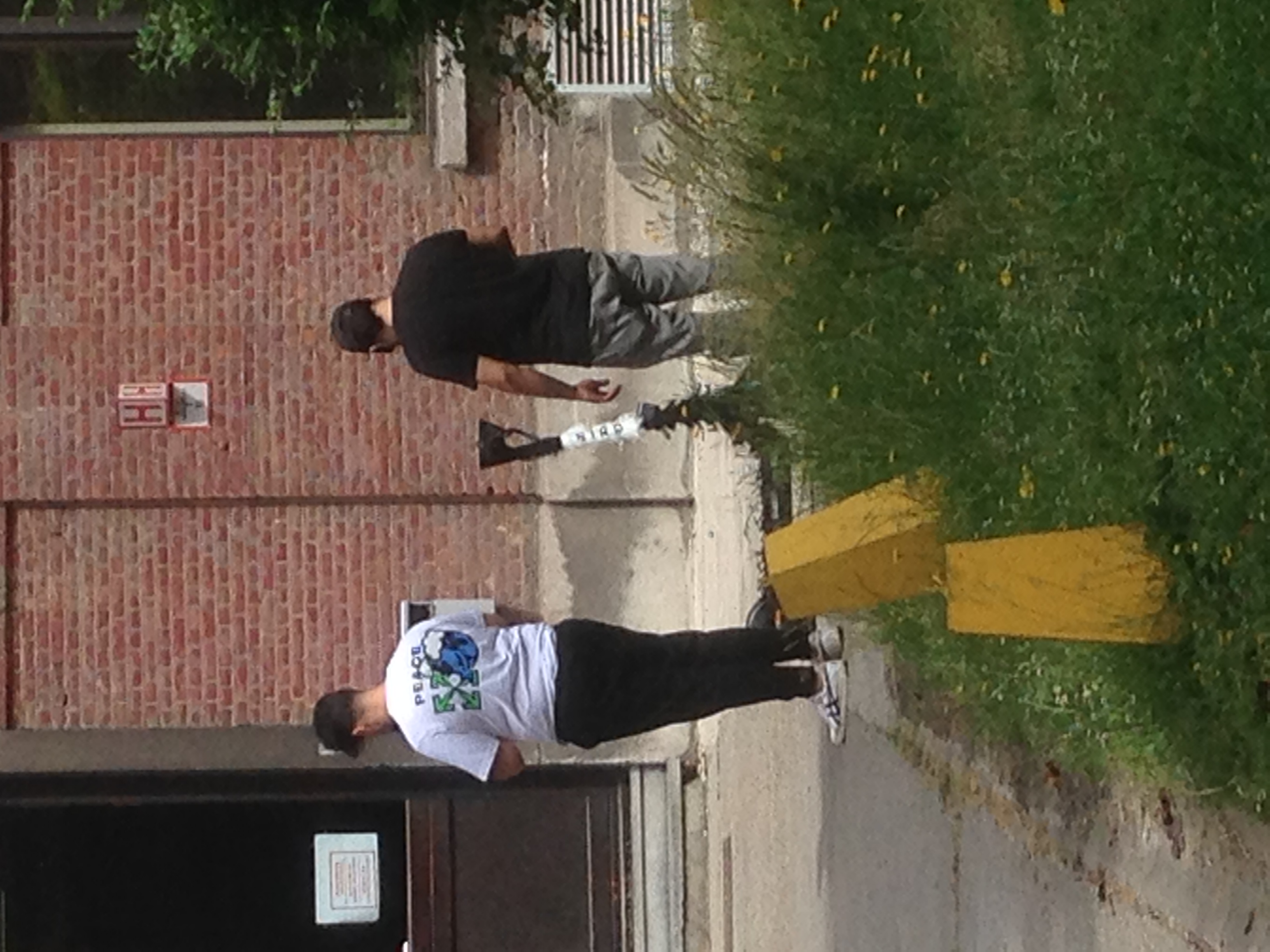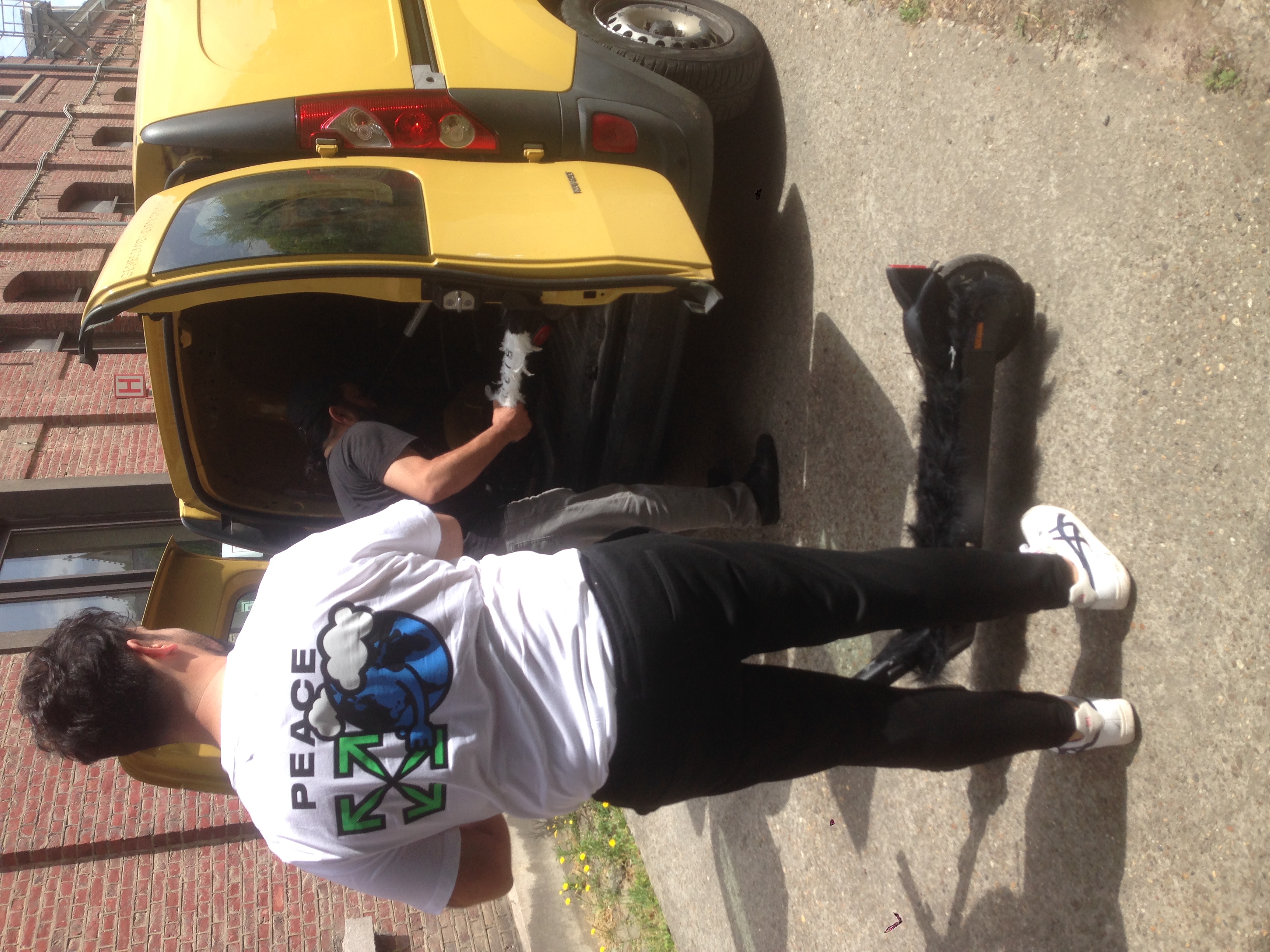 When they came to me and saw the scooters covered with feathers behind me, they surprisingly laughed out loud. They were like 'So this Is an art school, right ?'. Then they left and went to the other building, where I had hidden two other scooters. I guess the scooters went back in the streets, after being recharged and un-feathered. Hopefully, I've taken nice pics of the twisted Bird scooters in a public parc close-by, before they got embarked.



Predator

, 2021

On the photograph, the customized scooter appears as an ambiguous sci-fi entity that is both animal and artificial. The title "Predator" ironically compares Bird e-scooters to hunting animals, competing with other brand-species of e-scooters, in the globalized jungle of neoliberalism.




Magic Deals

, 2021

Lightbox, 60 x 60 x 20 cm


Third piece I presented was the Magic Deals light box, which is a pastiche of a promotional object from Proximus' point of sales. I came up with this idea back in winter, when I applied to the open call for the group show "Third Place or What", at Tick Tack gallery in Antwerp. In the beginning, I had proposed the Proximus flag without logo and thought that other twisted promotional/branded objects from Proximus shops could make the proposition more solid. So in front of TickTack gallery, on the pathway, there was the logoless beach flag and, next to it, social distance floor stickers without signage information ("in", "out", "1,5m", ...). These were arranged in a playful and chaotic way, making them appearing like graphic elements composing a full-scale abstract painting. The Magic Deals light box was hung at a high level on the wall, like an icon or relic. All three had in common the idea of withdrawing consumerist information from the objects, making them flirting with Geometric Abstract art.




Proximinus, 2021
Outdoor installation at TickTack gallery (Antwerp)





I'm thinking of a series of new lightboxes, with other pastiches of Proximus' advertising campaigns. The images printed on the plexi glass would look like these: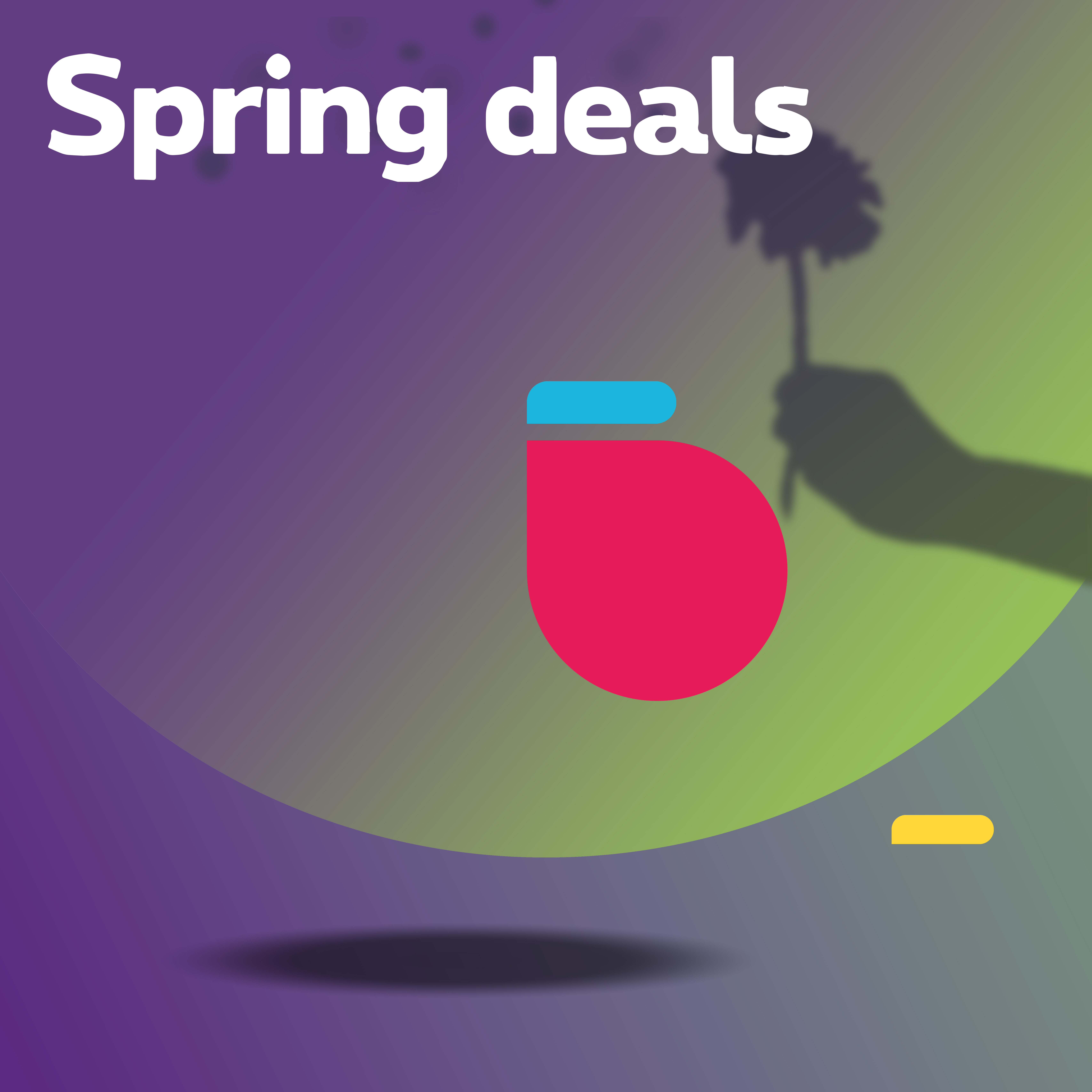 Photomontages from Proximus advertising campaigns



In the fake TASCHEN book that I've recently published, I relate to this show at TickTack Gallery and extrapolate by saying that I've transformed the whole space and vitrine into a fake Proximus shop, which is not completely true. And this lie is far from being the only one in the book. Since the object is, at first glance, a hoax, I was free to romanticize and fantacize my life and future. Therefore, I foresee and predict a successful art carrier, based in New York city, Maurizio Cattalan being my sugar daddy. I'm also planning to disappear in ten years, during the opening party of my solo show at "Babosian gallery", in Los Angeles.
Since the monograph is autobiographical, I did confess and unveil some intimate things about me, my childhood and adolescence. But above all, the book is about self-derision and is a joyful critique of the art world and its myriad of institutions (TASCHEN being one of them).




Views of the installation Faire Tasche (Eleven Steens, Brussels, 2021) and details of the fake Taschen book


For the group show IRL* at Eleven Steens (Brussels), I've showcased the book in a display that parodied the interior design of TASCHEN book stores. The book was presented on a branded pedestal: a baroque column, with gold letters forming the word "TASCHE" (in french, "tache" stands for "stain" and "faire tache" is when something or someone's presence isn't desired and is problematic).

I still have 70 copies left from the standard edition. The deluxe edition includes a cute screen print edited to 20, signed and dated. I've made a website which imitates the one from TASCHEN and where you can pre-order them online. There it is:

www.tasche.one

(wait 5 seconds for the page to open).
I'm also planning to deposit and sell some books in cultural institutions in french-speaking countries, but also to infiltrate bigger book shops like Filigrannes, FNAC and ... TASCHEN stores, OFC!

Please Ask For Assistance

, 2021

Screenprint on Zerkall paper, 16,5 x 22 cm

Multiple of 20



Last but not least: the project on Deliveroo. After one and a half year working on this project, it became an installation that recreates a fitness room with musculation machines, twisted food delivery uniforms and equipments, a video and a performance with someone activating the objects. The installation thus pretends as if Deliveroo started to set up sport clubs around the world to train its coursiers. It compares fitness with delivering food, to put on a same level the physical violence of training musculation and the social and emotional violences of being a coursier. Thus, the set up tends to question labor conditions of coursiers, but also to show my fascination for colorful branded uniforms and for fitness clubs.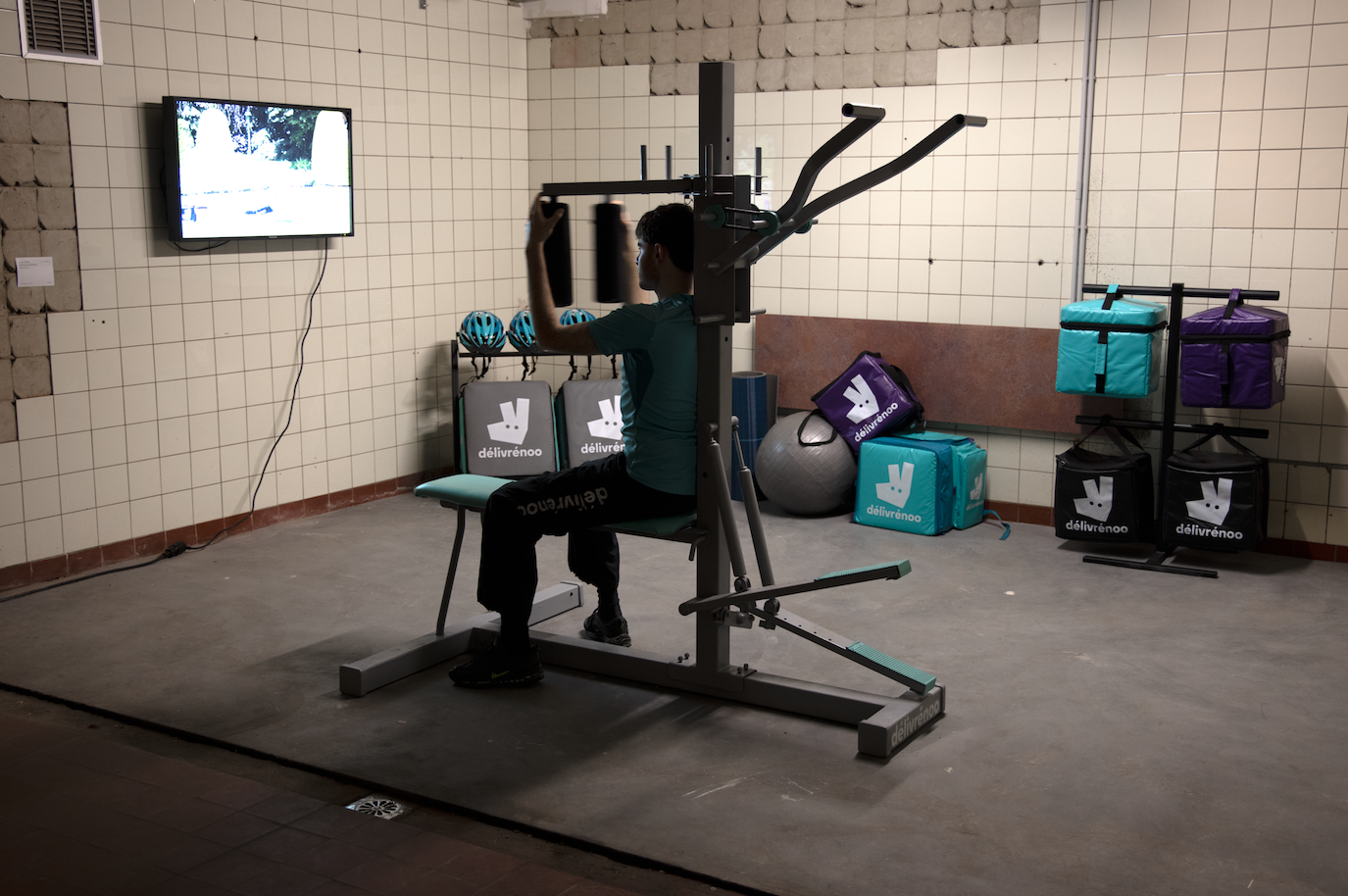 Délivrez avec Délivrénoo!, 2021
Installation and performance
Eleven Steens, Brussels
Activation of the Délivrénoo objects showcased in the installation

Twisted Deliveroo equipments, showcased on dumbbell racks







If I had to show the installation again, I would add extra machines, nutrition boxes and frames on the wall, with twisted Deliveroo uniforms like on the photomontages below :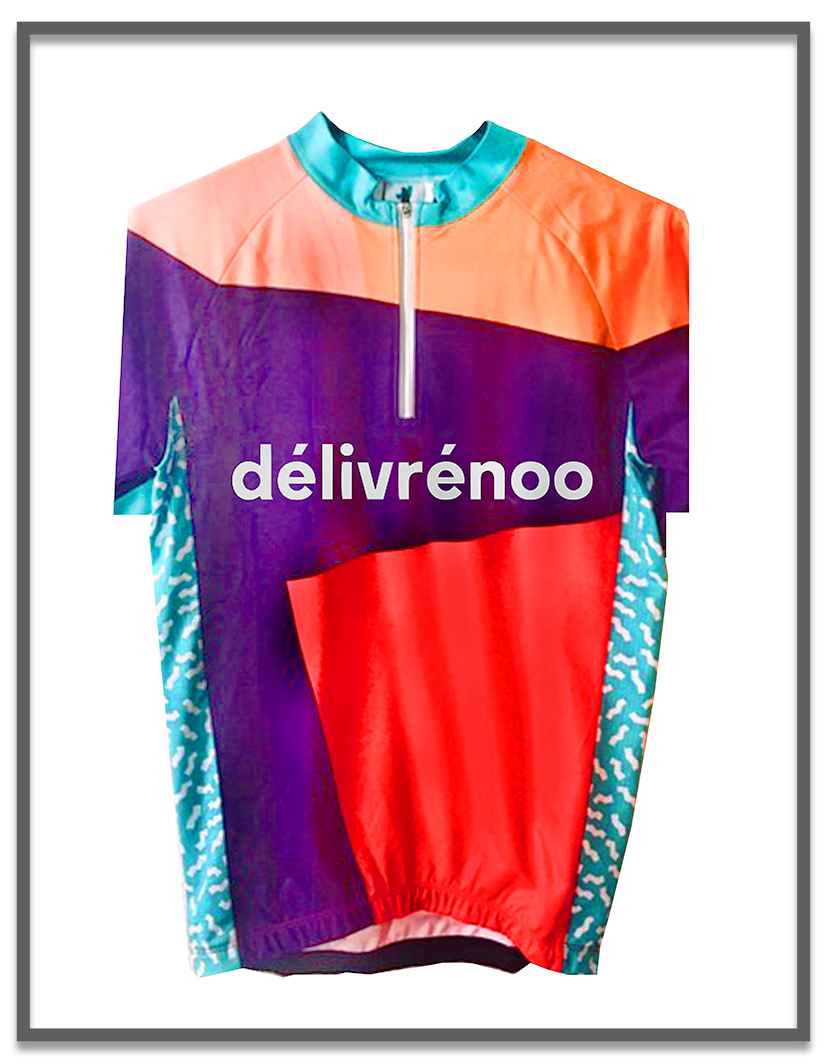 I didn't communicate much on that, but in March 2021, for the open doors of La Cambre, I've organized outdoor performances which were fake fitness classes, during which a coach was commanding four novice-coursiers and trained them for the job. The performance ended with several duels, where the fastest gets the job. It was fun to hear the public encouraging the actors during the duels, like it was actual sport and entertainment. The performance was spectacular and quite successful, both in real time and on the internet. I've recently been contacted by an emerging performance festival in Brussels called SUEUR, and for which I'll probably re-iterate the performance at the end of September.








Délivrez avec Délivrénoo, 2021
Outdoor performances (La Cambre, Brussels)



Although I've been focusing more on startup companies lately, I still enjoy subverting the visual merchendizing from multinationals titans, especially from the fashion and glamour industry. So now I'm working on a series of surrealits-dadists assemblages that combine sexy packagings and shopping bags with other found objects like puppets and children toys and disguisements. The assemblages look quite similar to the ones I've been making last year with Apple packagings. I don't know yet if it worths showcasing and spatializing them in tangible exhibition space, or if they could simply exist as photographs.





Latests assemblages



Theeeen, there is also the "Triennale de Gravure" show, which was supposed to take place last year in Liège (Luik), and that has been postponed up to this September.
For this show, I will exhibit the iMac boxes with twisted wallpapers, and sacralized on wooden pedestals. I've made two new photomontages from the Mac OS wallpapers, that are less frontal and less perceptible at first glance.





There will also be the funeral wreath elevated on a nice marble column i found in Brussels.




And lastly, the un-customized cake, museified in a refrigerated vitrine.